You know you have basil. You know it. But you can never find it when you need it. Except when you go searching the next day for oregano, and all you can find is, you guessed it, basil. Save yourself the frustration and give future you the invaluable gift of organized spices. These spice storage ideas will turn spice-hunting into a hobby you enjoy.
Drawer Inserts
Corral your spice jars and keep them from rolling every which direction using drawer inserts. Pick up a few and reclaim some cabinet space using a method that'll let you find spices in a snap.
Square Spice Bottles
If you're the indecisive type (which many of us are) and you can't decide on a drawer insert or you want the freedom to move spices around at a whim, allow us to suggest square spice jars. You can easily organize and line your drawers without the threat of your spices rocking and rolling around.
Wall Shelves
Keep your spices in easy reach or use them as part of your decor by adding shelving to your kitchen walls. Nothing spices up the look of a kitchen like a personal touch. Now, the style of shelving is up to personal taste. Acrylic, wood, industrial, or mid-century modern, just make sure there's something keeping your precious spices from escaping.
Spinning Tray
Give a miniature Lazy Susan a spin with your spices! No longer will you need to do the shuffle as you move spice bottles around or even empty the cabinet in search of the right spice. Simply give it a spin and find your spices without frustration.
U-Shelf
You're not thinking outside the cabinet here, but rather along the edges. With U-shaped spice shelves, you can see all of your spices at a glance, especially with tiered shelves. You're in and out in the time it takes for your cabinet door to shut.
Magnetic Spice Storage
Grab yourself some magnetic spice jars to create art on your fridge but in a spicy way. Stick these to the side of your refrigerator, and you'll not only regain cabinet space, but you'll never have to worry about getting sticky fingers on cabinets again.
Magnetic Shelf
If you don't want to juggle several magnetic jars, don't sweat it. Use magnetic shelving to store and display your spice jars instead! Plus, you won't need to fill new spice jars or transfer spices and inevitably lose some along the way. Add your existing spices to the shelves, and you're done. And, obviously, the added bonus of no installation needed.
Slide-Out Spice Rack
After a few minutes of painless installation, you have a sliding spice rack in your cabinet at the ready. With layers of spices not only viewable but accessible, you don't need to go on a treasure hunt to find the right one. Bonus! They won't shuffle around and move, either.
Spinning Spice Rack
Try the lazy Susan spice approach but with a seatbelt to keep your precious cargo in place. Keep your spinning spice rack in a cabinet or next to your stove, so your spice collection is on display.
Helpful Hack
Definitely spring for a spinning rack that comes with stickers for easy labeling.
Expandable Shelf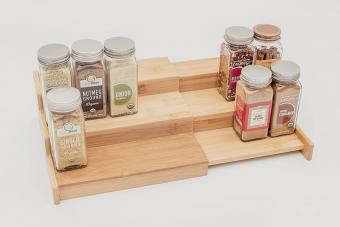 As your spice collection grows, so can the shelving you use to keep all of it neatly arranged. You can put the expandable shelf in a cabinet or on the countertop. Whatever fits the vibe of your kitchen.
Stove Shelf
Most of your spice usage happens by the stove, so why not keep your most-used spices ready to go there too? With the help of magnets, this stove shelf stays safely perched atop your stove with your spices, salt, and pepper ready the minute you need them. No more red sauce splashing on your stovetop while you search for garlic powder.
Cabinet Door-Mounted Storage
Whether with door-mounted spice storage like shelving or spice bottle grips, you can put your herbs and spices up and away, but still within reach and easily organized. You get to reclaim valuable spice in your kitchen cabinets. And you no longer find out you're low on Italian seasoning the moment you need it.
Spice Up Your Life the Easy Way
Have you ever felt like you were in an infomercial, when you're scrambling to find the spice you need? Not anymore, friend. Say goodbye to that stress and hello to loving cooking with spices again. And, possibly, to even expanding that spice collection.