We live in the U.S. of Yay! If you're proud to be an American, then there's no better time to show off your patriotism than on the 4th of July. Embellish the photos of your holiday celebrations with these creative 4th of July captions and inspiring Independence Day quotes that are guaranteed to make your social posts pop like a firework!
Cute & Clever 4th of July Captions for Your Celebrations
Friends, family, fireworks, and holiday festivities! The Fourth of July is filled with fun, so make sure to caption the excitement with words that would catch the attention of even George Washington.
Sippin' on some sweet liber-tea!
Ready to enjoy red, white, and brews!
Oh, say can you sea!
We the people, like to party on the 4th of July!
Happy Birthday America! 247 looks pretty good on you!
Hear that sound? It's freedom ringing!
America: Made possible by the American Revolution.
Partying like a patriot!
Stars and stripes, and everything nice!
Here for the barbeque and all the patriotic hullabaloo!
Funny Fourth of July Puns to Bring the Laughter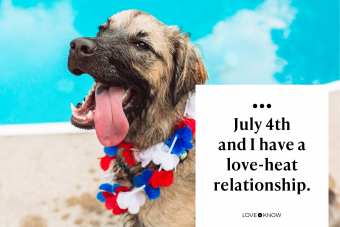 If you're looking for something silly to say in a caption, use one of these patriotic puns. Your followers might groan out loud, but they'll be laughing inside (where it counts!).
Don't July to me!
Fire-working for the 4th.
Partying with my swee-tea.
Fireworks stripe up the night.
The fourth is strong in this one.
Celebrating the good old U-S-of-Yay!
Here comes the red, white, and bloom.
July 4th and I have a love-heat relationship.
Indepen-dance party like it's the 4th of July.
How does a bandit celebrate the 4th of July? With all suns blazing.
July 4th is the perfect time for an all-you-can-heat barbecue.
Celebrating independence since 1776.
Lucky to be born under the stars and stripes.
The American flag continues to wave over the home of the brave.
Short American Captions for an Independence-Themed Instagram Post
America is a country like no other. When you capture a snapshot that shows off the uniqueness of the land that we love and the blessings that America's birthday represents, enhance it with one of the spirited sayings.
Born free
Live with liberty.
Freedom rocks.
American dreaming
Freedom follows the bold.
Brave, as I was born to be
Capturing the American Dream.
Where there is freedom, possibilities exist.
Doing my thing in the land of opportunity.
Dare to dream the American Dream.
Don't take the land of opportunity for granted.
With freedom comes great responsibility.
Patriotic Sayings to Capture Your Independence Day Pride
From the grand American flag to the red, white, and blue backyard barbecues, and everything else in between, there is an array of picture-perfect moments on this momentous day! Show off your patriotic spirit by pairing your pictures with some proud words about the land that we love.
No guts, no Old Glory
Stars and stripes forever
Proud, patriotic, and free
Flying the flag of freedom
Have a Yankee Doodle day!
Glory be to the land of the free!
Of course, our flag was still there.
It's an honor to be an American.
With Liberty and Justice for all.
God Bless America
Old Glory, red, white, and blue sure look good on you!
Blessed to be living in the land that I love!
Let freedom ring!
Sweet land of liberty!
I bleed red, white, and blue - and so should you!
Fantastic Phrases About Fireworks That'll Light Up Your Posts
These colorful displays are the highlight of the night, so make sure to caption them just right! Here are some fireworks captions to help you celebrate America's big day.
Feeling ins-pyro-ed!
Today was simply a blast!
Ending the 4th of July with a bang!
The party doesn't start until the sparklers come in!
Tonight's fireworks display was totally lit!
Pop it like it's hot!
Born to sparkle and striving to shine!
Four score and seven sparklers ago...
Get ready to shake your sparklers!
Exploding with excitement over that fireworks display!
Need to Know
While you are having your Fourth of July fun, make sure safety is still number one! Here are the top ways to stay safe this holiday!
4th of July Instagram Captions to Show Off Fun With Friends
Independence Day is a great time to celebrate freedom by getting together with your friends and enjoying the American way of life. Whether you have a patriotic party at home or head to the beach, mark the occasion with the phrases below.
Living the liberty life
Enjoying freedom together
United we celebrate freedom.
Partying like a pack of patriots
Enjoying the state of the union
Pursuing happiness with my posse
Hanging with my fellow Americans
Living our best stars and stripes life
Lighting up the sky on the 4th of July
Enjoying the active pursuit of happiness
Making the most of our freedom!
July 4th is made for grillin' and chillin' with people I adore.
Creative 4th of July Captions for Couples
The 4th of July is also a great time for couples to spend some quality time together. This holiday is the perfect moment to celebrate the fact that you're free to be with the one you love and to live the life you were meant to lead.
Liberty in love
Baby got flag.
Star-spangled sweeties
The most perfect union
You had me at fireworks.
Making our own fireworks.
I only have sparklers for you.
I love you more than fireworks.
They're the stars to my stripes.
Let freedom bring us closer together.
Don't go sparkling to try and change me.
My heart beats true for you - and the red, white, and blue!
Sayings for a Festive Independence Day
No matter how you celebrate the 4th of July, take pictures before the day magically flies by! And of course, show off your Yankee Doodle Day, so that your friends and family can get a high-flying replay.
It's raining fireworks.
Having a booming 4th of July.
That barbecue smells like freedom.
The 4th of July really floats my boat.
Pool partying like it's the 4th of July.
Having a hot dog-gone great time!
Summer is in full gear now that July 4th is here.
Road tripping, courtesy of our Founding Fathers.
Making my way to the Independence Day parade.
Celebrating independence like nobody's business.
Love to barbecue with my Independence Day crew.
Celebrating the 4th of July with a homemade apple pie.
Bellying up to the bar for some red, white, and booze.
Star-Spangled Song Quotes About Independence Day
Independence Day quotes that come with a tune seem to perfectly caption a 4th of July afternoon! If you are looking for the right words to say, here are some songs about living in the U S of A!
Explore Even More 4th of July Quotes
The captions above provide many cool options to consider, but you don't have to stop there. For even more great ideas, explore over 60 cool 4th of July quotes to show off your patriotism. Finally, while you're enjoying a happy 4th of July, be sure to reflect on just how valuable independence, freedom, and democracy have been!