As the official birthday of the United States of America, the 4th of July is a truly patriotic observance. Whether you're looking for a quote for a speech in honor of Independence Day or you're in search of a celebratory slogan or theme for a 4th of July gathering, you've come to the right place to find just the right words to mark this momentous occasion.
Happy 4th of July Quotes
Looking for a creative way to wish someone a happy 4th of July? Choose the perfect salutation for such a patriotic occasion.
Celebrate freedom.
Rejoice in democracy.
Freedom favors the bold.
Let freedom fly like a flag.
Have a dandy Yankee doodle day!
It's a great day to let freedom ring.
Raise your glass to the founding fathers.
Have a 4th filled with freedom-ringing fun.
Eat, drink, and celebrate America's independence.
Cute 4th of July Selfie Sayings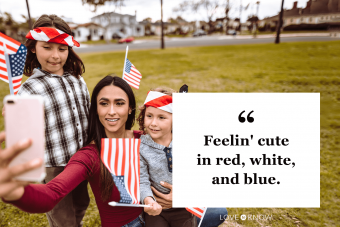 Give your Independence Day selfies a boost with these catchy short captions. What a great way to elevate your Instagram profile on Independence Day!
Born free.
All American beauty.
Celebratin' Uncle Sam.
Free as I was born to be.
Bonafide American pride.
Feelin' cute in red, white, and blue.
Overflowing with American pride.
Does freedom look good on me?
Do these stars and stripes show off my freedom?
4th of July Party Quotes
The 4th of July is the perfect time to gather with friends and family for a summertime celebration. Choose a quote that uniquely captures your favorite way to celebrate America's birthday.
Red, white, and barbecue.
Party like a true patriot.
This party is fueled by freedom.
A patriotic time will be had by all.
Chillin' with my red, white, and blue crew.
Barbecuin' with my crew in honor of the red, white, and blue.
It's every American's patriotic duty to party on the 4th of July.
Get jiggy on the 4th to celebrate the anniversary of America's birth.
Flashy Fireworks Quotes
As Independence Day fun in the sun winds down at the end of the day, i's tradition to cap off the celebration with a fireworks display. Explore some cute fireworks poems, as well as a selection of sparkling quotes you can use as Independence Day captions for social media.
Lighting the sky on the 4th of July.
Let the fireworks commence.
Fireworks put the fun in rocket science.
Fireworks beautify the sky on the 4th of July.
Flare warning - the fireworks will soon be starting.
Fireworks are the way to celebrate America's birthday.
Look to the skies for America's birthday shell-abration!
Remembering the rockets' red glare with fireworks everywhere.
Funny 4th of July Quotes
If you're looking for a lighthearted saying for the 4th of July, these funny fireworks quotes are humorous options to consider.
Day drinking for democracy.
Celebrating America's birthday never grows old.
There's nothing like freedom with a side of barbecue.
On July 4, be sure to exercise your freedom to use common sense.
Celebrate America in style with a hot dog roast and a birthday toast.
From the south to the north, there's a huge freedom party every July the fourth.
Just because you have the freedom to eat as many hot dogs as you want doesn't mean that you should.
Inspirational 4th of July Quotes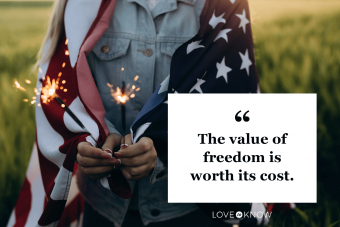 Independence Day isn't just about fun and games; it's also a time for patriotism and reflection. Use these inspirational quotes to express what this day really means.
Free since 1776.
Freedom rings true.
Freedom lives here.
The future is free.
Ask me about Old Glory.
Freedom earned and preserved.
The value of freedom is worth its cost.
Thank a veteran for the freedom to sparkle.
Freedom nation from generation to generation.
America's birthday is proof that revolution can change the world.
4th of July Quotes for Immigrants
The fourth of July is uniquely meaningful to those who immigrated to the United States after being born in another country. These quotes emphasize Independence Day's special significance to immigrants.
Freedom found.
American by choice.
Welcome to freedom nation.
Welcome to the American dream.
The pursuit of freedom is well worth the journey.
4th of July Quotes From Presidents
Those who have served in the highest office in the land have a unique perspective on what it means (and costs) for America to be free. There are important lessons to be learned from the words of the nation's leaders.
Independence Day Expressions
No matter what you want to say about Independence Day, you're sure to find inspiration in this collection of July quotes and sayings. With captions chosen, you can turn your attention to planning how you're going to spend the big day. Plan your 4th of July menu and select a variety of games and activities that everyone is sure to enjoy.