America's birthday is the ultimate patriotic event! As you prepare your toasts, speeches, and social posts, grab some inspired 4th of July quotes to capture your love for the red, white, and blue.
We have sweet and silly star-spangled sayings about the land that we love, as well as powerful presidential quotes and meaningful messages to mark this momentous occasion. No matter which you choose, these Independence Day quotes will leave you honored and grateful to be an American!
All quotes are original and written by LoveToKnow Staff unless otherwise noted.
Happy 4th of July Quotes to Say Throughout This American Holiday
Looking for a creative way to wish someone a happy 4th of July? Choose one of these festive salutations for this patriotic occasion!
Celebrate freedom!
Rejoice in democracy.
Freedom favors the bold.
Let freedom fly like a flag in the sky.
Have a Yankee Doodle Dandy day!
It's a great day to let freedom ring.
Raise your glass to the Founding Fathers.
Have a 4th filled with freedom-ringing fun.
I WANT YOU...to have a happy 4th of July!
It's an honor to celebrate this great country with my fellow Americans!
Eat, drink, and celebrate America's independence.
Short Patriotic Quotes to Show Your Love for This Land
We get to celebrate America's birthday because of the forethought and fight of American patriots! Don't be afraid to brag about their efforts this holiday.
Thankful and free
Made in America
United we stand on this day of American dreams.
Liberty and justice for all this 4th of July
Thankful to be living with liberty
Honored to be an American
Red, white, and blue, I am proud to represent you!
One nation, one flag, one land, one people
We the people are proud to call America our home!
Bold and beautiful! Happy birthday America!
Living the American dream because of the sacrifices that were made.
Let freedom ring this 4th of July!
Proud of the perilous fight that gave us our freedom.
Cute July 4th Selfie Sayings to Capture Your American Pride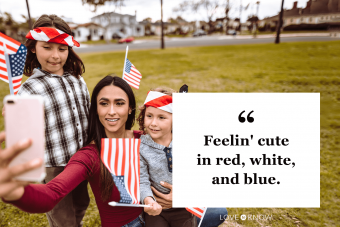 Give your Independence Day selfies a boost with these catchy short captions. What a great way to elevate your Instagram profile on Independence Day!
Born free
All American beauty
Celebratin' Uncle Sam
Free as I was born to be
Bonafide American pride
Feelin' cute in red, white, and blue
Overflowing with American pride
Does freedom look good on me?
Do these stars and stripes show off my freedom?
Proud to be repping the red, white, and blue!
4th of July Party Quotes to Show Off Your Star-Spangled Celebrations
The 4th of July is the perfect time to gather with friends and family for a summertime celebration. Choose any one of these Independence Day quotes to capture your favorite way to celebrate America's birthday at your next party!
Red, white, and barbecue
Partying like a true patriot
This party is fueled by freedom.
Ready to celebrate like it's 1776!
A patriotic time will be had by all on this 4th of July!
Chillin' with my red, white, and blue crew.
Barbecuin' with my crew in honor of the red, white, and blue.
I pledge to party until the sparks fly this 4th of July!
It's every American's patriotic duty to party on the 4th of July.
Getting jiggy on the 4th to celebrate the anniversary of America's birth.
Flashy Fireworks Quotes That Will to Spark Some Attention
As Independence Day fun in the sun winds down at the end of the day, it's only fitting to cap off the celebrations with a fireworks display. These fireworks quotes are bound to light up your posts and show off your happy 4th of July!
Lighting up the sky on the 4th of July
Let the fireworks commence!
Ending the 4th with a bang!
America the beautiful is always brightest on the 4th of July.
Family, fireworks, and freedom. It's what the 4th is all about.
Fireworks beautify the sky on the 4th of July.
America's birthday night is always a booming success!
Flare warning - the fireworks will soon be starting.
Fireworks are the quintessential way to celebrate America's birthday.
Remembering the rockets' red glare with fireworks everywhere!
Need to Know
Fireworks are fun, but it is important to think of your countrymen before you shoot them off. Everyone's safety should be put above making a beautiful display. Consider the weather and take precautions before setting off any light shows this holiday season.
Funny 4th of July Quotes to Bring Holiday Laughter
If you're looking for lighthearted 4th of July quotes, these funny sayings are spark-tacular options to consider!
Day drinking for democracy
Celebrating America's birthday never grows old.
There's nothing like freedom with a side of barbecue.
Indepen-dancing this 4th of July night away!
On July 4th, be sure to exercise your freedom to use common sense.
Celebrate America in style with a hot dog roast and a birthday toast.
From the south to the north, there's a huge freedom party every July the fourth.
Just because you have the freedom to eat as many hot dogs as you want doesn't mean that you should.
Inspirational 4th of July Sayings to Honor Our Independence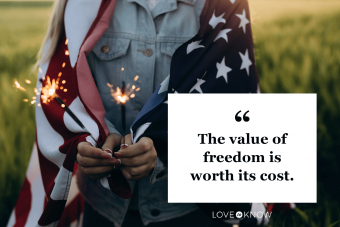 Independence Day isn't just about fun and games. It's also a time for reflecting on our freedom. Use these inspirational quotes to express what this day is really about.
Free since 1776
Loving this sweet land of liberty
Freedom rings true.
Ask me about Old Glory.
Love living in the land of the free
Freedom earned and preserved
The value of freedom is worth its cost.
Thank a veteran for the freedom to sparkle.
Freedom nation from generation to generation
America's birthday is proof that a revolution can change the world.
Meaningful Independence Day Quotes to Rouse Any Crowd
The 4th of July marks the day our country gained independence, but we wouldn't be here without the sacrifices of our ancestors. These meaningful 4th of July quotes help to highlight those selfless acts and the impact they had on our lives today.
Remember the real reason for fireworks season.
We are the land of the free because of the brave and the selfless sacrifices they made.
Our Founding Fathers put their country before themselves. Let Independence Day inspire you to do the same!
A toast to the courageous men who guaranteed us life, liberty, and the pursuit of happiness.
With great freedom comes great responsibility. Live a life that would make our Founding Fathers proud.
Here is to the land of opportunity - a place where hope can become a reality and a promise that democracy will bring a better tomorrow.
The 4th of July is a prime example of how our collective actions drive positive change. Let's remember what it really means to be an American!
Don't take the land of opportunity for granted. We only have the privilege to dream because we were willing to unite for a better life for all.
Powerful Presidential Quotes About the Day Our Country Gained Its Freedom
Those who have served in the highest office in the land have a unique perspective on what it means (and costs) for America to be free. There are important lessons to be learned from these words of our nation's leaders.
Independence Day Expressions Can Show Off Your Patriotism
No matter what your plans may be for Independence Day, take a moment to remember the reason you are celebrating. We hope you found some inspiration in this collection of patriotic 4th of July quotes, but if you need more ways to honor our Founding Father's sacrifices, consider looking at our list of freedom quotes and sayings.