You don't have to break out your best baking skills to nail these Halloween school snacks. The simple, easy approach to classroom treats is always a winner with the kids. So give these easy Halloween treats a try and see how effortlessly they come together for the whole class.
Treat the Class to Rich Oreo Bats
The class will go batty for these deceptively simple Halloween Oreo delights. Make them the night before for perfectly set (and delicious) chocolate bats.
Ingredients
Oreo sandwich cookies
Melting chocolate
Edible candy eyes
Directions
You'll need one Oreo plus an additional half an Oreo for each little bat, so set aside enough Oreo cookie halves to create the wings. Each Oreo half will need to be snapped (or cut) in half to create the two individual wings.
Melt your chocolate and thoroughly and coat each oreo. Set them on a parchment-lined baking sheet once they're coated.
Before the chocolate fully sets, add your wings and eyes.
Allow a few hours for the chocolate to fully harden.
Helpful Hack
If your chocolate sets before you can add the bat details, just apply a small amount of melted chocolate to the backs of the cookie halves or eyes to help them stick.
Candy Corn Parfaits Are Surprisingly Refreshing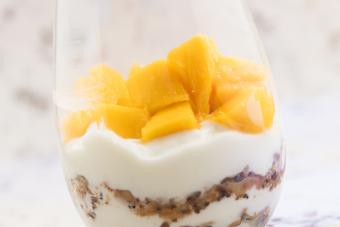 If you're not the crafty seasonal treat type, this Halloween snack idea is perfect for you. These cute candy corn parfaits only require four ingredients and are impossibly simple to make.
Ingredients
Fresh pineapple chunks (can sub for mango)
Mandarin oranges, peeled and sectioned (You can also use the jarred variety, just drain the juice first)
Vanilla yogurt
Candy corn
Directions
Start layering your parfait with the pineapple chunks on the bottom.
Next, add a layer of mandarins.
Follow with a layer of creamy yogurt.
Top it off with a handful of candy corn.
Transform Chocolate Cookies Into Edible Mummies
Did you know you can mummify practically any dessert? When we say mummify, we mean cover in a drizzle of white chocolate, of course.
Grab your favorite pre-made brownies or chocolate cookies and give them a criss-cross layer of white chocolate frosting or white chocolate candy melt. Pop on some ancient eyes — you can attach the edible candy version with frosting or pipe your own eyes by hand — and serve up the easiest mummy-themed treat ever.
Pretzel Spider Webs Add Some Creepy to Your Crunch
These simple spider webs are almost as mesmerizing as the real thing. Plus, they are unbelievably simple to whip up. This spider web pretzel guide from White Gunpowder is pretty elegant for a classroom treat that kids will devour.
Try 3-Ingredient Strawberry Ghosts
More Details
Chocolate-covered strawberries seem to have their place in nearly every holiday, and Halloween is no exception. If you want to bring fruit to the classroom as a treat, transform simple strawberries into cute little ghosts, and those sweet snacks will disappear in no time.
Ingredients
Strawberries, stems removed, if you prefer
White chocolate or white candy coating
Mini chocolate chips
Directions
With clean strawberries, start dunking your berries into the melted white chocolate. You'll want to coat at least ¾ of the strawberry.
Before the white chocolate sets, add two mini chocolate chips to act as eyes for the ghost and a third for the mouth.
Place in the fridge for a couple of hours to fully set the chocolate and keep your berries fresh.
Make Spooky Monster Yogurt Bark
More Details
This tasty Halloween bark has a healthy twist, but kids will be too excited by the monster toppings to notice. Yogurt bark is a breeze to make, and it's completely customizable.
Ingredients
Vanilla yogurt (full-fat yogurt is best)
Edible candy eyes
Halloween themed sprinkles
Bite-size Halloween candies (M&Ms, Sixlets, and Nerds work great)
Directions
Spread your yogurt in an even layer on a baking sheet.
Sprinkle your toppings, taking extra care to place the "monster eyes" in a few areas.
Freeze for at least three hours.
Remove from the freezer and snap into single servings using your hands.
Store in an air-tight container in your freezer until it's time to serve.
Quick Tip
You can add fruit and larger candies as toppings here, just make sure to chop them into smaller pieces so your bark is easy to snap apart.
Make Your Own Halloween Snack Mix
The beauty of snack mix in the classroom is how easy it is to serve to all those kiddos. A Halloween snack mix is fun and still provides a filling treat for the whole class. This Halloween snack mix from 365 Days of Baking & More is a great one to follow if you need some guidance.
Need to Know
You can make a snack mix with your own favorite sweet and salty Halloween treats. Just avoid common allergy risks like peanuts.
Monster Fruit Cups Come Together Quickly
This Halloween classroom treat takes minimal effort, and you get extra points for bringing the healthy snack. Fill clear, plastic cups with fruit and use permanent marker to draw monster faces on the outside of each cup.
Use cups of green grapes to make Frankenstein monsters or spooky goblins.
Try cups of watermelon or strawberries as bases for vampire monsters.
Purple grapes work for werewolf monsters or scary witches.
Use blackberries or blueberries to make zombie cups.
Cups of mandarin oranges make the easiest jack-o'-lantern snacks.
Fast Fact
This idea works for Jello and puddings cups, as well.
Healthy Mummy Pizzas Are a Filling Snack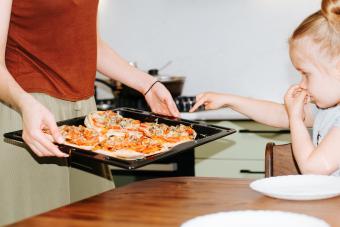 Sometimes simple snacks don't satisfy those little school appetites. If you want something closer to a meal, these hilarious mummy pizzas are the way to go. Yummy Bowl makes this spooky and savory gluten-free pizza recipe so simple.
Try Spider-Inspired Donuts Two Ways
More Details
Here's a snack secret you can use for nearly every holiday event in the classroom. Transform a simple box of donuts into a Halloween treat masterpiece. In fact, there are two ways you can use donuts to create spider-inspired snacks for school.
Spider Web Donuts
Spider web donuts are easier than they sound, and all you need is a box of chocolate-frosted donuts and a bag of white icing. You'll use the icing to pipe intricate web details around the donut to reveal a tasty (and creepy) donut snack.
Creepy Crawly Spider Donuts
This Halloween treat is double the creepy and double the sweet.
Ingredients
Glazed donuts
Chocolate donut holes
Chocolate icing
Small edible candy eyes
Chocolate sprinkles
Directions
Start by using a small amount of your chocolate icing to attach a donut hole to the center of your donut.
Follow with 4 chocolate icing legs on each side of the donut hole, extending them over the glazed donut.
Use the icing to attach two (or more if you're making realistic spiders) candy eyes to the donut hole.
Drizzle chocolate icing on top of the donut hole and add a generous amount of sprinkles to create a spooky, fuzzy spider.
Pumpkin Cinnamon Rolls Work for Breakfast or Snack
Here's a Halloween treat adults will love just as much as children will. Pumpkin cinnamon rolls are just adorable, and, if you're using pre-made dough, they're also easy to make. Try this pumpkin cinnamon rolls recipe from The Pinning Mama for a snack or breakfast treat the entire class will find scrumptious.
Helpful Hack
If you're making this in the middle of pumpkin spice season, you can usually find pumpkin-flavored cinnamon roll dough in your grocery store.
Craft Banana Ghosts in Record Time
This Halloween snack gets extra points for being affordable and fast. In fact, you can make this classroom snack as the kids are lining up to dig in.
To make ghost bananas, add chocolate icing eyes and a mouth to a peeled banana. This low-effort Halloween treat will gather all the giggles from your little class.
Quick Tip
You can apply the same ghostly idea to other produce as well. Carrot sticks, celery sticks, and apple slices can all work as your tasty ghosts.
Say Happy Halloween With a Cute & Creepy Snack
With these Halloween snack ideas, you'll make core memories for every kid in class. Remember, they won't notice the tiny imperfections in your icing or ask if you made everything in a rush that same morning. They'll just be happy to celebrate Halloween with snacks that make them smile.