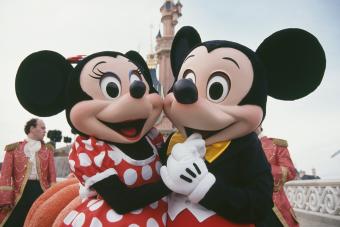 Whether you're hosting a birthday bash for a young girl, a baby shower for a long-awaited little lady, or a gathering of girlfriends for a 30th birthday celebration, Minnie Mouse party ideas will make every moment special. Draw inspiration from Minnie's unforgettable style, musical talent, and sweet nature. With the right decor, food, and theme, your Minnie Mouse party will wow guests of every age.
Host a Minnie Mouse Tea Party
If there is one place you're sure to find Minnie and all her friends, it's a tea party. The perfect setting for a girl's birthday celebration, a Minnie Mouse themed tea party has all the best parts of a traditional tea with all the classic Minnie Mouse details. Swap traditional tea hats for oversized bows for each guest. Serve tea in Minnie-approved kettles and cups with plenty of sweet colors, flowers, and polka dots. For younger girls, swap hot tea for hot chocolate and don't forget the birthday tea cake.
Plan a Musical Minnie Mouse Party
Everyone knows Minnie loves music, and a music-themed Minnie Mouse party will be a hit with kids of all ages. Go beyond music notes and piano keys on party decor, though they would certainly tie the theme together. Add toy musical instruments for children to enjoy, use toy records as chargers on table settings, and don't forget the karaoke machine.
Create a Nostalgic Minnie Mouse Party
The Minnie we know today has gone through a few changes since her debut in 1928. If you're hosting a party for someone who appreciates the classic, plan your decor around the original Minnie Mouse character. Use black and white decor details with pops of red or pink throughout. Retro Minnie details featuring the classic sketch look complement birthday cookies featuring Minnie's silhouette and her signature red bow. For an adult crowd, encourage guests to dress in red, white, and black attire. Extra points for sporting polka dots!
Throw a Modern Minnie Mouse Soiree
For a sophisticated approach to a Minnie-inspired party, go the modern and minimalist route. Swap literal interpretations of Minnie's style for subtle nods to her character. Trade the black, white, and red color scheme for a neutral and monochromatic cream, soft pink, or peach palette. Use feminine details, including a bow here and there, to elevate the Minnie Mouse vibes elegantly. Use crystal or colored glass for table settings in place of bright paper plates for a Minnie Mouse party adults will gush over.
Add Lots of Bows
A Minnie Mouse celebration must have an abundance of bows. Minnie's signature look, her bold and oversized bows, makes for easy party details. Use bows on centerpieces, desserts, balloon displays, and don't forget bow mouse ears for all the guests to wear.
Party With Plenty of Color
Minnie Mouse has worn more than her fair share of colorful dresses over the years, and she wears far more than just red or pink attire. Embrace Minnie's colorful side with a bright or pastel party color palette. Incorporate various shades of pink, turquoise, pale yellow, mint green, and purple.
Plan for Polka Dots
More Details
Minnie may have changed her style or her color choices throughout the years, but polka dots have always been her go-to print. Use polka dot details in decor items like plates, balloons, and tablecloths. Polka dot desserts and a stunning polka dot cake will give your party the Minnie Mouse seal of approval.
Serve Pink Desserts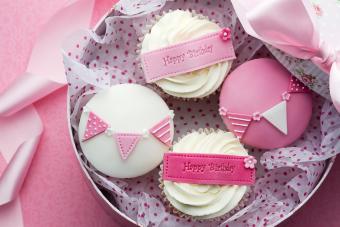 A traditional Minnie party calls for pink desserts that look as sweet as they taste. Pink cookies, cupcakes, crispy rice treats, and cake pops will have your guests swooning over the delicate and delicious dessert table. Minnie herself would approve of such a spread.
Make Pink & Red Drinks
Whether you're planning to serve punch for a group of kids or a cocktail lineup for a gathering of girlfriends, pink and red beverages will be the cherry on top for your Minnie Mouse bash. Try pink cocktails like cosmopolitans and French martinis for an over-21 Minnie-inspired soiree. Serve a pretty pink punch for guests of all ages. For older girls who want to feel all grown up, fruity pink mocktails are the perfect blend of safe and fun.
Use Mouse-Shaped Flower Arrangements
Minnie's silhouette is an unmistakable characteristic and a must for any party. Flower arrangements paying tribute to her classic shape are a fun and sophisticated party decoration. Use elegant rose arrangements for a mature guest list and stick to sweet blossoms for a group of young ladies or for a baby shower.
Design a Minnie-Inspired Balloon Display
More Details
For a photo-worthy display, a mouse ear balloon backdrop is an irresistible selfie spot. Minnie's face shape is easy to mimic, so look for opportunities to include her signature silhouette, bow and all.
Have Guests Make Their Own Mouse Ears
More Details
Everyone wants their own pair of mouse ears! Set up a station for a mouse ear DIY guests can do on their own for a Minnie Mouse party activity that doubles as a party favor. Be sure to include plain mouse ear headbands with bows, sequins, flowers, and beads for guests to make their own unique ears.
Play Pin the Bow on Minnie
Cut a Minnie Mouse silhouette from craft paper and use felt or paper bows to create a DIY pin the bow on Minnie game. To make your bows sticky, try adhesive rounds or double-sided tape. You can also use real bows made from ribbon or purchased from the girls' hair accessories section of your local department store.
Send Guests Home With Minnie-Approved Party Favors
More Details
Minnie Mouse would be the perfect hostess and send her guests home with a small token of appreciation. Take a cue from the darling Ms. Mouse and prepare fun favors for your guests. For young party goers, a set of mouse ears, a Minnie-inspired purse, or a collection of bows they can wear is a perfect parting gift. For guests of any age, sweet treats are always a hit. Try Minnie Mouse gourmet cookies, a Minnie Mouse hot chocolate bomb, or a couple of Minnie-inspired macarons.
Host a Sweet & Memorable Minnie Mouse Party
Minnie is classy, sweet, and always in style. Plan a party that exemplifies her best characteristics. With inspiration as charming and timeless as Minnie Mouse, your party will be the talk of the mom club or the most memorable gal gathering of the season.