A bright and flashy party is an unforgettable celebration for any age group. A neon party will encourage even the most shy wallflowers to get on the dance floor and party the night away. These neon party ideas are perfect for brightening your next occasion.
Bowl in Neon Style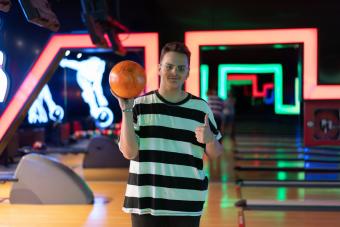 For kids, teens, and adults, a night at the bowling alley is a fun way to celebrate. Grab your brightest bowling ball and neon shoes for a night of glowing fun. Some bowling allies host glow-in-the-dark and neon nights to make your party planning even easier.
Try an 80s Party Theme
The 80s were the decade of leg warmers, big hair, and bright neon colors. Take your neon party to the next level of gnarly with an 80s party theme. All your neon decorations and details will fit in perfectly with a rad 80s bash.
Skate the Night Away
Much like bowling allies, skating rinks offer plenty of opportunities to party with neon colors. Invite your guests to fasten on some skates, grab a neon glow stick, and party in the rink with you. Your neon-colored party balloons, cups, and plates will look extra bright in the glow of the skating rink black light.
Swap Twinkly Lights for Neon Party Lights
You may use twinkle lights often in party decor, but a neon party calls for something brighter. Swap traditional party lights for bright neon lights to illuminate your celebration. Bright, colorful strobe lights take your occasion from a simple soiree to a fabulous festivity.
Bring Out Bright Balloons
Break Out the Black Light
If you want to make your neon party decorations really pop, illuminate your bash with a glowing black light. Perfect for a retro celebration or for a simple kids' party, a black light will give all of your party details an extra bright glow.
Party on a Neon Dance Floor
Give guests a place to show off their dance moves. A neon party floor will encourage kids and adults to bust out their best choreography. Try a Twister-inspired floor for a fun lineup of exciting neon party games that guests of all ages will be eager to play.
Brighten Smiles With Neon Face Painting
Slice Up Some Neon Grub
Pizza is an easy party food that all your guests will probably love. Keep your party pie on theme with a selection of brightly colored pizza toppings that pack a punch of flavor and vibrancy. If you make your own pizza, try dying the crust with vivid neon food coloring.
Toss a Neon Fruti Salad
Fruit just got a lot more fun to eat! Serve your guests an eye-catching fruit salad overflowing with shades of pink, green, orange, and yellow. Want to make your fruit side dish even more appealing? Make neon frozen grapes by rolling whole grapes in neon shades of sanding sugar and freezing them prior to the party. Your standard fruit just became a sweet and tart frozen treat with a colorful glow.
Candy Your Own Neon Apples
Here's a nostalgic party snack that deserves a comeback! Update the classic candied apple with a bright neon candy coating to dress up your food table and impress your guests.
Mix Bright & Colorful Drinks
Decorate a Neon Dessert Bar
Dessert bars are one of the trendiest party details right now, and a neon party wouldn't be complete without one. Dress up your dessert bar with a display of the brightest and boldest sweets you can think of. Neon-frosted cookies, vivid rock candy, bright donuts, and bowls of fruity candy in neon colors are just a few ways to bring pizazz to your trendy dessert bar.
Scoop Out Some Neon Ice Cream
If a dessert bar doesn't fit your party's vibe, maybe an ice cream bar will. Bright, fruity sherbert or ice cream flavors sporting unexpected colors add an extra sweet detail to a beloved birthday party treat. Serve your sherbert or ice cream with a selection of colorful toppings like sprinkles, gummy worms, and fresh fruit to keep the neon theme front and center.
Shine a Spotlight on Your Neon Cake
The bright colors keep shining long after you blow out the candles. Present a cake with all the neon colors for a vibrant finish to a glowing celebration. From the icing, to the cake, and even the candles on top, make sure this celebratory dessert shines the brightest at your neon party.
Give Your Neon Party a Long-Lasting Glow
These tips will help your neon-themed party burn into your guests' memories in the best way. With glowing decor, vivid food, and seriously fun activities, you'll be basking in the party afterglow for quite some time.