Your cousin is often your very first friend. Celebrate your unique and loving bond on National Cousin Day with one of these fun and creative ideas.
Celebrate National Cousins Day
National Cousins Day comes around every year on July 24th. Take the time to spend this day with your cousins because they are a special part of your family. Try out new activities, have some laughs, make new memories, and most importantly, enjoy one another.
Recreate Your Finest Moments
You surely have countless photos of you and your favorite cousin from back in the day celebrating holidays, birthdays, and family trips together. On National Cousins Day, take a few of your prized family photos and recreate them in your adult years. The entire family will laugh until they cry with these images.
Take a Trip Together
Pack up the car and head into the open road. Plan a special weekend getaway just for you and your cousins to partake in. Head to the mountains and hike, lie around on the beach and soak up the sun, or spend a few days in the big city shopping until you drop. Anything is fair game on a cousin's trip.
Make Something for Just the Two of You
If you and your cousins are into crafting, get everyone together and make something special. Book a time slot for everyone to do a group painting session or head to a local pottery place and create something you'll treasure always. Gather at one of the cousin's houses on National Cousins Day and make a memory blanket or do a bit of scrapbooking.
Plan a Party
Throw a party on National Cousin's Day. Because this day is celebrated in the middle of summer, the party possibilities are endless. Hold a family bbq in the backyard or host something a bit more fancy at a local dining establishment. If you have tons of cousins in the family, consider renting out a space to gather in and spend the day in each other's company.
Virtually Hang Out
Considering the current pandemic, cousin gatherings might not be something that you are comfortable with at present. You can still get together with your cousins to celebrate Nation Cousins Day, you'll just have to do it virtually. Go through Facetime, Zoom, or Google Meet and set a time and day for your cousins to all login and be together on screen. Pour a cocktail and reminisce from the comfort of your own home.
Send Something Unique and Personalized
You might live far away from your cousins, and getting together may not be a possibility. Even if physicality and virtually connecting isn't possible on National Cousins Day, you can still show your loved ones that you are thinking about them. If you have a lot of close cousins, send each one a card and write a personal message inside of them. If you have one or two cousins whom you are especially close with, send them flowers or fun gift baskets.
Share a Sleepover
You used to stay up late under the covers all the time when you were younger. Why stop now.? Think about making National Cousins Day your annual cousin sleepover. Even as adults you can still snack on your favorite childhood foods, watch old movies, and camp out in the living room as you dive into your treasure trove of memories.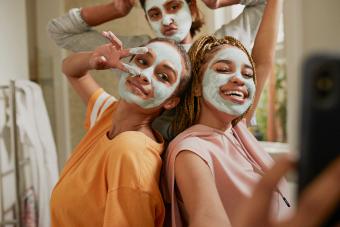 Head Outdoors
With National Cousins Day falling in warmer months, families can spend the day outside participating in any number of exciting activities. Plan a cousin hike or bike trip, go wine tasting, or spend the day enjoying water sports like boating or canoeing.
Family Photoshoot
Get all the cousins together, dress in complementary outfits, hire a photographer and capture the magic that is your awesome family. This is something that can be done with older cousins or groups of younger cousins. Make sure that you order extra copies for the grandparents, they will want to hang this in their home too.
Get Down With Genealogy
Use this time to learn more about the genetic DNA and your heritage that you and your cousins share. You can look into doing something like 23andMe to learn about the similarities and differences between you all, DNA-wise. You can also choose to dive deeper into your family tree by using sites like Ancestry.com.
Buy Something Special for Just the Two of You
Treat yourself and your cousins to a special something on Cousin's Day. Maybe buy a special keepsake that reminds the pair of you of your bond every time you look at it or a necklace with each other's initials on it. Whatever you choose, make it personal and special.
Make It an Annual Thing
If this is your first year celebrating National Cousins Day, try to make the event an annual thing. If your family is traditional, they might want to stick with the same type of celebration each year. If they like to change things up, plan a different celebration activity on July 24th every year and give it a new title based on your favorite nicknames for your cousins. You all can rotate the planning duties with a different cousin or set of cousins planning something each year.
Having a Happy Cousins Day Is Easy
There are all kinds of fun national days on the calendar, but if you love your cousins, National Cousins Day may be the best. Sure, you can plan elaborate trips and parties to honor your special relatives, but enjoying National Cousins Day can be just as fun when you keep it simple. The most important thing about this day is honoring your cousins, (first, second or beyond) and connecting with them. Tailor the day to everyone's tastes and comfort levels.