Simple wedding bouquets are an emerging trend in the bridal industry as more couples prefer an elegant, understated celebration rather than the elaborate affairs popular several years ago. Simple does not mean boring or predictable; however, and there are many ideas for simple bouquets that couples can use to create their own memorable floral arrangements.
Ideas for Simple Wedding Bouquets
There are many ways to create a simple but beautiful wedding bouquets. Some popular options range from a single stem, multi-colors to different design styles. A few tips to consider before making a decision include:
Add inexpensive, easily attainable baby's breath, ferns, or greenery for greater depth in your simple design.
Tie the bouquet with satin ribbon, either white to match the bride's gown or colored to match the bridesmaid's dresses.
Choose non-floral arrangements, such as silk wedding flowers or origami flowers instead of real blooms.
Single Stem
A single bloom, often a larger type of flower or a more elaborate species, is highlighted by the simplicity of the arrangement. A favorite flower for this type of bridal bouquet is the dramatic pink protea. Another trending choice is a long stem large calla lily. Brides aren't limited to large flowers, some opt for the simplicity and elegance of a single stem normal-sized bloom.
Composite Flower
This type of over-sized single flower is just an illusion. A composite bouquet is created by wiring petals, blooms and even buds together so you end up with what appears to be one very large flower. Some brides skip the expense of a composite and opt for a studio prop, such as a very exaggerated large rose or other flowers. This single extravagant flower is guaranteed to be fun and also a showstopper for any wedding.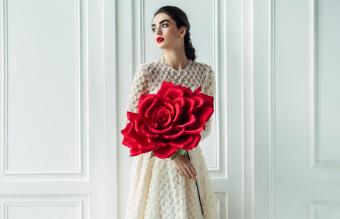 One Flower Stem for Bridesmaids
The bride may opt to go extremely simple with her bridesmaids carrying a single long stem while she carries a simple bouquet with smaller sizes of the same flower and same color. For example, the bridesmaids might carry a single long stem peony while the bride carries a bouquet of several peonies.
One Flower Type and Same Color
A bouquet made up of the same color of just one type of flower can be inexpensive since you'll be purchasing flowers in volume. Choosing a basic nosegay design with one color flowers rather than an elaborate cascade of multiple flower types is a great solution for anyone who desires a simple wedding bouquet.
Same Flower in Two Colors
Another simple bouquet choice for the bride and bridesmaid bouquets is to select a type of flower and then only use two colors. This could be a bouquet of pink and cream roses. A simple bridesmaid bouquet might only contain pink roses.
Hand-Tied Bouquet
Popular for bridal and bridesmaid flower bouquets is an exposed stem bouquet design. Exposed stems on a basic bouquet add texture and depth to the design. Many brides opt to carry this bouquet style. Creative brides interested in saving money to spend on their honeymoon or new home find making a DIY type of bouquet easy and only requires a little floral tape and ribbon to wrap the stems together. A more casual style requires tying the stems just below the flowers and allowing the stems to crisscross instead of being tightly bundled together.
Monochromatic Colors
Another simple but extremely elegant bridal bouquet is the same flower in different color values ranging from very light to very dark for a monochromatic effect. A good example of this type of bouquet is to select very pale purple peonies, medium purple peonies and very dark purple peonies in a bouquet arrangement. This creates a very dramatic and beautiful bouquet. Select one of the three hues to feature in a single color bouquet for your bridesmaids.
Rainbow Colors of Same Flower
You can select one type of flower and then go with a rainbow of colors for a simple but far from boring bridal bouquet. For your bridesmaids, choose smaller flowers or select one color of the same-sized flower. For example, you may choose purple, pink, white, orange and red tulips in a hand-tied arrangement or you may prefer to carry in a presentation/arm sheath bouquet style. Your bridesmaids may carry arm sheath bouquets in one color or assign each bridesmaid a different color.
Opt for a Toss Bouquet
The bride may decide to go simple by carrying a toss bouquet instead of large elaborate one. The toss bouquet is typically a smaller version of the bride's bouquet created for the sole purpose of the traditional throwing of the bridal bouquet to the bridesmaid. The lucky bridesmaid who catches the toss bouquet will be the next one to marry. Carrying the toss bouquet for the main bridal bouquet is a great way to simplify your wedding and save money in the process.
One Color Different Flower Types
You can use different flowers that have similar colors to create a rich textured simplistic bouquet. Choose one flower type from the bridal bouquet to create bridesmaid bouquets. Together the bridal bouquet and that bouquets of the bridesmaids make a lovely palette of color and textures.
Three Colorful Flowers
One of the most compelling and adorable small bridal bouquets is a simple handful of flowers. This may be just three or five flowers hand-tied with a narrow ribbon. This bouquet has the casual appeal that can contrast with the elegance of the bride's dress or complement a casual wedding style. Did the bride hand-pick the flowers just before walking down the aisle? This can be an amazing choice!
Petite Bridal Bouquet
Keeping it simple may mean opting for a petite bridal bouquet of a few small rose buds, baby's breath and fern filler in a hand-held design. You can't go wrong with this type of bouquet. Bridesmaids can carry a single rosebud nestled in a fan of ferns. This type of flower choice ensures the bride and her bridesmaids are never outshined by flower bouquets.
Reasons to Go Simple
Brides may choose a simple wedding bouquet for a number of reasons: personal style preference, convenience, or economics. Whatever your reason for deciding simple is best, you have many choices for a truly elegant wedding.
Elegance
A bride may want a sleek, elegant ceremony with delicate touches but may not be interested in an elaborate wedding bouquet. Instead, a simple bouquet creates a powerful impact, especially if it has bold colors or unusual blooms. A simple bouquet can be paired with a simple, casual or ornate wedding gown. A simple bouquet won't overshadow delicate beadwork, lace, and other intricate details of a bride's gown. Balance of design is key to choosing the right wedding bouquet for your gown.
Ease
Brides with a do-it-yourself preference may opt for simple wedding bouquets because they are easier to construct without extensive professional experience. In fact, the simplest of bouquets - a single long stem rose - can be created in as short a time as it takes to pluck a bloom from the rosebush or the florist's display. Depending on how each bride defines "simple," however, some sleek bouquets will still need a professional design to take the right form and proportion, though they will generally require less time and effort from experienced wedding florists.
Affordability
Generally, the simpler a bouquet is, the less expensive it is, and this can be a major factor for brides on a budget. Opting for a simple bouquet design also allows brides to select more expensive, rare flowers that would be too pricey for a larger bouquet. A single wedding bouquet can run $100 or more depending on its design, size, types of blooms, and the season, but simple bouquets are generally far cheaper but no less beautiful.
Versatility of Simple Wedding Bouquets
Simple wedding bouquets are sophisticated, elegant, and affordable, making them a popular option for many types of brides who want a unique flair without garish fanfare for their wedding day. By carefully choosing just the right simple design - even if it isn't flowers at all - a bride can create a beautiful accessory to highlight her special day.