It's hard not to notice all the flavors popping up at the liquor store lately. Chocolate chip cookie, s'more, cookies and cream, chocolate, brown sugar, salted caramel, root beer, cherry, cold brew, peanut butter... the list goes on and on and on. We're not talking about liqueurs, and no, we're not talking about vodka. We're talking about the best flavored whiskies out there.
While the flavors all sound delicious (except maybe for the musk-flavored whiskey with oil from the castor gland of the beaver that we stumbled on in our research), knowing how to drink them can be a bit of a challenge. But we've got you! Here's our take on how to drink some of the best flavored whiskeys on the market.
Cookie-Flavored Whiskey
Chocolate chip cookie whiskey, cookies and cream whiskey, or cookie dough whiskey — you don't need to be a baker to enjoy a gooey, freshly baked cookie with these whiskey flavors. Aside from enjoying them neat or on the rocks, you can mix these flavored whiskeys into an old-fashioned, milk punch, or Manhattan. Or mix it with:
Bitters (walnut bitters sound particularly interesting)
Almond milk
Coffee, hot or iced
Black tea or iced tea
S'More and Chocolate Whiskey
There's no need to gather around the campfire or raid the candy drawer for a treat the next time your sweet tooth knocks. The s'more whiskey might have you checking your face for gooey marshmallows, and the chocolate whiskey is just sweet enough to keep you from making sure you didn't leave any wrappers lying around. These whiskeys are great on their own, with a bit of ice, or mixed into your favorite old-fashioned or Manhattan. Or try them with:
Simple syrup
Bitters
Hot chocolate
Almond milk
Coffee, hot or iced
Vanilla liqueur
Brown Sugar and Salted Caramel-Flavored Whiskies
Brown sugar and salted caramel are little nibbles of heaven, and when you combine those flavors with whiskey, well, it's as though the stars aligned for you to have the perfect, most-balanced whiskey drink. Swap these for your usual whiskey the next time you make an old-fashioned, Manhattan, or Irish coffee for a tasty twist. Or enjoy with a bit of ice, neat, or combined with any of these mixers:
Hot chocolate
Simple syrup
Amaretto
Vodka
Heavy cream
Irish cream
Bitters
Coconut milk
Cold brew
In a twist on the hot toddy or Tom and Jerry
Cold Weather Whiskey Flavors: Gingerbread, Pumpkin Spice, and Vanilla
From that first red leaf on the trees to the deep snow banks that cover the earth in winter, turn to a gingerbread whiskey as you decorate for the holidays, the pumpkin spice when you're binging horror movies, and the vanilla whiskey from first frosty morning to Valentine's Day dinner. Add this to your old-fashioned, into your Irish coffees, or sip these on their own by the fireside. Or make up a new drink with any of these tasty mixers.
Ginger beer
Ginger ale
Coffee, iced or hot
Irish cream or heavy cream
Simple syrup
Bitters
Maple syrup
Pumpkin puree
Cola or vanilla cola
Apple cider
Pumpkin beer or stout to make a beertail
Fruit-Flavored Whiskeys
Browsing the flavored whiskey aisle is a lot like shopping the produce aisle: if there's a juicy fruit flavor, odds are it has been bottled and paired with whiskey. Cherry? Yes. Blueberry? It'll blow you away. Blackberry, strawberry, berry on berry, on fruit. These are the whiskies you want when you're whipping up a whiskey smash, a juicy whiskey sour, an old-fashioned that's soft and sweet, or a hot toddy that's a little fruitier than usual. You can also make great drinks by mixing fruit-flavored whiskeys with:
Cranberry juice
Cherry juice
Ginger ale
Ginger beer
Cola
Club soda
Lemonade
Limeade
Muddled fresh fruit
Simple syrup
Cold Brew Whiskey
It doesn't take much brainstorming to think about where you'd use some cold brew whiskey. The easiest place to start is anywhere you'd use a coffee liqueur. Truthfully, cold brew whiskey is one that's five stars all on its own or over a little ice. Or try a cold brew old-fashioned or even as the spirit in a Toronto. Or mix it with:
Irish cream
Heavy cream
Simple syrup
Almond or coconut milk
Coffee, hot or iced
Hot chocolate
Club soda
Cola
Vanilla liqueur
Peanut Butter Whiskey
Like chocolate and other sweet-flavored whiskeys, when you swap your whiskey for a peanut butter whiskey, you have an instant liquid dessert. And it doesn't even need to be dessert time. Peanut butter old-fashioned? Absolutely. An easy pb&j highball just by mixing with strawberry club soda? It's that simple.
Apple and Peach Flavored-Whiskies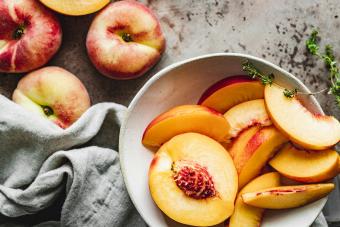 It isn't fall if you don't enjoy at least four to 14 apple cocktails. And it sure isn't summer if you don't sip some boozy sweet peach tea on the deck in the shade. Slip these into your old-fashioned, give your next whiskey sour a little something extra, or sip it on its own while you admire the summer day with some peach whiskey or a cool autumn night with your apple whiskey. Some great mixers include:
Apple cider
Simple syrup
Hot toddy
Bitters
Ginger ale
Ginger beer
Club soda
Lemon-lime soda
Cranberry juice
Sweet Honey and Spicy Cinnamon-Flavored Whiskies
Sweet honey whiskey and biting cinnamon whiskey share a lot of mixers, despite being on opposite sides of the taste spectrum. However, these unlikely flavors are quite the combo with these mixers. But they're just as smooth in an old-fashioned or added to a whiskey sour. Or try these:
Ginger ale
Ginger beer
Club soda
Cola
Apple cider
Cranberry juice
Orange juice
Cherry juice
Lemonade
Iced tea
Hot tea
Pineapple juice
A riff on the Manhattan
Banana-Flavored Whiskey
We're not monkeying around here. Banana whiskey is here to stay. It's sweet without being cloying, and it still lets whiskey be the star. Does that make it an underrated flavored whiskey? Well, we're bananas about it. So, how can you mix it up? Aside from an old-fashioned or New York sour, we have a few suggestions for mixers.
Pineapple juice
Orange juice
Bitters
Simple syrup
Irish cream
Vanilla liqueur
Heavy cream
Hot chocolate
Root Beer Flavored Whiskey
Root beer? In whiskey? Grab a seat. Root beer is herbaceous, sweet, and earthy. Whiskey? Spiced, herbaceous, and also a touch earthy. It's one of those flavor combos that makes you question why, but once you give it a sip or two, it's hard to imagine a life without root beer whiskey.
Cola
Cream soda
Cherry bitters
Iced coffee
Orange liqueur
Irish cream
Sweet vermouth
Black tea, iced
Take a Trip to Flavored Whiskey Wonderland
This isn't your grandpa's whiskey, but it's just as boozy and even more flavorful. Where usual whiskeys can tread, these whiskeys soar. They have flavor, bite, and all the whiskey notes you already love. So, where will you be starting? A biting cinnamon whiskey old-fashioned or a tropical banana whiskey cocktail? Maybe just make a flight.