Leftover stuffing isn't a common occurrence in my house after holiday dinners. We devour it like it's the best dish on Earth (and, truthfully, it kind of is). But if you miraculously find yourself with extra stuffing or dressing, you're one of the lucky ones.
Sure, you could eat it as is, but there are tons of creative leftover stuffing recipes that'll transform this tasty dish into something even more magical. Honestly, it might just be a good idea to make loads of extra stuffing, so you're sure to have enough for these treats. Don't say I didn't warn you.
Make a Tasty Breakfast Skillet
Make a hearty post-Thanksgiving breakfast that'll keep you fueled through your Black Friday shopping or whatever else you have planned. The base of this breakfast skillet is leftover stuffing (of course), but you can modify it however you like based on your preferences or what you have on hand.
Sautee whatever vegetables or meats you'd like (diced turkey, sweet potatoes, onion, zucchini, bacon, etc.).
Add plenty of leftover stuffing and season with salt and pepper to taste.
Make a few indents in your stuffing and veggie mixture, then carefully crack an egg into each depression.
Cover the entire skillet and cook over low heat for about 7 to 9 minutes until the egg whites are cooked.
Try Bacon-Wrapped Jalapeno Stuffing Poppers
Jalapeno poppers are one of those finger foods that fly off the kitchen counter as soon as they come out of the oven. Give yours a little extra somethin' somethin' by adding leftover stuffing to the popper filling.
Mix together equal parts cream cheese, shredded cheddar, and your leftover stuffing.
Slice raw jalapenos in half length-wise, then remove the membrane.
Fill each jalapeno half with the cheese and stuffing mixture and wrap it in a slice of bacon.
Bake at 400 degrees Fahrenheit (204 degrees Celsius) for about 20 minutes or to your liking.
Use Leftover Stuffing in Tacos
There are tons of taco filling options out there inspired by different flavors and cuisines. Why not make a Turkey Day leftovers taco? Just reheat some leftover stuffing in the air fryer or oven to give it a nice crisp, then toss some turkey, stuffing, and cranberry sauce onto a corn tortilla and enjoy.
Quick Tip
Need something a little more filling? Throw your leftovers into a larger flour tortilla to make a Thanksgiving burrito.
Enjoy Hearty Stuffing Meatballs
If you're absolutely sick of turkey after your holiday dinner, you can use your leftover dressing or stuffing with a different protein: ground beef. Make hearty and heavily seasoned meatballs using stuffing in place of breadcrumbs. Enjoy with spaghetti, in a meatball sub, or as is.
Indulge in Stuffing Bread Pudding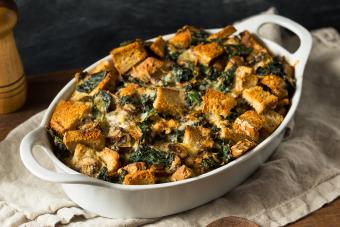 Traditional bread pudding is sweet and usually served as a dessert, but it doesn't have to be that way. A savory bread pudding is a great dish for brunch or lunch as an alternative to your standard breakfast casseroles. And it's incredibly easy to throw together if you have a bunch of extra stuffing lying around.
Sautee whatever protein or vegetables you like (mushrooms, spinach, kale, sausage, bacon, etc.).
Whisk together 3 eggs, 1 cup heavy cream, and seasonings to taste to make a custard.
Coat 5 cups of stuffing in the custard, then fold in your veggies and meats.
Pour the mixture into a greased casserole dish and bake at 350 degrees Fahrenheit for 35 minutes or until cooked all the way through.
Put Together Easy Leftover Stuffing Meatloaf
Make dinner tonight using this leftover stuffing recipe that's as easy as it is delicious. All you have to do is make your favorite meatloaf recipe, but substitute the breadcrumbs with stuffing. Yep, it's that easy!
Make Savory Waffles
Sweet, syrupy waffles are great, but you're definitely going to want to try this savory stuffing waffle. It's still great for breakfast, but you can enjoy it any time of day if you prefer.
Beat an egg and stir in your leftover stuffing.
Spoon the mixture into a waffle iron and cook as directed.
Top your savory waffle with cheese or a poached egg.
Snack on Stuffed Mushrooms
Stuffed mushrooms are crowd-pleasers as appetizers, hors d'oeuvres, or even just a snack. Most recipes call for bread crumbs, but you can easily use your extra stuffing in its place for a twist on the classic.
Quick Tip
Go even bigger with stuffed portobello mushrooms.
Use Stuffing as a Creative Mac & Cheese Topping
Who doesn't love mac and cheese? Make your favorite homemade mac and cheese recipe, but instead of using breadcrumbs as the crunchy topping, use toasted stuffing. You can get it crispy in the oven, on the stovetop, or even in the air fryer.
More Leftover Stuffing Ideas
The options for leftover stuffing are truly endless. Use these ideas for inspiration, then incorporate your leftovers into any of your favorite dishes.
Use it as a crunchy topping on any savory casserole or bake.
Stuff your stuffing inside tomatoes, zucchini boats, portobello mushrooms, acorn squash, etc.
Layer stuffing, vegetables, and stuffing to create a Thanksgiving leftover casserole.
Make mini stuffing muffins using the savory bread pudding recipe and a muffin tin.
Use stuffing and mashed potatoes as an empanada filling.
Turn stuffing into dumplings and enjoy soup and dumplings.
Never Let Stuffing Go to Waste
Even if your family doesn't love stuffing as much as mine does, you'll never let stuffing go to waste again with these fun recipes. Many of them play off the stuffing flavor you know and love, whereas others completely mask it, like the delicious leftover stuffing meatball recipe. Whichever route you go, you won't be disappointed.