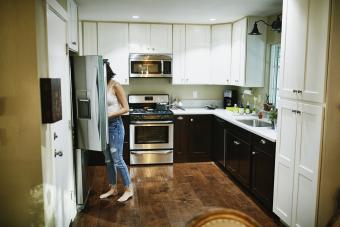 You know what it is? It's too hot to cook, that's what it is. I know you're side-eyeing your oven and even dreading the air fryer. Are you ready for some cool news then? These are the best of the hot day recipes, and none of them require trips to the grocery store for an obscure ingredient you'll only use once.
Watermelon Feta Salad
Think of this juicy and soul-quenching watermelon salad as a choose-your-own adventure. Take it further by adding a half cup or so of peeled and sliced cucumber. This recipe will make approximately 10 servings.
Not a fan of onion? You can leave that in the fridge. Loathe arugula? This is lovely with bibb lettuce, romaine, or mixed greens too. Or no greens. Another idea is to swap the basil for mint.
Ingredients
16 cups cubed watermelon OR 1 large watermelon, cubed
4-6 ounces feta cheese
2 tablespoons olive oil
6-8 fresh basil leaves chopped finely
¼ white onion or red onion, sliced
3-4 cups arugula or preferred green (optional)
½-1 cup cucumber, peeled and sliced (optional)
Balsamic vinegar or glaze for dressing, to taste
Instructions
In a large bowl, mix the watermelon, feta, olive oil, basil, and onion.
Add cucumber and leafy greens if desired.
Stir to mix.
Add balsamic vinegar to taste.
Tomato Sandwich
Any wrap or sandwich is a great idea for a quick, no-cook meal on a hot day, but there's just something especially cooling about a juicy, hydrating tomato. What you put on a tomato sandwich is a personal subject, so whatever doesn't fit in with your too-hot-to-cook-so-you're-enjoying-this-classic vibe, go ahead and skip it.
Ingredients
2 slices bread
3-5 slices fresh tomato, beefsteak or another similar style
Mayo, to taste
Salt and pepper, to taste
Lettuce, optional
Sliced onion, optional
Instructions
On the bread, add desired amount of mayo.
Add tomato slices.
Salt and pepper to taste.
Add lettuce and onion if desired.
Quick Tip
Don't forget about building a classic sub sandwich, sandwiches with deli meat, club sandwiches, or BLTs. No bread? No problem. Turn your sandwich into a lettuce or tortilla wrap instead.
Cereal
Make it simple! There's no reason to break a sweat making something to eat or even while you're eating. Open the cabinet, grab a bowl and some cereal, and top off with milk. Then sit back down in front of the fan.
Avocado Toast - From Basic to Fancy
Bust out the avocado and the toaster if you're up for it. But there's no judgement here if you eat this masterpiece on untoasted bread. If you want to dress up your avocado toast, Cookie and Kate has a wealth of avocado toast topping ideas.
Ingredients
2 slices of bread
1 small avocado, peeled and sliced
Salt and pepper to taste
Other topping ideas: chives, red pepper flakes, everything bagel seasoning, soft-boiled egg, tomatoes, shredded cheese, pico de gallo, bacon bits.
Instructions
Add bread to toaster and cook until desired crispness.
Add equal amounts of sliced avocado to each piece of toast.
Gently mash with fork and spread to cover the toast.
Add salt and pepper to taste, as well as any other desired toppings.
Beat the Heat Charcuterie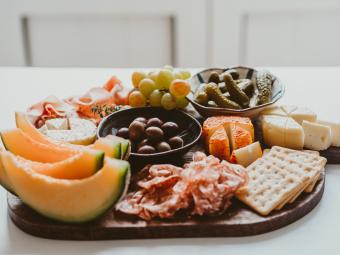 Take the time to build a charcuterie board with a wine pairing or whip up some breakfast for dinner with a breakfast charcuterie board. The serving size depends on how many and how much of the ingredients you plop onto the board.
Above all, a charcuterie board doesn't need to be fancy! Grab some slices of deli meat or something indulgent, like prosciutto, slice up a roll of salami, pile some cheese onto the board, and add some crunch in the form of crackers or pretzels. Don't forget some grapes or other berries. Don't forget the glue: honey, hot honey, or dijon mustard. Bonus points for adding almonds or other nuts.
Personally, we're a big fan of sliced deli ham, swiss cheese, and some dijon on a cracker or a slice of apple with brie and honey on a small piece of bread.
Similar, but not quite the same, to the classic charcuterie board, is the fruit and cheese board. This beat-the-heat too-hot-to-cook meal focuses on your daily servings of dairy and fruit.
Pasta Salad for Dinner
If boiling water doesn't make your blood boil in the heat any extra, this recipe will hit the spot. Or, plan ahead and make sure you have this recipe mixed up and ready to go before the heat wave hits your house. (Or boil some pasta and freeze it in air-tight containers for up to six months and thaw to toss in a salad). If you're looking for extra inspo, look no further than Gimme Some Oven's 15 different recipes.
Ingredients
2 cups cooked and cooled pasta (rotini, farfalle, penne, or cavatappi)
½ cup cherry tomatoes, sliced
½ cup canned artichoke hearts
¼ cup diced hard salami
¼ cup chopped pepperoncini
¼ of a white or red onion, sliced
⅛ cup black olives, sliced
½ cup red wine vinegar
¼ cup olive oil
½ tablespoon Italian seasoning
Salt and pepper to taste
Instructions
In a large bowl, add pasta, tomatoes, artichokes, salami, pepperoncini, olives, and onion.
Stir briefly to mix.
Add vinegar, olive oil, seasoning, as well as salt and pepper.
Stir well to mix and combine.
Watermelon Pizza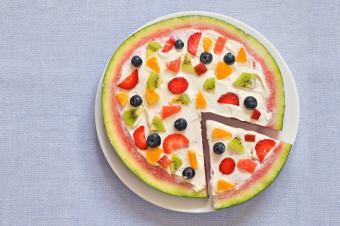 Enjoy pizza in the summer heat without turning on the oven. Watermelon pizza, that is. Although it sure feels like you could cook a pizza on your driveway today, huh?
Ingredients
1 watermelon round slice
1 cup whipped cream OR ¾ cup greek yogurt
¼ cup strawberries, sliced
¼ cup blueberries
¼ cup peaches
¼ cup kiwi, peeled and diced
Instructions
On the watermelon, spread whipped topping.
Sprinkle with desired fruit toppings.
Cut into slices similiar to a pizza.
Quick Tip
Other watermelon pizza topping ideas that hit the spot are shredded coconut, pitted and sliced cherries, raspberries, blueberries, a sprinkle of mint, or pomegranate seeds.
Easy Homemade Salmon Sushi Bowl
Hummus Board Dinner
You've certainly seen the viral butter board, but that's not what's for dinner tonight. Tonight, it's creamy, umami hummus.
Ingredients
2 cups prepared hummus
¼ cup sun-dried tomatoes
8-10 basil leaves, torn
2 tablespoons garlic-infused olive oil
¼ cup pine nuts
1 tablespoon grated lemon zest
Pita chips, crostinis, or naan for dipping
Instructions
Spread the hummus on a charcuterie board.
Top with sun-dried tomatoes and basil leaves.
Drizzle with the garlic-infused olive oil.
Sprinkle with the pine nuts
Serve with pita chips, crostini, or naan.
Quick Tip
Consider using different flavors of hummus to craft a board that'll be anything but dull. Think of roasted red pepper, garlic, or beet hummus.
Banana Split for Dinner
You sure can have a banana split for dinner on those hot summer days. But let's punch it up with some healthy ingredients too.
Ingredients
2 scoops frozen yogurt, coconut milk ice cream, or traditional ice cream
1 banana peeled and sliced down the middle
2 tablespoons shelled peanuts, almonds, or pistachios
¼ cup blueberries, blackberries, or strawberries, optional
Whipped cream, cherry, and chocolate syrup for garnish
Instructions
On a plate, add the sliced banana.
Top with scoops of ice cream, nuts, and fruit if desired.
Garnish with a dollop of whipped cream, a cherry, and drizzle of chocolate syrup.
Looking for more flavors? Go ahead and use hazelnuts or pecans, add a drizzle of honey or maple syrup instead of chocolate, add some mango or pomegranate seeds, or use yogurt instead of whipped cream.
Bean Salad - So Much More Than Salad
This filling, and no cook, salad is a great way to get some fiber - and better yet, you can also eat this as a dip with tortilla chips if you're not interested in chowing down on it as a salad. Mix it with rice or toss it into a wrap. This bean salad has endless possibilities. On its own, this makes roughly 6 servings.
Ingredients
15-ounce can chickpeas
15-ounce can red kidney beans
15-ounce cannellini beans
¼ medium red or white onion, chopped
¼-½ cup red wine vinegar or apple cider vinegar
⅛-¼ cup olive oil
2 teaspoons fresh parsley, roughly chopped
Salt and pepper to taste
½ avocado, peeled and diced
Instructions
Drain the canned beans.
In a bowl, add the beans and onion.
Add vinegar, olive oil, parsley, as well as salt and pepper to taste.
Stir well to mix.
Add avocado, stir briefly to combine.
Columbia's Deliciously Different "1905 Chopped Salad"
The 1905 salad is life-changing. With a uniquely umami flavor profile from olives and Parmesan cheese, crisp lettuce, fresh tomatoes, and filling ingredients like Swiss cheese and ham, this salad bursts with flavor without you ever having to turn on the oven.
Breakfast in a Mug for Dinner
You're familiar with (and a big fan of) brinner! This quick microwave recipe uses up whatever you usually like to mix with eggs, but without standing over a hot stove while you scramble or mix.
Budget Bytes recipe is, hands down the best one for your too-hot-cook-brinner option. While this recipe is great as is, think of adding spinach, onions, chives, herbs, whatever it is you usually add to your eggs.
Gazpacho
Cool off with ... soup? You read that right. Gazpacho is here for you to spoon, sip, and slurp your way to a full belly when it's just too darn hot to cook.
Ingredients
2 pounds ripe red tomatoes, cored and roughly cubed (beefsteak, roma, or other red tomatoes)
1 medium cucumber, seeded and peeled
½ small white onion, peeled and roughly chopped
½ small green pepper, chopped and seeded
1 medium clove garlic, peeled
1 lime, juiced (approximately 2 tablespoons)
¼ cup extra virgin olive oil
2 tablespoons sherry vinegar
Salt and pepper to taste
Instructions
In a blender or food processor, add all ingredients.
Puree for approximately 90 seconds or until the gazpacho is your desired consistency.
Pour into a resealable container.
Cover and place in refrigerator for approximately four hours.
Serve in bowls.
Garnish with croutons, parsley, or a small drizzle of olive oil.
Yogurt Parfait
The yogurt parfait isn't just a $15 airport treat when you're pressed for time and hungry. They're simple to throw together and an absolute treat for dinner on those hot summer days.
Ingredients
1 cup vanilla yogurt
½ cup granola
¼ cup blueberries
¼ cup peaches, cubed
Instructions
In a cup, add half of the granola.
Top with half of the yogurt and fruit.
Top with remaining granola.
Top with remaining yogurt and fruit.
Helpful Hack
Go wild with the fruit you add, the yogurt flavors you pick, or even the type of granola. Imagine a strawberry yogurt with chocolate granola and sliced banana with cherries? Sign me up.
Foods for a Heat Wave
Fed is best, so even if you want to sit in the shade and eat ice cream for dinner, we'll never judge you. These are some ideas that you can eat on their own or add to salads, wraps, or already cooked starches for those hotter-than-the-sun days.
Picnic meals require little work or heat, such as a Cobb salad or veggie kabobs
Yogurt
Ice cream
Easy pre-cooked proteins such as imitation crab, rotisserie chicken, or canned or pouched tuna
Premixed salads
Precooked shrimp
Eggs
Waldorf salad
Cool Food Ideas for Hot Days
Step away from the oven and the grill, it's too hot for those today. Tomorrow. Next week. You'll see them again soon enough. Kick back and fill up with these dinner ideas that're perfect for when it's just too hot to cook. Your secret is safe with us if you decide to turn that AC even colder while you nosh away.