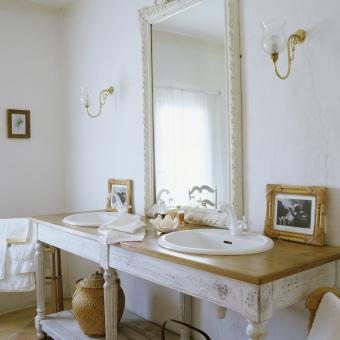 If you've always wanted an antique bathroom vanity to stare longingly into while you brush your hair with a boar's hair hairbrush, then you're not alone. More and more people are searching through antique stores and thrift shops in search of the perfect dresser, buffet, or other vintage furniture item to act as the base for the vanity of their dreams. With a few trips and your specifications in hand, you'll be able to find the perfect piece to transform your bathroom with.
Add Antique Charm to Your Bathroom
An antique bathroom vanity adds character and charm to any bathroom, and you can make one at home with any good, solid piece of vintage furniture. Consider using:
A dresser
A desk
A dressing table
A washstand
A buffet
A china cabinet base
Anything else that will hold a sink and hide the pipes will work as well.
While any furniture can be used, it's best not to choose items that have great historic significance or value. Because of the alterations that you have to make to a piece of antique furniture in order to turn it into an antique vanity, you'll lose all of the piece's collectible value based on its original furniture style.
What to Look for in an Antique Bathroom Vanity
When you find a piece in an antique store, thrift shop, or elsewhere that you think will work, check the legs and the joints carefully. Be sure that they're strong and can hold the bathroom hardware that you're planning to install. Look for worn places, cracks, and especially places that seem to have been repaired. Other things to look out for include:
Look for a sturdy antique that's in good shape.
Make sure to check the size of your space beforehand.
Make sure it's a style or period that complements your décor.
Stick to your budget.
Once you have chosen the base, spend time looking for hardware. You'll want the drawer pulls, hinges, and everything else you put on it to look like they were a part of the vanity from the beginning. Some good places to find unique, historic reproduction hardware are:
Converting Antique Furniture and Collectibles Into a Vanity
Thus far, this process seems all rosy, but there are some challenges in converting an antique dresser into a vanity for your bathroom. Since the item wasn't really created to be a vanity, it'll more than likely not be waterproof. Therefore, you'll need to seal it so that it will not be damaged by water, steam, and high humidity of a bathroom. Old furniture wasn't made to accommodate a sink of any sort. There won't be a hole for the sink to be placed in because the wash basin, and there won't be any plumbing or a place for faucets. The back will need to be removed from the piece in order for the pipes to be attached. If there are drawers, they will interfere with setting the sink as well as the pipes. The drawer fronts will need to be permanently attached to the front of the piece and the drawers themselves should be removed.
When choosing faucets, consider the age of the antique as well as the style and buy fixtures that are appropriate to the time. Mixing Craftsmen fixtures with a Rococo buffet would not work very well for most people. Think about the style of your project and choose a basin that complements the look of your antique vanity. You may want to choose a basin that actually sits on top of the vanity, giving it even more of an antique look.
One Way for Converting Antique Dresser/Cabinet Into a Bathroom Vanity
There are several different ways to make bathroom vanities, but the easiest way for someone to DIY one for their bathroom is by using an antique dresser, cabinet, buffet, or similar furniture. The drawers and/or doors help keep the plumbing hidden while also providing enough space to house the plumbing itself. While you can use more unconventional antique furniture, it'll take someone with professional experience in construction and plumbing to ensure that it's done correctly.
Thus, if you want to DIY your antique vanity, then here are a few steps you can follow to get you through the process. Keep in mind that there are so many different ways to complete this project, and this is just one of the many:
Step 1: Measure Your Space
You absolutely need to take a tape measure and measure the space where you want to fit your antique vanity. It's practically impossible to take an antique dresser that you previously bought and force it to fit into your bathroom without completely renovating the room. Therefore, you'll want to measure the width, height, and depth of what you want your vanity to look like in your bathroom before picking out a piece.
Step 2: Choose Your Furniture
The best furniture for this conversion is a high-quality wood. They don't have to be of any particular design or age; basically any quality pieces will work fine. However, if you find one's with covered tops (such as enamel or marble), you're going to have to have to remove the tops and get them custom cut to match your sinks.
Step 3: Measure for the Sink
Once you have the piece that you're going to use, browse for drop-in sinks (as these are the easiest to install) and take their measurements against the countertop they're going to be resting on. Purchase whatever sink you like best, as well as some chalk, a jigsaw attachment for your power tools, and sink plumbing parts if you're not going to hire a plumber (though they're absolutely worth the extra cost).
Step 4: Jigsaw the Sink Opening
This is where it's time to break out the power tools. You're going to take your sink and place it upside down against the tabletop in the place you want it. Using a drill, drill a hole just inside where the sink's edges are resting at every corner on the sink or every 4 inches if it's a round one. From there, take the jigsaw tool and cut from one hole to the next until the entire outline is cut open (you can also use a chalk outline to double check that you're cutting the proper place). Drop the sink into the hole to test the fit before proceeding.
Step 5: Address the Drawers
Since dresser drawers extend fully to the back of the furniture, you'll need to make room for the plumbing. You have a couple of different options:
Remove the drawers entirely and install doors - This does require extra measuring and either finding the perfect match or customizing a wood door to match your antique piece.
Custom cut drawers around plumbing - This is, by far, the more complex option as it involves you joining the back of the drawer into an irregular shape, so it's only recommended if you have some serious woodworking knowledge.
Shorten the drawer sizes - You can remove the upper and middle drawers that'll be the most impacted; carefully remove the backs from them and cut the sides down to size. Reattach the backs using a wood glue or other joinery and reinsert them, good as new.
Step 6: Install the Plumbing
As plumbers are experts in their field, it's highly advised that you seek out a plumber to ensure that you're installing your sink plumbing correctly--particularly if you've never done this before. It should be a simple job for them, and you won't have to keep testing the lines to make sure it's working properly.
Step 7: Install the Sink
The final step is to install the sink vessel itself. Since you've spot checked the sink, and know that the hole is big enough for the sink, drop it in and draw a chalk outline around the sink. Remove the vessel and apply silicone around the entire chalk line (though inside the line, not on it), and press the sink inside the hole. Wipe away any excess silicone with a rag. It's super important that you use the silicone because it'll create that airtight seal that'll keep your antique vanity in shape for years to come.
Enjoy Your Antique Bathroom Vanity
If you have an older home or you just love historic aesthetics, you can transform your bathroom into the historic fantasy of your choosing by installing an antique vanity. You can DIY the process from start to finish yourself using an old dresser you picked up at a yard sale or hire a professional to help you choose the right piece for your situation. No way is the wrong way to bring your antique vanity to life.