From bar stools to ottomans, antique stools offer a great way to use a functional piece of period furniture in your home. You can find vintage stools for sale in antique shops and online, and they come in many different styles to work in any room of your home.
Types of Vintage Stools and Their Values
A stool is any piece of furniture with a seat or surface supported by legs. The number and length of the legs can vary depending on the stool's purpose, so antique stools can come in lots of shapes and sizes.
Antique Milking Stools - $50 to $250
Back when it was commonplace to milk cows by hand, milking stools were a fixture in every barn. These low stools, which were frequently handmade, are simple in design. They may be round or rectangular with three or four legs. They are low to the ground, usually only about 12 to 18 inches in height. Antique milking stools make pretty accents in your home, especially if you want to add a vintage farmhouse feel. You can use these low antique stools to display favorite plants or as extra seating for kids.
Antique milking stools frequently sell in the $50 to $250 range. Age is the biggest factor affecting their value, since most of these stools are handmade and in rough shape from use. Older stools are usually worth more than their newer counterparts. If you have a vintage stool like this, compare it to recently sold examples:
Vintage Bar Stools - $100 to $800
Antique bar stools come in all kinds of shapes, including classic round examples, vintage stools with backs, upholstered models, and many more. You'll see beautiful Art Deco styles from the early part of the 20th century, ornate Victorian stools, and all kinds of other designs. Some were made specifically for use in bars, while others were made for soda fountains and industrial use. These stools can be useful in the modern home because they have a standard height of 28 to 30 inches tall. They are perfect for using at your countertop or work bench, and they add lots of antique beauty to your decor.
Bar stools tend to be worth more when sold in sets, but individual stools usually sell for between $100 and $800. Factors that affect the value include the age and condition of the stool, as well as the materials used and workmanship. A beautiful old stool is usually worth more than a less attractive one. To figure out how much a stool might be worth, take a look at similar examples that have sold recently, such as the following:
Antique Foot Stools - $100 to $1,000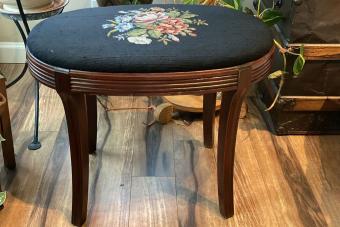 Featuring everything from elaborate embroidery and needlework to unique shapes and materials, vintage foot stools offer all kinds of options for adding a fun touch of style to your living room. Also known as an antique ottoman or hassock, a foot stool has a low surface for resting your feel while sitting in a chair. These vintage stools are often upholstered for comfort and style. They've been around for centuries, and you can find antique examples from lots of beautiful decorating periods.
The value of an antique foot stool depends on its beauty and condition, as well as the materials and techniques used to make it. Older examples are often worth more, but the biggest factor in value is a unique and interesting appearance. These can be statement pieces in decorating, usually selling in the $100 to $1,000 range. If you're wondering how much your antique foot stool is worth, take a look at some that have sold at auction recently:
Vintage Step Stools and Kitchen Stools - $50 to $150
Many stools also serve a functional purpose and have a history of use in the home or shop. Vintage step stools and kitchen stools can be a great way to add some retro style to your home. You'll find these with beautiful patinas and chipped paint in lots of fun colors, including red, blue, pink, and other shades. Most fold for storage, although some do not.
Antique and vintage step stool values depend on attractiveness and functionality. No one wants a stool that doesn't work, even if it's cute. However, vintage style is one of the most important factors for determining the value of a stool. You can compare a stool you're considering to these recently sold ones:
Where to Shop for Vintage Stools
If you want to purchase a vintage stool for your home, your best bet is to shop locally. Stools are large and bulky, and they can be awkward and expensive to ship. Check local classified ads on Craigslist or Facebook marketplace and peruse the options at your local thrift store or antique shop.
Shopping online for an antique stool does have one advantage, however. If you're looking for something specific or want a really unique stool for your home, shopping online gives you the best selection. Consider one of the following:
Decorate With Antique Stools
Vintage stools offer a practical way to decorate with antiques in your modern home. Stools serve a simple purpose, and in many cases, that purpose is just as useful today as it was a century or two ago. Use your imagination and have fun looking for the perfect antique stool for your space.