There are so many ways you can add just a little pop or accent of color to any room in your home. This is a great way to perk up a neutral color palette. It's also very easy to change the pop when it's just a touch of color.
#1 Stencil Design
There are several ways you can use a stencil to add color to a room. An intricate patterned stencil can consist of the existing neutral colors of a room and the "pop" color placed as a third color within the stencil design. This method will make the stencil a natural element in your room decor.
Large Single Stencil
Select a large stencil, such as a medallion that can be painted over a mantel or doorway. A large single stencil can also be painted on the wall of a staircase landing, above a bed or desk. Add a motif or medallion to the center of a foyer floor for added interest and design distinction.
Panel Stencil
You may prefer a panel stencil that can be used in a couple of places, such as either side of a fireplace, the wall space on either side of a window, over a dining room buffet, the wall behind a toilet or on either side of a front door facing.
#2 Wall Decals and Stickers
There are some great wall decals that you can use to add that special pop of color to any room. Whether it's word art or a design, wall decals give you several color options.
Word Art and Graphics
Choose the color(s) you want to add to your room and then the message or graphic you wish to use. This can be a single word or phrase complete with a graphic that represents a value or point of view. You may prefer just a graphic as a centerpiece or focal point in a room design. The next step is to decide where you wish to place the word art or graphic.
Some popular places include:
Bedroom: The wall behind the bed, over a desk, or on the door are fun places for wall decals.
Laundry room: Jazz up a laundry room with a funny or satirical statement or graphic art.
Kitchen: Add a grapevine graphic or words of encouragement for the cook.
Den: Word art and graphic lovers can explore possibilities for over mantels, couches and desks in this room.
Staircase: Don't tread lightly. Colorful words or phrases on the stair treads can transform this often neglect architectural feature.
#3 Photos, Paintings or Metal Wall Art
Art is an excellent way to add pops of color to your rooms. This type of decor element is easy to replace whenever you wish to change the color(s). Add one or more colorful photos or paintings to infuse vibrancy into your decor.
Photos
Frame vacation photos and arrange in a grouping on a den wall.
Purchase a set of colorful frames and set on a mantel or den console table.
Go with a themed group of photos, such as ocean, whales, sunsets, or forests and place in home office behind the desk or on the wall opposite the desk.
Small cameo photos in a grouping of three is a great addition to a bedroom nightstand or dresser.
Paintings
Use one large painting over a sofa or buffet in the dining room for a blast of color.
Small or miniature paintings with a colorful frame make a great end table or sofa table arrangement.
A pair of framed paintings of flowers in a half bath or bedroom are a great choice.
Metal Art
Vintage signs can add color and fun to a country kitchen or laundry room.
Add a colorful metal art to a den, bedroom or bathroom in keeping with your decor theme.
#4 Flowers, Vases and Decorative Objects
Flowers, flower pots and vases, figurines and one-of-a-kind art objects can introduce color(s) into your interior.
A plain bathroom can be dressed up with a colorful vase of silk flowers.
Hand-painted flower pots bring a kitchen or breakfast room windowsill to life.
A set of cardinals or bluebirds perched on a limb can be placed on a coffee table or bedroom dresser.
Art objects selected for their color and style can be added to shelves in a dining room, den or bedroom.
Several colored-glass bud vases with a single flower make a stunning arrangement for a dining table, mantel, coffee table or windowsill.
#5 Table Lamp or Lamp Shade
One of the easiest ways to add color to a room is with a colored lamp. Choose a design that will go with your existing decor style or theme. For example, if your room is beige and white with a beach theme, add a blue lamp to carry out the theme with a pop of blue. Another choice is a clear glass lamp that can be filled with blue sea glass, seashells or colorful decorative balls.
Budget Choices
For a low-budget solution, simply change out the lamp shades in the room with colored ones. These can either be the same color or different colors. Add a multi-colored lamp shade balanced with solid colored ones that repeat one of the colors. Enhance plain lamp shades with a splash of color by adding beaded, tasseled or fringed trim.
#6 Back of Bookcase or Glass Cabinet Shelves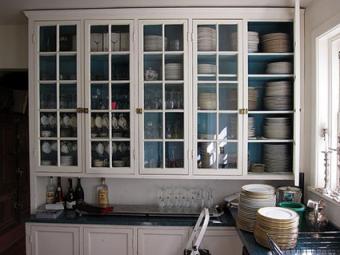 If you have a bookcase or glass cabinet with shelves, you have an excellent opportunity to add significant color to make your room truly pop! Choose one or more colors and paint the back of the bookcase or cabinet so that it's revealed behind the books and objects stored on the shelves. You may prefer a colored pattern by using wallpaper or stenciling designs.
This type of color can be used effectively in kitchen cabinets with glass doors. Other types of shelving units include:
Buffet or china cabinet in a dining room can be painted in this same style.
A child's wall shelf is ideal for this type of color splash.
Bathroom wall cabinets with glass doors or open shelving are good candidates for this treatment.
#7 Shelf and Brackets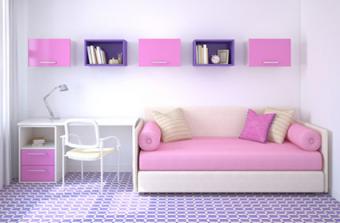 Decorative shelves and brackets are another choice for adding color to a room. There are many styles and colors to choose from. Distressed shelves in Boho chic style can be used in a shabby chic bedroom design. You can transform existing shelves with a little paint. If this style is too much color for your taste, then consider painting only the shelf brackets for a little color pop.
Hang coordinating colors of cubby shelves in a child's room.
Add colored shelving in a bathroom to support plain or colored baskets.
Laundry room shelving metal brackets are easy to spray paint.
#8 Utilitarian Objects
If you're shopping for a new small kitchen appliance or storage item, such as a toaster, breadbox or coffee maker you can take advantage of the opportunity to make a color choice. These are just one type of utilitarian objects that can be used to introduce a splash of color.
Other utilitarian objects include:
Trashcans
Food storage canisters
Dish towels
Teapots
#9 Cabinet Knobs, Handles or Pulls
A small touch of color can add an exciting flair to a piece of furniture or room. Cabinet knobs, drawer handles or pulls are one way to make a color statement. Change out existing knobs with wooden ones that can be painted. You may prefer decorative porcelain ones or shabby chic painted metal drawer pulls.
Change out any of the following handles, pulls or knobs:
Kitchen cabinets
Bathroom cabinets
Bedroom dressers or nightstands
Entertainment cabinets with doors and drawers
You can also create a cute coat or jewelry rack out of old door knobs. Attach to a wooden plaque and paint all one color or each knob a different color.
#10 Pillows and Cushions
Tired of the same old throw pillows? Replace a few pillows on a couch or chair. A breakfast room chairs that need a color pop will benefit with colored chair cushions. A bedroom can be transformed with colored throw pillows. Use different pillow sizes and shapes to add interest and depth.
Ways to use pillows and cushions:
Use two solid colored pillows with one multi-colored pillow.
Choose three pillow patterns that are the same color.
Select a floral cushion and pair with a solid colored pillow.
Outdoor Furniture
Don't overlook outdoor furniture. You can add color to patio chairs the same way you did in the breakfast room with colorful chair cushions. Lounge chairs, rocking chairs and a porch swing can be dressed up with a few pillows and a seat cushions.
Rule of Three for Adding Pop of Color
While you want just a pop of color, you clearly want to follow the "rule of three" when doing so. The rule of three means using odd numbers of objects to expand and create an energetic design. When introducing a pop of color, use it a minimum of three times in your room. Vary the types of objects you select as well as their height and texture for a cohesive room design.