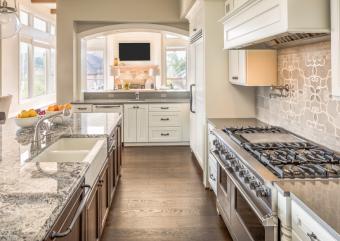 Elegant style, top-of-the-line appliances, finishes, and conveniences, along with functionality, are top priorities when designing a luxury kitchen. Whether your design style is contemporary, modern or traditional, you can create a luxury kitchen from an endless list of possibilities. Be selective when deciding on all the must-haves for this high profile room. Make a list and make 10 of them high priority. These are the ones you want to start with to ensure you end up with them in your kitchen.
#1 Drawer Dishwashers
This luxury appliance has major pluses like ease of use. Not only can you use multiple drawers, you can let the dishwasher drawers serve as storage for clean dishes. This ability doubles the value of this luxe item, so you don't need to feel as though you're losing valuable kitchen storage space. While a dishwasher drawer may hold a smaller number of dishes than a full-sized dishwasher, they can be stacked and used at the same time as well as independently.
Place a drawer or two at the food prep station for easy access and fast cleanup.
A couple of drawers are ideally located at the sink(s) area(s).
#2 Refrigerated Drawers
Another great luxe appliance is the drawer refrigerator. You can use these to augment your cold food storage capacity.
Place one at child height for storing juice, soda, and after school treats.
Dedicate a drawer to strictly fresh fruit and vegetables.
Use another one for condiments and dairy products.
You can stack them in a cabinet or spread them out to accommodate various kitchen stations. You'll also want a regular upright style refrigerator. Many of these can be built-in to resemble a cabinet or you may prefer a glass door reach-in LED lighted refrigerator.
#3 Warming Drawers
A warming drawer is one luxe item you'll love having in your high-end kitchen. If you have to put dinner on hold, this drawer will prove a true lifesaver. If you're preparing a large dinner, you can keep food warm by setting the thermostat. Many of the available models have very useful features that include:
Removable racks and pans
Ability to change configurations
Warming plates prior to plating food and serving to guests
Capability to slow cook
Bread proofing
#4 Beverage Station
There can never be enough said about the convenience of a beverage station to accommodate adults and children. The beverage station can include as many beverages as you wish. Much depends on the size available to dedicate to this feature. Some of the beverages you may wish to accommodate include:
Coffee and tea bar
Wine and other alcoholic beverages
Soda and juices
Power drinks
Depending on which beverages you include, you may need the following appliances for this stations:
Ice maker
Wine refrigerator
Refrigerator drawers for kids' drinks, milk and creamers
Blender for drink mixes and power drinks
Storage cabinets
Drawers for utensils and bar tools
Sink
#5 Rollout Shelves and Racks
Forget stooping down and digging through unlit cabinets in search of a pot or pot lid. Investing in the luxury convenience of rollout shelving systems for all of your under the counter cabinets is a truly must have. These can be customized to fit pots and pans of different sizes. Other items can stored on rollout shelves, such as small appliances, bowls and even packaged and canned foods.
Roll out shelves can be made of stainless steel or wood, depending on your personal preference. Sliding shelves can hold baskets as well as small kitchen appliances. A rollout rack is another wonderful style that can accommodate spices. This type of rollout rack is usually the height of the lower cabinet and contains shelves angled to receive spice containers for easy access. Taller roll out racks can be placed inside or near pantries for quick access to condiments and packaged/canned foods.
#6 Chef Grade Stove and Range
You're only as good as your tools when it comes to cooking and baking. Make a gourmet statement by choosing a high-end luxury chef grade stove.
Chef grade stoves and ranges operate on gas although some come with dual fuel choices such as gas and electricity or gas and wood fuel. Most come with more than one oven and several range cookers that can be converted for indoor grilling, use of a griddle attachment and a rotisserie.
Make sure you choose a top of the line appliance brand, like Dracor, GE Monogram, Bosche, or Micele. Another option is AGA. AGA is one of the stars that combine an oven and range combo. Made in England, the AGA cooker stores heat via its cast iron construction and then transfers radiant heat to the stove and range (cooker). The stove operate off oil, gas, solid fuel (wood or coal) or electricity. There are many similar types of stoves and ranges that offer high-end luxe choices.
#7 Pot Filler
It's a small item, but a pot filler is worth more than its weight in gold. It is a must have for any high-end luxury kitchen. This wall-mounted faucet saves time and the task of lifting heavy pots willed with water. Installed directly over a range, you don't have to worry about fitting the pot underneath a faucet and then lifting and carrying it to the stove. There are many style choices available so you can keep continuity of fixture designs and metal finishes. Pot fillers are typically connected to cold water fittings for the best results and use.
#8 Exotic Wood Countertops
An exotic wood used for countertops is a big must-have item for a luxury kitchen. Forget about marble. A luxury trend remains with exotic woods that show off rich wood grains. Some of the most popular wood species include:
African mahogany: This hardwood features broken and figured wood grain. It has vertical bonds and marks in an intermittent ribbon pattern. The natural appearance ranges from a light to dark reddish brown.
Zebrawood: This extremely strong wood displays stunning pale brown to black colored stripes coursing through golden yellow heartwood.
Teak: A well-known exotic wood, teak comes in a wide range of colors of pale yellow to orange-brown. It can have dark striping mixed with medium brown tones. It's known for its variegated color.

Caribbean rosewood (Chechen): This is a beautiful wood that features many grain variations with a color range from tan/golden brown to dark reddish-brown.
#9 Lighting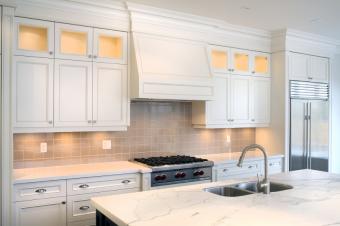 Luxury lighting goes beyond the typical recessed, pendants and overhead lights. The type of lighting found in a luxury kitchen addresses all lighting needs.
These include lighting for:
Under cabinets
Underneath a bar
Above cabinets (uplighting for ceiling)
Inside cabinets
Task lighting
Rope lighting underneath the kickboard creates a dramatic and reflective effect.
LED lighting presents a temperature cool lighting source that's ideal for a kitchen. Place lights on dimmer switches to increase functionality and the ability to control ambience. For a truly over-the-top luxurious kitchen overhead lighting choice, opt for a crystal chandelier with mini-chandelier pendents.
#10 Walk-in Pantry
If you're serious about having all the bells and whistles of a luxe kitchen then you must have a large walk-in pantry. But it doesn't stop there. A luxe pantry includes built-in cabinets and drawers for storing luxe kitchen tools, such as additional china, crystal and silverware, kitchen towels, and other backup items.
The pantry should also include an extra refrigerator, a second microwave, a wine cooler (refrigerator), and lots of additional shelving for home canned goods and special gourmet treats and spices. Make sure you have a mixture of open shelves and glass door shelves. Provide easy storage and access to small appliances that aren't used every day.
Creating a Luxury Kitchen
The best place to begin designing a luxury kitchen is with a list of your top 10 must-haves. Don't compromise on these items and you'll have the kind of amazing kitchen you've dreamed about.