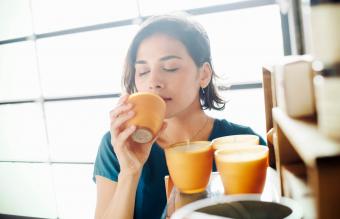 Candle scents can help you chill out and unwind with their relaxing aromas. Some of the most relaxing candle scents are made from essential oils, though synthetic fragrances can also fill your home with a calming effect.
1. Relax With Lavender Scented Candles
Probably the most well-known scent in essential oil aromatherapy, lavender is known for its stress-relieving properties. If you're seeking a scent that will restore calmness after a long, demanding and hectic day, just light a lavender scented candle, kick off your shoes, prop up your feet and turn on some low soothing music. You'll immediately be on your way to relaxation.
Lavender is given in aromatherapy treatments to relieve migraines and other forms of headaches.
It is also used to help insomniacs by improving sleep through its calming and relaxing properties.
According to the National Institutes of Health, studies have indicated that lavender can help improve neurological disorders.
2. Unwind With Citrus Aromas
Citrus scents like lemon or orange can instantly clear the fog from your mind and ease the tension that's built up over the day.
Citrus scents can lift your dreary mood by filling your home with the smell of sunshine.
You can't help but feel less stressed when a fresh citrus scent greets you.
3. Combine Pine and Vanilla
Some days may require a restful combination of scents to help you unwind! It may sound like pine and vanilla are too contrasting to blend into something refreshing, but these two scents are a great pair.
Pairing piñon pine & vanilla de leche scented candles provides a soothing fragrance that will give your home a cozy ambience.
Piñon pine brings a unique scent into your home that's tinged with the sweet smell freshly cut pines, while vanilla de leche provides a hint of vanilla bean.
This combination is likened to a breath of fresh air. It's difficult to still be wound up when these comfy aromas surround you.
4. Let Go of Stress With a Peppermint Candle
The crisp fresh scent of peppermint can't help but put you in a better mood. Even ancient Greeks, Romans and Egyptians recognized its benefits. They used it to treat mental health complaints, especially people suffering from anxiety and depression.
The peppermint scent lifts your spirits almost immediately.
Peppermint is known as a mood elevator that can help clear your thinking.
5. Chill Out With a Eucalyptus Spearmint Candle
Similar to the effect of peppermint, spearmint has those calming and restive properties. When mixed with eucalyptus, this candle scent becomes powerful as the one you must have on hand to help you chill when you get home every day.
6. Reduce Tension With a Rosemary Candle
If you're having a bad day and feel that you're at the end of your rope, reach for a rosemary scented candle. Rosemary is a great scent to combat headaches and mental fatigue, as well as physical exhaustion.
7. Reduce Stress With Honeysuckle and Jasmine
Two great floral scents make this candle a great choice for a stress-free zone. Light one in your den or bedroom and close your eyes to be instantly transported to a warm summer evening.
Honeysuckle is known to relieve anxiety and stress headaches and in some cases depression.
Jasmine essential oil is believed to have a calming effect on the nervous system. It can help relieve muscle tension.
For DIY candle makers, this scent may become one of your favorites.
8. Combine Sage, Chamomile, Lavender, and Thyme
The combination of these four herb essences in a candle will fill your room with hints of an English cottage garden. These herbs relieve stress, tension, discord and anxiety.
Lavender is an established herb for fighting stress and related complaints.
Sage has been shown to influence dopamine levels. This s the brain chemical responsible for feeling happy.
Thyme is an immune booster with many health benefits including, the relief from hypertension and the reducing of strain placed on the heart.
Chamomile has many beneficial properties especially acting as a sedative.
9. Escape With a Bahama Breeze Candle
The name Bahama Breeze will send you into a state of peace and calm. This fragrance candle captures the imagination and can instantly transport you onto a warm beach with balmy breezes. It proves that even man-made scents can be magical.
10. Relax and Let Go With a Macintosh Apple Candle
The name of a delicious apple, Macintosh has to be a candle filled with all kinds of orchard aromas. Enjoy the hints of crisp apples and fruit peels. The fresh fragrance of apple will fill your home and if you close your eyes, you may believe you're in the middle of a mountain orchard. That scent alone should be enough to melt away the day's tension.
Chill Out and Unwind With Relaxing Candle Scents
There are many choices when it comes to candle scents to help you relax. Selecting candle scents with relaxation in mind is a great way to unwind! What could be more pleasing than to be surrounded by lovely, relaxing aromas.