The different rooms used as places a family can gather and for entertaining visitors are known as living rooms, great rooms, dens, drawing rooms and sitting rooms. Each may have different purposes and design styles.
Family Room vs. Living Room Styles Then and Now
The living room was traditionally a more formal room than a family room. It served as the reception area for guests. The family room was strictly used just for the family and on occasion, guests during informal entertaining. Today, separate formal living rooms are mostly obsolete for the average American family as many social formalities gave way to informal lifestyles.
Interchangeable Terminology
The terms living room and family room are used interchangeably for the average family today. There are some families that may still maintain a formal lifestyle and, in that case, would have a home with both a living room and a family room.
Living Room
Traditionally, the living room was located the front of the home just off the foyer and used for receiving guests or formal entertaining. The location allowed the foyer and living room to be closed off from the rest of the house. The décor style was formal with high-end furniture and furnishings. The living room typically included certain pieces of furniture depending on the room size. These combinations included:
Average-sized living room: A couch, two matching side chairs, matching pair of end tables and matching table lamps
Medium-sized living room: A loveseat, two matching side chairs, matching pair of end tables and matching table lamps.
Medium-sized living room with fireplace: Matching pair loveseats set across from each other, formal coffee table, matching end tables and table lamps
Larger living rooms: A couch, loveseat and one or two matching side chairs, matching end tables with table lamps and possibly sofa table with matching buffet table lamps
Room for Receiving Guests
The home owners had the option of entertaining their guests here without needing to invite them deeper into the house. This provided a great deal of privacy for the family.
Drawing Room
The drawing room was a popular term used during the 17th to 18th centuries. During the Victorian era, it was called the parlor or front room. This room eventually evolved into the living room. Regardless of the name, this room always served as the formal reception area of guests. Some furniture pieces may have included:
A settee, pair of side chairs, embroidered footstools and a small round table covered with a lace tablecloth for serving tea were common furniture pieces.
A piano (usually upright) was against one of the walls for entertainment.
An embroidery stand was often a mainstay since most women worked on their projects while sitting in the drawing room.
Family Room
Family rooms were designed as informal gathering places for the family. Originally, the family room was located near the kitchen for the convenience of the family. The furnishings were less expensive than the living room and casual in design style. In contemporary homes, it has been incorporated into a large space with the kitchen usually at one end of the room.
Some furniture favorites include, sofas, loveseats, wing-backed chairs, recliners, side chairs, end tables (not always matching), table lamps and floor lamps for reading.
Depending on the size of the room, a pool table might be placed at one end of the room.
A ping pong table might be used instead of a pool table.
A game table is often placed in front of a window with two or more chairs.
Often, there is a deck or patio right off of this room that serves as an overflow area for entertaining and to accommodate the family's outdoor living.
Great Room
By the late 1980s, American lifestyles were less formal, making the separate living room obsolete for the majority of new home construction. The great room became a popular room design that combined the living room and family room. It was a bigger and more encompassing room that featured high ceilings, often two-storied and had enough room for multiple family activities, such as watching TV, playing games, studying and reading. The great room was adjacent or contained the kitchen. The great room was usually built in the center of the home. Furnishing styles were casual and ranged from inexpensive to high-end that included:
Comfortable furniture, such as sofas, loveseats, recliners and side chairs were a must for this room.
Side tables and a game table were popular for this room.
A desk would be placed in a corner or end of the room often near a bookcase.
Reclaiming Square Footage
By the late 1990s and early 2000s, fewer homes were being built with great rooms since they were expensive to heat. Another factor was the waste of space with the open two-stories. Homeowners began to reclaim the square footage lost from the empty space of the open, second-floor ceiling. This change in design allowed more usable square footage under the same roof. In fact, many homeowners remodeled their great rooms to accommodate upstairs bedrooms and home offices.
Great Room vs. Living Room
The differences between a great room and living room are very distinct. The great room was usually placed in the center of the home while the living room was positioned in the front of the home for easy receiving of guests coming through the front door. Modern concepts make the terms living room and family room interchangeable along with den. Great rooms fell out of favor over the years for numerous reasons and are mainly an obsolete design term.
Den
The den is a cozy informal room that's smaller than a living room, family room or great room. In the past, it was often called a study. It is used by family members when they want a private area to read, study or work. Historically, this room featured bookcases and often served as the family library. This room is located out of the main traffic areas of the house, often upstairs or deep within the house. The design style focuses on comfort first. Some house designs still feature authentic dens while others have morphed the square footage into a home office.
The den was a cozy room with overstuffed upholstered chairs with ottomans (often leather) and a couch long enough for a Saturday afternoon nap.
A desk was usually placed in this room for bringing work home and doing the family bill paying each month.
Several types of lighting were used to accommodate various tasks, such as a desk lamp for work or a floor lamp by a side chair for reading.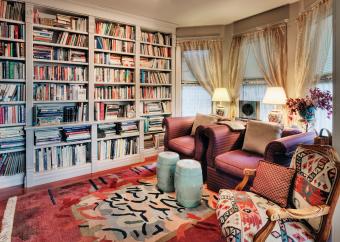 Sitting Room
A sitting room is a smaller room in the house that is dedicated to conversation. You will usually find chairs instead of a mix of loveseats, sofa and chairs due to the room size and purpose of the room.
The popular furniture choice is two or four armchairs facing each other, often overstuffed and very comfortable.
The design can be formal or informal.
This room is used for private intimate conversations without the distraction of a TV and other electronic equipment.
Differences in Room Terminology
Interior design, like any design or art is constantly evolving as well as its terminology. The names used for rooms also evolve along with the changes governed by lifestyles and function of the rooms.