The Moroccan design style is all about color, texture, and fluid lines. This design style draws much of its inspiration from the Moorish design of the East and from the shapes and colors of the rolling sands of the desert. Its intricate beauty is seductive and inspires colorful and stylish interiors.
Moroccan Architectural Influences
The Moroccan architectural style was influenced by several countries such as the Arab culture, Spain, France and Portugal. The unique blending of Berber and Islamic styles creates a very distinctive style. Some of the readily recognized features include geometric patterns, vivid colors, and zillij tiles. Zillij tiles are terra cotta tile-work of enamel chips set in plaster to create mosaic geometric shapes.
Open courtyards filled with lush gardens and tiled water fountain are a mainstay in this architectural style. U-shaped entries and large domes further define Moroccan designs.
Structural Elements and Doors
Traditional Moroccan homes are made of stucco with wooden beams and supports. The homes are commonly white-washed and gleam in the bright Saharan sunlight. Few right angles exist in Moroccan design. Doorways and windows are arched or shaped in the traditional Islamic key-hole design.
Living Morocco sells carved doors that lend authenticity to this design style.
WoodLtd® Studio also sells wood carved Moroccan style doors with a variety of carved embellishments.
Tiles
Ceramic and mosaic tile also plays an important part in Moroccan design. These brightly patterned tiles are used to frame doors and windows, as table tops, and on accent pieces, such as mirrors, picture frames, and wall art.
Imports from Marrakesh has a large selection of zillij tiles, many in blues, with designs in diamond shapes and more.
Maroc Architecture sells a wide selection of Moroccan tiles and architectural elements; check out different collections to complete the exact look you want in your home.
Colors
Moroccan design incorporates bold colors, such as fuchsia, royal blue, deep purple, and vibrant red, with the soothing neutral colors of the desert, such as sand, taupe, beige, and shades of white. Bold accent walls are common in this design style.
Benjamin Moore carries two Moroccan colors: Moroccan Red 1309 and Moroccan Spice AF-285.
Lowe's offers a lovely Moroccan blue.
Start with your wall colors and then add the colors to your textiles and accessories, along with some accents.
Textures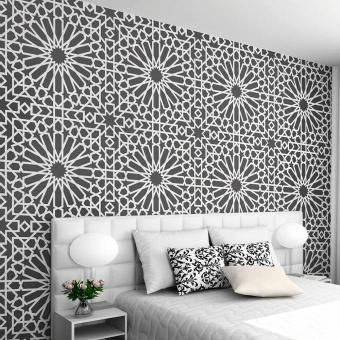 Texture is important in Moroccan design. Rough stucco walls, smooth silken tapestries, and rugs are just a few textures found in Moroccan homes. Rugs are commonly made of woven silk and wool Asian designs, and range from full room size to smaller prayer rugs. Contrasting elements add a rich layer to this design style.
Textiles
Textiles in Moroccan interior design drape and flow. Silks, gauze-like fabrics, and drapery sheers are commonly used to divide rooms, to frame windows, and to throw across furniture. These fabrics are typically in rich, bold colors. Textiles are also important as floor coverings, often seen in woven kilim rugs. Kilim rugs are used mostly as prayer rugs and are flat tapestry-woven rugs from the Balkans and Pakistan. Western interior design has popularized these rugs for home décor uses.
Berber Trading features Moroccan upholstery fabrics in patterns like dots and baroque.
Kilim.com sells kilim and over-dyed vintage rugs.
Saffron Marigold offers a variety of sheer Moroccan pattern curtain panels in designs like white lattice and quatrefoil.
Furniture
Furniture in Moroccan design is a combination of delicately-carved wooden pieces and plush over-stuffed upholstered ones.
Tables are frequently topped with inlaid tile designs or topped with large brass or copper trays.
Rugged carved wood chests and tables are common. Inlay is typically bone, while other furniture lays are often Mother of Pearl designs; contrast is the goal here.
Upholstered furniture includes reclining couches usually draped with fabric and accented with colorful pillows.
Over-stuffed ottomans are frequently used as an accompaniment to chairs and sofas.
Accessories
Accent pieces also reflect the Islamic and Asian influence on Morocco Lamps are often hung from the ceiling and are commonly made of metals, such as brass and copper. Other popular Moroccan style accents include mirrors, often framed in metal or wooden with an Islamic design. Also common are brightly-colored pottery, to hang on the wall, use as serving vessels, or as decorative lamps.
A fun accessory for a Moroccan style kitchen or dining room is a ceramic tajine (or tagine), a ceramic cooking vessel, usually adorned with intricately woven designs.
Going for an Authentic Style
Moroccan designs can give any room - from the kitchen to the bedroom - a warm, lived-in, and welcoming ambiance. You don't have to spend a fortune to achieve this look. With a bolt of fabric, a can of paint, a stencil or two, and appropriate accent pieces, any room can be transformed into a Moroccan retreat.