Nothing says chic like a Paris themed room. It's a look that embraces elegance and romance with a decidedly feminine tone. It can be a fun, girly theme for a bedroom, a sophisticated theme for a parlor or living room, a quaint and charming theme for a kitchen or bathroom or a sexy, ooh la la look in an adult bedroom.
Parisian Color Scheme
A neutral background of black and white provides crisp contrast, commonly accented with pink in varying shades from cotton candy to hot pink. Consider walls painted with tone-on-tone stripes in pink, pink and white or pink and gray. Alternatively, try accents of royal purple or turquoise.
For a more sophisticated look in a living room or home office, think in hues of cream, charcoal, blue, black, wheat, walnut, white or ivory accented with lavender, peach, sunflower yellow and gold. Metallic hues in gold, silver and bronze add a rich opulence.
Furniture
French style furniture can be quite costly, especially classic provincial style reproduction furniture. However, if you know what to look for, you can still create a French inspired look without breaking the bank. Here are the characteristics to look for and include:
Cabriole style legs
Bun or claw feet
Distressed finishes
Wrought iron frames
Tufted headboards and upholstery
Painted wood
Slip covered furniture
Victorian style furniture and cottage or shabby chic style furniture all complement a Paris themed decorating scheme.
Find French country cottage style furniture at Kathy Kuo Home, and Layla Grace.
Accessories
French inspired accessories are the key elements to really dial in a Paris themed room. Include plenty of ruffled, frilly and lacy linens. Look for patterns on bedding, accent pillows and throws with the following motifs:
Fleur de lis
Damask
Toile de Jouy
Cover an accent wall with wallpaper featuring one of the above patterns.
Vintage hat boxes, trunks and suitcases make nice display items. Grain sack and French script burlap accent pillows provide authentic Parisian feel. A vintage mannequin in the bedroom pays homage to the fashion history of Paris.
You can find hat boxes (also called nested boxes) and vintage trunks, suitcases and mannequin forms at Paris Décor.
Additional Accents
The Eiffel Tower is the most iconic image related to Paris. Include this image with one or two of the following items:
Wall decals
Framed wall art
Small figurines
Murals
Stencils
Fabric patterns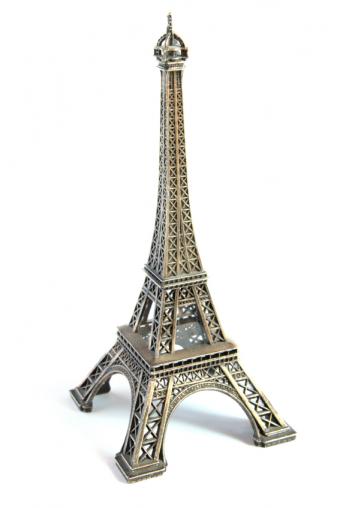 Find Eiffel tower themed décor at Wayfair and Amazon.
Ornate mirrors with gold frames and candelabras or wall sconce candle holders add the right ambiance.
Small crystal chandeliers make lovely accents in any room and look very chic in colors such as black or turquoise. Fabric covered lampshades with fringe or small crystals add a nice touch.
Bedroom Ideas
Here are a few suggestions on how to combine your French inspired furniture and accessories.
Kids and Teens
Bring in a white or black wrought iron bed frame. Cover the bed with ruffled, frilly and lacy linens and pillows featuring patterns and motifs such as damask or fleur de lis. Consider tone on tone pink stripes on the walls or white walls with black framed art and wall decals featuring French poodles and the Eiffel Tower.
Display nesting hat boxes on a dresser with cabriole style legs or vanity table. Add a vintage mannequin form displaying a frilly dress and include a black or pink crystal chandelier.
Adults
In an adult bedroom, go for a racier boudoir theme. Use darker colors, such as a velvet flocked damask wallpaper in hot pink and black. Cover the bed with luxurious satin and velvet linens in burgundy, purple and black and include a satin tufted headboard.
Add a posh look with a Victorian style chaise lounge and dress up a mannequin form with a sexy bustier. Throw in some animal print with a zebra rug or leopard print vanity chair seat. Add or a floor lamp or two bedside table lamps with fabric shades and beaded tassels.
A boudoir theme can also be done in metallic hues of gold mixed with shimmering cream and ivory satin.
Living Room Ideas
Go for a standout focal point in the living room such as an elegant spoon back Victorian sofa or a pair of Louis XV arm chairs with a Rococo side table. Accent the sofa with damask patterned pillows and use a vintage trunk as a coffee table.
Hang an ornate gold leaf mirror opposite a window treated with luxurious drapes and swags. Hang a few select pieces of framed art portraying scenes of Paris. Display a small Eiffel Tower figurine.
Find opulent French furniture for bedrooms and living rooms at Fabulous and Baroque.
Kitchen Ideas
Decorate a Parisian themed kitchen with the elements of a quaint French café or bistro, as you might find in this romantic city. Consider an awning style covering
on the kitchen window with café style curtains. Include a bistro style dining set with wrought iron chairs. Stencil a grapevine border near the ceiling. Other ideas include:
A chalkboard style bulletin board
Eiffel Tower wine rack
Wrought iron hanging pot holder
Baskets of silk flowers hung on walls
Wrought iron baker's rack
Wine themed or bistro themed framed art
Give your kitchen walls the look of aged plaster with a color wash.
Find French bistro style kitchen décor at Etsy and Piazza Pisano.
Bathroom Ideas
Transform your bathroom into a shabby chic powder room. Include vintage furnishings such as a pedestal sink and a claw foot bathtub. Hang an elegant crystal chandelier and display vintage perfume bottles on a small vanity table. Consider the following wall décor:
Damask wallpaper
Fleur de lis wall plaque
Wrought iron candle wall sconces
A wrought iron mirror frame
Vintage Parisian inspired framed art
Display a vase of lavender flowers and keep a dish of lavender scented soap by the sink. Shower curtains and other bathroom accessories such as soap dishes, dispensers and waste baskets featuring the Eiffel Tower, Damask patterns or fleur de lis designs all complement this decorating scheme.
Look for elegant French bathroom accessories at The Bella Cottage and Café Press.
Eclectic Style With a Dash of Chic
Parisian inspired rooms include a variety of looks that mix shabby with luxury. If you're a bit of a bohemian at heart, a Paris themed room might just be your cup of tea.