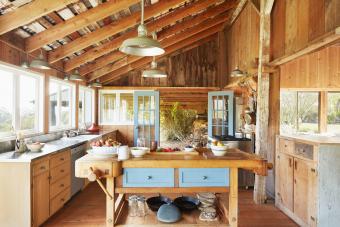 Have you ever wondered what really defines an interior design style? Check out some of the most influential interior styles found in American homes over the last two centuries.
Traditional Home Styles
Traditional interior design, as a defined look, focuses on these style elements:
English - Bold autumnal color palettes, small floral prints, dark wood finishes
Neoclassical - Federal style furniture inspired by 18th century English craftsmen George Hepplewhite and Thomas Sheraton
French Country - Wrought iron accents, stripes and toile prints, cabriole leg styles on tables and chairs
Symmetry, balance and classic styling creates rooms with a formal, orderly appearance. Soft, mid tone colors, floral, plaid or striped prints and dark wood furniture also made by Chippendale are common hallmarks of this style.
Colonial Homes
Traditional interior design is the preferred look in many colonial homes in the U.S. Crown molding, chair rails, wainscoting, and casements around doors and windows painted in glossy white contrast crisply against rich, historic wall colors common to each architectural style:
Classic or First Period Colonials
Georgian
Federal
Greek revival
These home styles are most prevalent in eastern states and in southern states, where plantation style interiors are known for grand staircases and fancy parlors. Colonial kitchens were the heart of the home and still are with updated, modern colonial inspired designs.
Old World Types
Old World interior design has a wider European influence than traditional interior design. The look is inspired by a handful of classic European decorating styles, borrowing elements from:
Be sure to include earthenware accents such as urns, vases and oversized stone planters and Spanish, Italian or French antiques to ensure a timeless feel in an Old World setting.
Victorian Homes
Starting in the late 1830s and becoming synonymous with the Industrial Revolution, Victorian interior design reigned supreme for about 80 years, until the early 1900s. Mass production of furniture and decorative accessories created an overdone aesthetic in most Victorian homes which featured:
Heavy use of wallpapers
Distinctive Queen Anne style furniture
Stained glass accents
Plush draperies
Ornate ceiling tiles
Small collectibles and worldly treasures
The asymmetrical shapes of Victorian architecture can be found in cities all over the U.S., while distinctive Victorian color schemes and gingerbread trim gave homes unmistakable character and charm.
Art Deco Style
Toward the end of the Victorian era, a style known as Art Nouveau became popular for a brief time. Influenced by flowing, natural forms and female imagery, prime examples of this artistic style can be seen in the original designs of Tiffany lamps.
Art Deco interior design emerged during the mid-1920s, as one of the first styles of the modern era. Characterized by streamlined curves and angular, geometric shapes, it was an abrupt departure from the former look of Art Nouveau interiors. Art Deco embraced:
Eclectic design elements
Modern skyscraper architecture
Aerodynamic shapes
Hollywood Regency
Art Deco elements were infused in the next style trend to emerge, Hollywood Regency. Inspired by glamorous movie sets during the Golden age of Hollywood, the look included lavish textiles, black and white lacquered walls and furniture and gold-plated accents.
Hollywood Connection
Former actor William Haines and others, such as Dorothy Draper and Billy Baldwin, were instrumental in starting and developing this design trend. Haines, a self-taught decorator, went on to design iconic modern furniture pieces such as the Bel Air sofa. The idea behind its low profile is to ensure the furniture doesn't overshadow the person standing by or sitting on it. The Bel Air sofa became an instant classic.
Dorothy Draper was America's first interior designer and her company, founded in 1923, is still going strong today. She established her signature look with wide wall stripes paired with cabbage roses made from chintz, her use of splashy, vibrant colors, oversized floral patterns and plaster wall ornaments. Draper called it "Modern Baroque," and her fabulous design work still graces the interiors of many affluent commercial properties; a testament to her lasting legacy.
Design Elements
Go all out for glamour in this decorating style:
Think mirrored dressing tables, crystal chandeliers, fur throws and shiny metallic finishes.
Pair bold, black-and-white patterned rugs with jewel toned upholstery in lustrous fabrics like velvet and satin.
Mix Art Deco inspired furnishings with Chinoiserie wall paper and French Regency accent chairs.
Hollywood Regency is not intended as a budget-friendly style but you can mix in a few glamorous accent pieces to an upscale contemporary room for some extra sparkle and shine.
Modern, Minimalist and Midcentury Modern
Radical changes in art, architecture and design were well underway in the early 20th century, ignited by the ideals of modernism; disconnecting from the past in favor of exploring the new. A new school of thought for designers emerged from the Bauhaus school in Germany, which completely revolutionized the furniture industry with one profound idea:
Form must follow function.
Minimalist design, a core component of modern design, comes from a similar movement that began about 1917, in the Netherlands with the Dutch De Stijl Art Movement. Also influenced by architects like Ludwig Mies van der Rohe and the simple, clean aesthetics of Japanese design, minimalist interiors are devoid of clutter, ornamented furnishings and loud, flashy colors or patterns. Less is more in the minimalist home, which embraces open space, neutral colors and unity of forms and textures.
Enter Midcentury Madness
One of the most iconic Interior design styles to evolve during the 20th century is Midcentury Modern. Spanning about 25 years from the mid-1940s to 1970, Midcentury style embodied all that was cool, modern and sophisticated during the 1950s and 60s. Scandinavian style was in and America fell in love with minimalism.
Sleek and understated, Danish made furniture was in high demand and decorating magazines were overflowing with designer names on popular household furnishings like the Marshmallow Sofa, and the unforgettable Egg Chair. Furniture was being produced with exciting new materials including plywood, teak, plastic, acrylic, chrome and aluminum.
The atomic age brought about fun, kitschy patterns for wallpaper and fabric like Sputnik and similar starburst shapes, subatomic particles, harlequin diamonds and abstract geometric shapes. Stylized lamps such as the Arc floor lamp and sculptural fixtures such as the Artichoke pendant reflect the superior craftsmanship and timeless designs from the midcentury era that are still relevant today.
Modern Design
Modern interior design is characterized by:
Clutter-free minimalism
Clean lines of biomorphic, low-profile midcentury furniture designs
Sculptural lighting elements from the same era
Contemporary Type of Home Design
The design term most often confused with modern design is contemporary design. Contemporary is not a definitive look that evolved from an architectural, design or artistic movement; it is the current look now and continues to change over time.
Contemporary styling also involves the use of curves, whereas modern styling is very angular and geometric.
A contemporary interior has a very relaxed, lived in feel.
Neutral color palettes with a few warm or cool earth tones mixed in work well for comfortable environments with mixed looks on furniture. Borrowing elements from other styles and eras, it can easily transition into an eclectic space.
However, just when you think you have it sorted out, a term like contemporary modern comes along, which does actually blend the two styles into one.
Postmodern Design
Like many new styles that dismiss former trends, the postmodern design movement was a reaction against the minimalist influences of modern design. From about 1970 to 1990, popular style was first turned inside out with deconstructivism and the grunge look of punk fashion. Next came the new wave of radical Italian furniture design and the color explosion of the Memphis Group Collection.
Memphis Group furniture pieces are highly collectible and very expensive. However, you can inject a postmodern vibe into your home with any type of pop art, kitsch or humorous decor that has a retro feel dating it back to the 1970s or 80s. Think about adding:
Shag or fur rugs
Rubiks Cubes and other fun collectibles from the era
Famous furniture pieces, like Lucite chairs with traditional French styling
Transitional Homes
Transitional interior design is a blended mix of traditional and contemporary design elements. It's an easy way for those with traditional interiors to update the look in their home with more modern or contemporary furnishings.
The overall look is very clean and straightforward, with additional interest added through varying textures and patterns. Transitional style is often seen in open concept floor plans , where one area might have traditional wood furniture like a dining table and another area has contemporary seating pieces.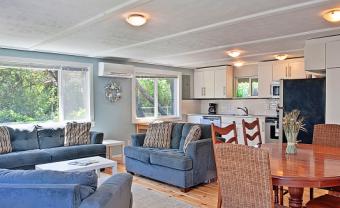 Rustic Types
Rustic interior design is another broad term that includes a lot of sub-styles, all with a focus on emphasizing natural environments or primitive elements:
Lodge or log cabin - Homes and furniture made primarily from varying species of pine logs and featuring large stone fireplaces, deer and elk antler decor and a strong focus on native tribal art, mountain and forest wildlife motifs
Western - Strong emphasis on historic, Old West lifestyle, cattle ranches, cowboys, horse culture and Native American culture; heavy use of reclaimed wood, antique artifacts, wrought iron, leather, rawhide and cowhide
Southwestern - Strong emphasis on Adobe style homes, Pueblo Indian culture, clay pottery, Mexican culture, kiva fireplaces and desert flora and fauna
Country - Inspired by cottage homes and a rural lifestyle, think weathered and distressed finishes, chalk paint, gardens, orchards and vineyards, handmade quilts and household antiques (iron bed frames, mason jars) bead board paneling, floral prints, stripes, plaids and ginghams
Farmhouse - Strong emphasis on vintage barn or industrial lighting, especially in kitchens, vintage appliances, apron sinks, rustic wood dining tables with mismatched chairs, reclaimed wood flooring and a mix of casual, comfortable furniture styles
Any of these styles can be updated with modern or contemporary elements into a separate style known as rustic contemporary style.
Industrial Chic
When it comes to urban landscapes, Industrial Chic design celebrates the ingenuity of man-made utilitarian objects, architectural elements, an abundance of metal and raw or unfinished surfaces. Inspired by urban loft designs, which are large city apartment homes created inside old factories and warehouses, this look is all about reusing and repurposing salvaged materials into edgy home décor.
Industrial chic is a big hit with green living enthusiasts, due to its recycling theme, and men favor the look because it has masculine feel. Elements include:
Stylized lighting includes metal track lights, cage lights, metal dome pendant lights and utilitarian or exposed bulb fixtures with Edison style bulbs.
Exposed ceiling beams, pipes and ductwork are incorporated as design elements.
Unfinished walls, exposed brick, concrete and other raw building materials are common.
Industrial furniture is often comprised of wood and metal and kitchens may feature large, stainless steel commercial appliances.
Some rooms feature large expanses of metal and glass windows or natural light filters in from skylights above.
Bohemian or Boho Chic
Bohemian interior design celebrates the free-spirited decorator with a colorful mix of tribal décor. It was first popularized during the 1970s with the hippie culture but has resurfaced as a crowd pleaser for Millennials and Hipsters.
Bohemian rooms are layered with vibrant ethnic accessories in the form of:
Handmade rugs, floor cushions, accent pillows, and wall tapestries
Colorful accent lighting with Moroccan or Chinese lanterns
Abundance of green, leafy exotic plants enhance a cozy atmosphere
Ethnic furniture and vintage collectibles complete the look with an eclectic, timeworn feel.
Make it Your Own
This just scratches the surface of the many varied types of interior design styles that make American homes so unique. Although these styles have specific elements that make up their design overall, personal taste and passion can be used to inject originality into any decorating style.