If you love history or the Old West in particular, consider a Western saloon theme in a kitchen, home bar, basement, man cave or game room. Transforming a room into an Old West saloon can be done all at once or over time, as your budget allows.
Go Rustic
If possible, do away with as many modern furnishings as you can. Take this room back 120 years or so.
Flooring and Walls
Wood floors provide a much more authentic Western feel than carpeting. If you can afford it, go for reclaimed wood or old weathered barnwood for flooring. You could also try distressing a pine floor.
Wood paneling on the walls also adds a rustic feel. This is another good place for reclaimed wood or paneling that mimics old wood, which you can find at Faux Panels.
Ceiling
Many old saloons had pressed tin ceilings. You can replicate this look with ceiling tiles. These lightweight titles can easily be installed by gluing or nailing them to the ceiling. You can also use drop in tiles with a suspended ceiling framework if you are working with an unfinished basement ceiling.
You can find these tiles at American Tin Ceilings and Decorative Ceiling Tiles.
Entryway
Hang a pair of swinging saloon style doors in an entryway. Hang an old antique sign on the wall above the doorway or hang it from ceiling hooks in the doorway.
Find the doors at Swinging Café Doors.
Home Bars
If you don't already have a home bar but would like to add one, many options exist depending on your budget and living situation. If you rent or plan on moving in the near future, a portable bar is your best option. Choose a bar made with distressed wood and rustic hardware.
La Fuente Imports carries rustic portable bars made from pine.
If you or someone in your family has the tools and experience in woodworking, you can build a custom home bar. Here is yet another opportunity for reclaimed wood, for an authentic, Old West feel. Take a look at the gallery at Custom Made for some inspiring ideas.
Include a set of rustic barstools with leather or cowhide upholstery and nailhead trim. Take a look at the saddle seat barstools at the Houzz.
Lighting
Replicas of antique oil lamps with hurricane shades and brass or tin hardware and old kerosene lanterns make excellent lighting choices for a saloon themed room. These lamps can be freestanding, wall-mounted or hung from the ceiling. You can find them in both electric and fuel burning varieties.
A wagon wheel chandelier makes a nice focal point. If the room has a high ceiling, an elk antler chandelier is also an option, but at a hefty cost in most cases.
Look for antique replica lighting at River Junction Trading Co. and Vermont Lanterns.
Other Accessories
Once your rustic furnishings are in place, you can start bringing in antique style accessories to complete the look in your Western saloon themed room. This is the fun part, as it's much like a treasure hunt.
Wall Décor
According to Kathy Weiser-Alexander, owner of LegendsOfAmerica.com, Old West saloon walls were often filled with vendor signage and posters for alcohol and tobacco products and posters for theater productions, circuses and Wild West shows. Also common were burlesque posters and prints of scantily clad women.
Give your saloon style room an authentic feel with antique whiskey and spirits posters and Old West style wood signs. Prints of old 1800s photos and postcards can be purchased online. Find these items at the following places:
Make "Wanted Dead or Alive" posters of family and friends for whimsical wall décor. You can do this online at FlipMyText.com.
Antique Western-style mirrors make great saloon décor and when strategically placed, help showcase other items.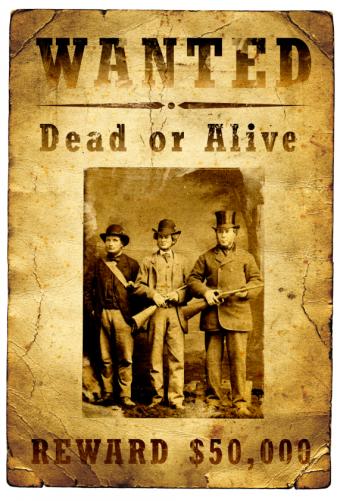 Bar Items
Look for old antique or antique style items such as beer and whiskey glasses and brass spittoons. Display antique bottles behind the bar if you can find them.
Include a small round wood table for the occasional poker game. Poker was a common activity in western saloons. Add saloon or caboose style chairs.
You can find most of these items at River Junction Trading Co.
An old upright piano makes a nice prop but even used pianos can be quite costly. You can find Old West saloon music to download or purchase CDs online.
Get Inspired
For additional inspiration, there's nothing better than seeing a real Old West saloon in person. You can find a few of these historic gems such as the Bird Cage Theater in Tombstone, Arizona and several saloons including the Ponderosa Saloon and The Bucket of Blood in Virginia City. Nevada.