Give your outdoor living space a whole new vibe by decorating the walls of your patio or deck. From hanging planters to upcycled wood paneling, there are tons of patio wall ideas for you to try. Whether you have a green thumb or are handy with a hammer, there's something here for you.
Randomly Spaced Hanging Planters
Don't worry if you don't know where to start with your plain patio walls. Just paint them white as a blank canvas and hang randomly spaced planters in a favorite color. Fill them with easy-care flowers like geraniums so you can focus on having fun in your outdoor space.
Living Wall of Bamboo or Grass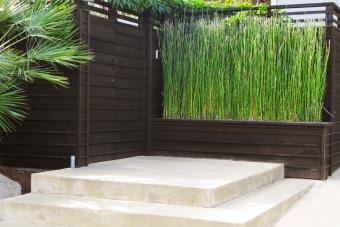 If you have a green thumb, show it off with a living wall on your patio. Plant tall grass or bamboo in planters along the base of the wall and let it grow. Everyone will love your lush seating area and beautiful decor.
Quick Tip
Choose a type of bamboo or grass that fits with your climate and especially, your ability to water it. Plants tend to dry out quickly in containers, so it can also help to set up some irrigation on a timer.
Weathered Wood and Rattan
Weathered wood patio walls get a whole new look when you layer on more weathered natural materials. Hang rustic basket planters with greenery and place wood seating in front of the wall. This is a super low-key look that lets you enjoy nature without having to put a ton of energy into upkeep.
Wit and Whimsy in Patio Wall Decor
Who says patio wall ideas have to be serious? Get a little playful by hanging an old bike as decoration. Choose one that's not worth much as transportation anymore but is still cute. This is a great way to give a whimsical, artistic vibe, and it doubles as a conversation piece when you're entertaining.
Freestanding Patio Wall Ideas for Renters
If you're renting your place and can't make holes or go nuts with the paint, you can still make a statement with your patio walls. Pick up a freestanding vertical planter or make one by upcycling an old ladder or bed frame. Attach hanging buckets or baskets and fill them with flowers or greenery.
Lattice for the Win
Are you handy with a drill? Pick up some lattice panels at your local hardware store and cut them to the size of your patio walls. Attach them to the walls and paint everything the same color. The texture will really stand out and give your patio a sophisticated feel.
Quick Tip
You can layer different sizes and shapes of lattice to give even more textural interest to your patio walls.
Horizontal and Vertical Paneling
If you want to make your patio feel more homey and you have some handy person skills, mix horizontal and vertical paneling. Keep the wood color the same so the texture is what the viewer sees. This is a wonderful way to show off your skills and make your patio feel more private.
Added Angles for a Small Patio
It's easy for a more compact space to feel closed in, but one great small patio wall idea is to add a diagonal angle. If you're handy, frame in a section in front of the wall and top it with a wider board. You can add planters too to give everything a lush and open feel.
Bold and Beautiful Patio Walls
Pretty good (or even just basically okay) with a paintbrush? Add instant style by painting your patio walls a bold, bright color. Think orange, red, turquoise, pink, or anything else that really pops. You'll love how it makes it even more fun to entertain in your space.
DIY Hanging Planters
Another patio wall idea to give you an artistic and fun look is to hang driftwood or branches on the patio walls and use those wood pieces to suspend some colorful planters. What's cool about this is you can adjust the display easily, adding more planters or changing up the size.
Fence Panels and Climbing Vines
If you're good with gardening, you can create a jaw-dropping patio wall decoration with a few fence panels. Install the panels in front of your patio walls and paint them any color you like. Then train climbing vines like ivy or roses to grow on the panels for a gorgeous country feel.
Upcycled Wood Patio Walls
When it comes to patio wall decor ideas, it's hard to beat upcycled wood. It's already weathered, and it adds instant farmhouse style and texture to your outdoor space. It can even add color if you bring in painted paneling in different shades. This works best if you're handy with tools and can build a frame for the panels.
Remember the Space in Front of Patio Walls
There are so many great patio wall ideas to choose from, and you can even combine ideas (think hanging planters on a reclaimed wood wall). Don't forget the space in front of the wall either. A well-placed wooden bench takes the space from only vertical to horizontal too. It's a great way to welcome people to your patio and enjoy the space yourself.