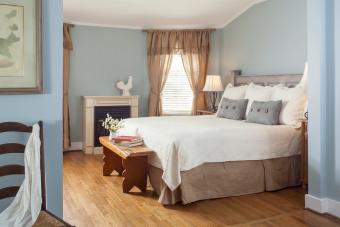 Benches are some of the most versatile pieces of furniture ever made, working equally well in the bedroom and on the front porch of your home. An antique wooden bench is one of those thrift store or flea market finds you know you can put to good use. They come in all different styles and work with just about any type of decor.
How to Use Antique Benches in Your Home
Because the function of a bench is so simple (it's just a place to sit), there are some amazing ways to use them in pretty much every room of your home. If you have a modern decorating style, stick to benches with clean lines and fuss-free styling. If you like un updated antique look, the sky is the limit; almost any bench could work in your home.
Welcome Guests by the Front Door
Welcome guests with a rustic wooden bench. Look for a primitive style that isn't super valuable and can handle some weather; this is not a place to put a fine piece of antique craftsmanship. Add planters with flowers or greenery and some pretty outdoor pillows to offer guests a place to sit and rest. Bonus points if the seat is actually comfortable!
Give People a Rest in the Foyer
The entryway to your home has to do double duty as a functional, hard-working space and an introduction to your decorating style. A painted wood bench from any era is up to the task, offering a place for people to sit and take off or put on their shoes. Paint is easy to clean up, and you can create contrast with a black painted antique bench or a vintage find in a fun, bright color.
Brighten an Alcove
A small antique bench works super well to add charm to an alcove with a window. You can use this as a reading nook, a place to stop and enjoy a view, or a spot to change footwear. No matter how you plan to use it, this is a place where a small bench works better than a larger one. Color is also fun with this; a small, brightly painted bench adds tons of charm.
Try an Antique Wooden Bench on an Enclosed Porch
Porches can get a lot of weather exposure, but a covered or enclosed porch or sunroom is the perfect spot for one of these antiques. Sheltered from the weather, they offer a place to sit and a welcome anyone who passes. This is a great area to use an antique church pew or long wooden bench because porches tend to have a lot of long, narrow space. Add a table in front to give people somewhere to set drinks or books.
Store Things on an Old Wooden Bench
You don't have to use a bench for seating. You can also use it to elevate and store items that add to the charm of your home. For example, you can stack firewood on a primitive antique seat and make it easy to sweep and clean up around it. The key is to store things that fit in the area where you're using the bench, such as firewood by the fireplace, books in an office or living room, or stuffed animals in a child's bedroom.
Make Your Own Window Seat
Don't despair if your home is lacking a built-in window seat but you love the charm of them. You can make your own by placing a bench near a window. If the window is low, choose an antique seat without a back so you don't block any of the view. If there's space for a back, a Windsor style bench is great because it lets light through the spindles in the back. Bonus points if you can fit a bookcase near the bench so people can rest and read at the same time.
Repurpose an Old Bench as a Coffee Table
An old bench works well as a coffee table, especially if it's wide and low. Look for a bench that's a bit shorter. Many antique examples aren't as tall as modern ones, so this is a perfect way to use an old bench that isn't quite tall enough to sit on comfortably. A coffee table should be around 18 inches high. Bring a tape measure to the flea market or antique shop so you can look for one with the right dimensions for your space.
Place an Upholstered Bench at the Foot of Your Bed
An upholstered bench works beautifully in the bedroom, especially if you have extra room near the foot of the bed. Put the bench in that spot and use it to sit on while you're getting dressed, or put extra pillows and blankets on it when you're using your bed. Either way, look for one with upholstery in good condition and wood that's sturdy enough to support two people sitting on it.
Try an Antique Bench in the Dressing Room or Bathroom
If you have enough space in your walk-in closet or bathroom, a bench can be useful for changing clothes. Stick to areas that don't include a shower, since the steam can damage antique wood and upholstery. Look for a seat that is flat and comfortable and a size that fits the space you have available for it. This is a situation where an upholstered bench is a comfy choice, especially if the upholstery won't have a lot of contact with moisture.
Antique Wooden Bench Styles
As you shop or browse the classified ads, keep an eye out for these super cool and super useful bench styles:
Upholstered wood bench - Some benches feature upholstered tops. If the upholstery is in rough condition, they aren't as complicated or expensive to have reupholstered as other types of furniture. Prices vary based on condition, but most are worth around $100 to $300.
Antique monk's bench - A monk's bench is a type of convertible furniture that's useful in small spaces. The back of the bench can tilt forward to become the top of a table. They're not common, and prices start around $1,000.
Primitive wood bench - Some antique benches were made for use in a barn, stable, or other rough environment. They can be weathered with exposed wood or peeling paint, and they add a rustic touch to your decor. The value depends on size and condition, but they often start under $100.
Windsor bench - Based on the style of the Windsor chair, this type of bench features wood spindles and simple lines. They can be finely crafted, and many antique examples are worth a lot. They often sell for $1,000 and up.
Church pew - A church pew, usually from a church that has upgraded its seating or changed locations, is a special choice for a bench. They're often really large and can be difficult to place in your home, but small ones make great dining table benches or entryway seating. Expect to spend $500 and up.
Tips for Buying and Selling Antique Benches and Seats
If you have an antique seat you need to sell or want to buy one, there are a few things to keep in mind:
Know how much a bench is worth. The best way to do this is to look at recent sales on eBay or locally. You can also see what other people are asking, but know that what a seller asks for something isn't the same as what people are willing to pay.
Understand how condition and appearance affect value. If the bench looks nice, it will be worth more. People want to be able to use these in their homes.
Try to buy and sell locally. Shipping something as large as a bench will be expensive. The cost of shipping, even if it's listed as free, adds to the price you pay for the item.
Know that a bench needs to be useful. If it's super big, not sturdy, or very uncomfortable, that can affect the value. It can give you room to negotiate with a seller if you're buying.
Functional and Stylish Benches
A bench can be a perfect addition to almost any room in your home. It's a great example of how decorating with antiques can be functional and stylish. There are so many great ways to use benches that you may find you want to put them to work in more than one room.