Get creative this summer with the perfect DIY 4th of July wreaths for your front door. You don't have to be a crafting expert to show your patriotic spirit, either. These are easy projects you can do in an afternoon. Grab your craft materials and carve out a little you time!
Burlap Stars and Stripes Wreath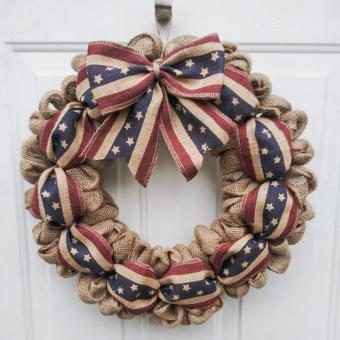 More Details
Making a burlap wreath is easy. All you need is a wire wreath frame, some wire, and some strips of burlap fabric or ribbon. You simply wrap the burlap around and through the wreath frame, wiring it as you go. When you're done covering it in burlap, add a stars and stripes ribbon!
Flag-Printed Burlap Wreath
More Details
Another variation on the burlap wreath idea is to use burlap printed with stripes and stars. Stop by your craft store and pick up some dark blue burlap with white stars and some red-and-white-striped burlap (plus the standard wreath form and wire). Cover about a quarter of the wreath with the stars and the remaining three quarters with stripes.
Red, White, and Blue Mesh Ribbon Wreath
More Details
A mesh ribbon wreath is just a variation on the burlap technique. For this patriotic punch of color, you cut red, white, and blue mesh ribbon into pieces and wire those to the wreath form. Tie on lots of star-printed ribbon for extra flair.
Super Simple Wrapped 4th of July Wreath
More Details
What's easier than a mesh ribbon wreath? A wrapped ribbon wreath! For this, you'll need lots of red-and-white-striped ribbon, some blue ribbon with white stars, a hot glue gun, and a foam wreath form.
Glue the end of the red and white ribbon to the wreath form and wrap it around the wreath form, allowing it to overlap a little. Keep going until the whole thing is covered. Glue the end.
Cut a piece of blue star ribbon and make a simple bow. Glue or tie the bow to the top of the wreath.
Add another length of red and white ribbon for a hanging loop.
Flag-Wrapped Grapevine Wreath
More Details
Stop by the craft store and pick up some gauzy flag fabric and a grapevine wreath, plus anything else you'd like to add for flair (greenery, ribbons, a big metal star, you name it). Wrap the flag fabric around the wreath, tying it on one side. Wire on any fun decorations you want to use and hang it up.
Asymmetrical Patriotic Grapevine Wreath
More Details
Grapevine wreaths are some of the most versatile. They make a perfect base for adding decorations. In this example, you can add red, white, and blue flowers and greenery to the wreath using floral wire. Point some up and some down, keeping them all gathered on one side. Then add a bow made of red, white, and blue ribbon, and you're all set.
Quick Tip
Patriotic ribbon usually hits store shelves on Memorial Day and stays around until the 4th of July. Stock up as the holiday approaches and just after it's done when many craft stores slash prices by 50% or more. It will be perfect for next year's wreath too!
Adorable Red Truck 4th of July Wreath
More Details
Hit up your favorite antique store or thrift shop to buy a retro red truck (or plane or boat or any form of transportation). Then grab a grapevine wreath, some greenery and white flowers, a little flag, and a patriotic ribbon.
Start by wiring the toy to the wreath.
Then add a spray of greenery and white flowers using more floral wire.
Add a bow made of patriotic ribbon and stick a flag in the truck.
Patriotic Letter Wreath
More Details
Use the same technique as the truck wreath to make a letter wreath instead. You can find letters at any craft store. They usually come in white, but if you're feeling extra creative, paint them in red or blue. Wire the letter on to the wreath, just like the truck.
Red, White, and Blue Star Wreath
More Details
Starting with a grapevine wreath, you can add sprays of red, white, and blue berries for patriotic color. Then pick up a garland of silver or gold stars and weave it through the wreath. You can also use tons of wired stars from the craft store. Either way, you're going for an overall look of lots of stars scattered evenly over the wreath.
Bold Ring Wreath for the 4th of July
More Details
Ring wreaths a such a fun and minimalist way to do the wreath thing. You can pick one up at the craft store, along with big red, white, and blue flowers, greenery, and a patriotic ribbon. To make this, just wire the flowers and greenery to the ring, alternating the colors to make them symmetrical. Then hang the whole thing from a loop of patriotic ribbon. Done!
Get in the Patriotic Spirit
More Details
A 4th of July wreath is the perfect project to get in the spirit for all the patriotic festivities to come. Greet guests at your 4th of July party or fireworks with a wonderful decoration and show off your creativity and sense of style at the same time.