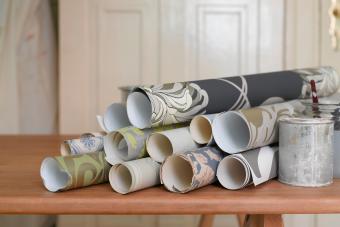 Part of the charm of a retro home is the bright patterned wallpaper that covers the walls. When you're excited about perfecting that vintage style, you might get a little credit card happy and order too many rolls of your favorite floral pattern. Instead of sending it back, use up those vintage wallpaper scraps in one of these fun DIY projects.
8 Ways to Use Your Vintage Wallpaper Scraps
Keep your wallpaper scraps from ending up in a landfill by using them in unconventional and creative ways. From holiday projects to handmade items, these are some great things to try.
Turn Small Scraps Into Stationery Envelopes
Folding paper into envelope shapes isn't hard at all! The Craftaholic Witch has three different origami tutorials you can follow to transform your leftover scraps into beautiful, patterned envelopes to send your thank-you notes and invitations.
To make your envelopes, you'll need a ruler, scissors, and a marking tool. And if you feel like your wallpaper isn't thick enough to withstand being battered in transit, simply glue a same-sized piece of cardstock or extra layers of wallpaper to the inside to strengthen it.
Use Scraps to Make Mats for Custom Frames
Instead of sticking with the single-color mats that are offered at your local craft store when framing a large piece, cover them in your vintage wallpaper instead. This'll bring some pizazz to whatever you're memorializing. Bonus points if you can match your vintage wallpaper to the same era of whatever photograph, print, or picture you're hanging up.
Turn the Wallpaper Into a Work of Art
If you've got the tiniest sheet of wallpaper leftover, it can be super hard to find a DIY project that only needs a square of paper. Instead of tossing it into the paper scraps bin to be cut up by the kiddos in your life, find a beautiful frame and put your wallpaper in place of a picture. It can be a great, low-cost way to tie in a single-color accent wall or hallway to the wallpapered rooms.
Use Leftovers to Wrap Your Gifts
If you've got a thin non-adhesive wallpaper leftover, you can store it to wrap future gifts with. If you've eyed the wrapping paper aisle during the holidays, you know just how expensive a small roll can be. Cut down on costs and gift sustainably this year by taking your unused wallpaper and folding it up into cute wrapped shapes.
Gift Handmade Ornaments
Forgo coughing up holiday money on new ornaments and make them yourself. There's a plethora of different shaped glass, plastic, and acrylic ornaments that you can stuff full of baubles and decorations. Trim your extra wallpaper down to size and stuff the ornaments full of the colorful leftovers. These timeless ornaments also make for great gifts when you're running low on cash or are in a hurry.
Line Your Shelves and Drawers With Scraps
Even if you're not a big crafter, the last of your wallpaper roll doesn't have to be tossed in the trash. You can incorporate the wallpaper into your interior design in a fast and flashy way - line your shelves and drawers with it. So, if you don't want to overwhelm your senses with too much decoration, you can add only a pop of eccentricity hidden away behind cupboards and doors.
Send Packages With Vintage Wallpaper Filler
Who needs shredded cardboard or packing peanuts when you have perfectly good wallpaper lying around? If you've got a small business or are just trying to get rid of the wallpaper rolls taking up space in your storage closets, this is a lightning fast way to put your leftovers to good use. Crumble it up, shred it into little confetti, or line your packing boxes with it. The choice is up to you.
Craft Vintage Wallpaper Bookmarks
Bibliophiles who fear a corner crease collect bookmarks almost as feverishly as they do new books. Add a personal touch to your 'currently reading' book by crafting your own bookmarks out of old vintage wallpaper. Simply, adhere your wallpaper to a thick piece of cardstock, and trim it down to size. Attach stickers, glitter, a ribbon, and more to make a bookmark that fits your style.
Real Vintage vs. Vintage-Inspired Wallpaper
Before using your wallpaper scraps to start a new DIY project, you need to figure out what kind you have. With genuine vintage wallpaper from the 1920s-1980s, you can't rely on the adhesive they come with (if any). You'll need extra paste to apply these relics of the past to any surface.
However, vintage-inspired peel & stick wallpaper that's manufactured today is super simple to cut down to size and attach to whatever you want - just like a sticker.
Helpful Hack
For real vintage wallpaper, cut off a small sample and dampen it with water to check that the color dyes used on the paper won't bleed and stain. If so, they might not be the best material choice for certain projects.
Vintage Wallpaper Is a DIYers Dream
The possibilities are endless for leftover wallpaper. From genuine vintage designs to retro-inspired patterns, wallpaper's repeating pattern makes it a perfect choice for crafts and home projects of all kinds. Make being sustainable fun by giving your vintage wallpaper a new purpose.