Set a budget for your design project to ensure fewer financial surprises and to reduce the stress that is often associated with projects. A budget can also force creative solutions that otherwise would be overlooked.
Step #1: Decide What You Want to Spend
There are a few questions you need to answer before getting to the creating a budget.
Are you good at sticking to a budget? If not, how will you finance overspending?
Does your project require hiring a contractor, plumber, electrician, etc?
Are you good at working within a budget?
Can you accept something less than your heart's desire to stay within budget?
Are you good at setting deadlines and following through?
Are you a good bargain hunter?
Do you have DIY skills?
Set the Budget
This stage requires you to be realistic in what you can expect out of your design project.
How much money do you need for this project?
Will you be using disposable income, a bank loan, or credit cards?
Avoid tapping into a savings account unless you've saved specifically for this project.
Overspending happens on any project. You need to figure in between 10 percent and 20 percent for budget busters.
How will you decide what is worth overspending?
What will be your cushion amount, and how will you finance overspending?
What is the realistic amount of money you can spend on your project?
Step #2: Create Your Wish List
This step involves writing down everything you want to include in your project, regardless the price. This is the only time you should ignore your budget limitations.
Wish Board and Project Notebook
Now is the time to create a wish board and project notebook. If you have samples, photos, and notes about items you want to include, create a wish board along with a ringed notebook so you can break your project down into stages with a checklist.
Step #3: Research Your Project
This stage is vital to your success in finding the items you want and staying within your budget.
List items: This list includes everything you wish to include in your project. Break these down into categories, such as lighting, accessories, furniture, fabrics, etc.
Price items: You'll need to shop price for each item to find the best price.
Contractor bids: Contact the contractors needed for your project and gather bids to evaluate and select.
Calculate costs: Once you have all the items sourced and priced, it's time to add up the costs.
Sticker shock: The reality of what you want and what you can afford often conflict with what you need, such as construction requirements.
Step #4: Work With the Reality of Project Costs
Once you have an idea of the overall cost for your project, you must ask if you have the financial resources to see it through.
Are you willing to compromise on some things to complete the project?
Can you substitute some of the items on your list and still have your ideal finished project?
Can your project be done in stages? This can often give you the initial project goal, such as a finished basement with the furnishings and cosmetic treatments coming later as finances allow.
Step #5: Begin Planning and Decision-Making
In addition to your wish list, there are additional things you need to consider, such as the size of your room or project if it includes more than one room, the aesthetics and style versus function.
Size of Project
If your project includes more than one room, you need to breakdown each room for planning purposes. Make a list of each aspect needed for each room, such as any construction needs, electrical, and plumbing and then work with the aesthetics, such as wall treatments, lighting, window treatment, and furnishings.
Function Versus Style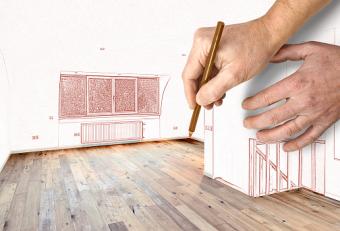 There will be many practical decisions you have to make that cover every detail of your project from large items, such building materials, to accessories. Function is usually the top priority since it determines how usable a room will be. Still, you want to make sure your room is in keeping with your personal style.
Keep up With Purchases
You'll need to create a timeline and running tab on expenditures. Timelines change due to weather, worker's schedules, and product deliveries. Without a timeline, there can be no efficient planning and implementation of your project and budget. Always inquire about delivery dates. Items such as furniture often require six months or longer to fulfill orders.
Staying on Budget
Staying on budget isn't easy since so many unknown variables come into play during the planning and execution of a design project. If you're flexible and willing to compromise, the end result will be worth all your efforts.