Slip Dress
The 1990s were a time in fashion where minimalism and grunge came together to form one of the most unique and fun fashion eras. The style of dress during this time presented an edge for women that conveyed boldness with a cool and carefree twist.
One trend, in particular, was the slip dress. During the 90s, the slip dress look was one of the first fashionable nods towards the concept of underwear as outerwear. These were often worn layered. As pictured here, printed slip dresses look great when coordinated with a contrasting print.
Off-the-Shoulder Sweater
The 90s were all about revealing a shoulder. According to Pacific Standard, in an interview with Lena Dunham that prompted a Vogue article, Hillary Clinton noted that Donna Karan (the designer of the 1993 dress she wore to a State Dinner), remarked, "No matter your age, your size, your shoulders always look good." Most fashionistas couldn't agree more.
Are you ready to show a little shoulder? As pictured here, many knits and tops were off-the-shoulder or asymmetrical with one sleeve and can be worn casually or dressed up. An off-the-shoulder sweater or shirt can be worn with a pair of jeans or a skirt for a little edge for day, or with a funky pair of heels for night. Embellish your look with a bold cuff or eye-catching necklace.
Plaid
Plaid was one of the most popular prints during the 90s and was everywhere. Whether worn by the rock band Nirvana or on movie screens like the film Clueless, plaid prints were a hit during the 90s and prevalent pop culture.
To recreate a 90s look, add plaid to your style equation. Try a plaid skirt, a crew neck sweater, and knee boot. Mix in a funky moto jacket and you'll be ready for the scene with 90s flair.
Moto Jacket
No matter the decade, outerwear plays an important part of a wardrobe. According to Vogue, the moto jacket trend was a must-have. It was spotted on many supermodels in the 90s, and eventually became a trend that everyday fashion lovers wanted to try, often done in leather.
When wearing a moto jacket, your outfit will instantly be transformed into 'bad girl' style. For a cool weekend-on-the town look, wear your moto jacket with a casual flowing dress and ankle boots for a soft feminine edge.
Denim on Denim
Thinking about how to step up your denim game? Take a few style cues from the most influential celebrities during the 90s such as Tyra Banks, Drew Barrymore, and Heidi Klum, who according to Bustle, wore the denim trend superbly.
Tap into the 90s with a denim-on-denim look for a fresh take on how to wear your favorite jeans and jean shirt. When wearing this trend, the shades of blue should be the same on the top and bottom and can be applied with any denim combo.
Velvet
Fabrics such as velvet played up to the softer side of the 90s. No matter the garment, plush velvet gives anything a rich appearance. The Guardian attributes Gwyneth Paltrow as an early adopter of the trend at the 1996 MTV awards when she wore a red velvet suit.
An easy way to keep warm and look great is with a velvet blazer jacket or coat. Velvet outerwear can be worn with any and everything from pants and a shirt to your favorite dress.
Metallic
The 90s were all about shine. From the Spice Girls to Brittany Spears, metallic was a pop star's greatest weapon.
If you are a little apprehensive about the metallic trend, add metallic shine to your outfit with boots or shoes to get a 90s-inspired look. But, if you want to create a modern outfit with metallic, try wearing a silver skirt with a red shirt and gray ankle boot. Or, go casual with silver leggings and sneakers.
Leopard
During the early 90s, animal prints such as leopard print were popular. According to Marie Claire, design label Alaïa's most iconic collections ever featured models wearing head-to-toe leopard print. So, when it comes to leopard you can never go wrong.
To create a 90s-inspired look, you should know that this print works as a neutral and can be coordinated with many looks. Try wearing a red dress with leopard shoes and a black blazer, or pair leopard pants with a black top and jacket in a neutral color.
Bright Colors
From the Fresh Prince of Bel Air to the R&B singing group T.L.C., the 90s fashion trends were exploding with color. According to Marie Claire, vibrant streetwear was an early 90s style staple.
Make a bold entrance in bright colors that are sure to brighten neutrals and other fun prints you may own. Want to wake up a simple pair of jeans? Simply pair them with a bold yellow crew neck sweater, a fun hat, and loafers and you are so 90s in a cool way!
Lace
Feeling gothic? Madonna led the Vogue-era of the 90s in lace. Now it's time for you to pose in the most fierce way wearing the hottest looks featuring lace. For a 90s flair, try wearing a lace shirt underneath a blazer with jeans, or a skirt and a hot pair of pumps for a modern look.
Baggy Jeans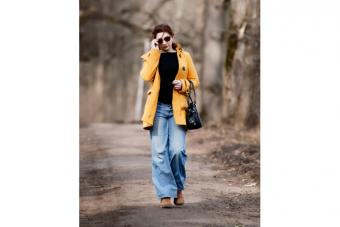 Clothing silhouettes during the 1990s were relaxed and often baggy, especially when it came to jeans and pants. Liveabout.com credits the hip-hop era as an influential source of the relaxed and baggy jeans look.
Consider giving your straight leg pants and skinny jeans a break. Instead, try a pair of baggy jeans with a sweater and a pair of chunky heel shoes. The trick to pulling off a baggy pair of pants is to keep the outfit balanced and not wear a baggy shirt or sweater.
Florals
Florals were a huge trend during the 90s and even now continue to be a classic print that allows women to add a feminine touch to any outfit. Huffington Post slates the 90s florals as the signature print of the 90s. Whether you want to go with a floral-printed dress, or a floral-printed shirt, try to layer with complementary gem tone colors for a seasonless look.
Gothic Jewelry
Accessories played a major part of a woman's outfit during the 90s. When it came to the creating a gothic-inspired outfit, one of the main accessories to pull together an outfit was a cross pendant. In fact, Bustle lists the cross necklace as one of the accessories every goth girl owned in the 90s. If wearing necklaces, try to layer them and include a cross pendant in the mix.
Oversized Coat
Outerwear worn during the 90s was often oversized, allowing women to wear layers underneath without the coat feeling snug. The blog favecrafts.com credits the 90s as a time when fashion was about emphasizing volume.
To wear an oversized outerwear look, your clothing can be relaxed or fit close to the body - the choice is yours. One thing you should keep in mind is the color of your coat. For instance, if the coat is a solid color, try making your coat a part of your outfit by wearing a monochromatic color theme.
Menswear Inspired
During the 90s women also borrowed fashion from the boys. Known as the power blazer, the 90s-inspired blazers today aren't as baggy as they were during the 90s. To make a powerful impact with an outfit from day to night, add a blazer with a dress and heels for the office and for the night, wear with top, dark jeans, and pumps.
Overall, tying together a 90s-inspired outfit with a modern twist will certainly keep your closet modern. Whether you shop vintage items or in a retail store, keep your eyes on the details when pulling together one of these trends.