Australia was first settled by the British in the late eighteenth century. Incoming officials, convicts, and later settlers brought with them dress practices and tastes at odds with customary attire of the indigenous inhabitants. Marking the nation's early history were confused cultural interpretations between newcomers and local indigenous peoples. Given the manner in which Australia was colonized, white Australians have persistently demonstrated strong reliance on Europe, the United Kingdom, India, the United States, and, later, China, for imported clothing, textiles, stylistic concepts, and manufacturing expertise. Somewhat surprisingly the most commanding influence on early Australian fashion was from France rather than Great Britain, with a continuing record of Parisian influence on dress and millinery from at least the 1820s until the late 1950s. At the same time the sleek, functional sports and leisure wear of the United States has been a significant source of inspiration for Australian ready-to-wear designers. It is a mistake, however, to regard Australian dress as a provincial version of other countries, although there is an element of truth to this view.
While one can point to no more than a few examples of recognizably Australian garments, the identity of Australians is expressed by clothing beyond this, in a complex mix of sometimes quite subtle elements and associated behaviors that challenge accepted understandings of class. Effects of climate certainly play a part, as does the early influence of life on the land and the goldfields. But even characteristically Australian garments, such as the all-weather Dryzabone coat, are not necessarily worn nationwide; there has always been a regional component to clothes in Australia, plus a distinctive metropolitan and rural divide. Close ties with Asia and migrants including Greeks and Muslims, with their own customary practices, add further dimensions to the picture of Australian dress. The attire of indigenous peoples, many who are disadvantaged and live in areas remote from cities, with limited capacity to purchase new clothing, add further layers of complexity to the overall picture of what people have worn, and do wear, in Australia.
Scholarship on Dress
Until the 1990s, the study of dress and fashion in Australia was marked by limited scholarship, one reason being the cultural disparagement of a practice traditionally associated with women's interests. Harsh environmental conditions in rural areas, especially dominated by men, meant fashionable dress was often given a low priority. Australian men have historically prided themselves on a lack of attention to the finer details of appearance, regarding this as incompatible with masculinity. While this conservatism shifted markedly with the expansion of urban living, and an increasingly materialistic social out-look after the 1980s, disparagement of clothing seems to have flowed on to a general unease about the subject of fashion itself. With some notable exceptions, such as the Powerhouse Museum in Sydney, museums and art galleries have shown little sustained interested in collecting Australian dress, especially everyday clothing. The collecting of penal clothing is one exception. All of this has lent a lack of legitimacy to the subject, something slowly being remedied as Australia gains confidence in the products of its own fashion industry and the showcasing of dress by its movie stars and sportspeople.
Dress and the First Australians
While colonial settlers regarded clothing as a means of displaying power and prestige, the same is not true of indigenous Australians. Variously accepting and disavowing the Western clothing system, their concerns have been and are focused on community affiliation, ceremonial adornment, or political resistance. In customary life, indigenous peoples went largely unclothed, apart from kangaroo and opossum skin cloaks, marking their bodies with earth pigments, and adorning them with accessories of local fibers, shells, bark, and leaves. However, government officials, missionaries, and pastoralists sought to impose Western dress on those with whom they came in contact, using it as a technique of acculturation and frequently as a reward system. Enforced use of European dress contributed to the decline in the techniques of indigenous people for making their own garments and almost certainly contributed to their early health problems. In the early 2000s, most indigenous people wear Western-style clothing, although in remote areas, regional patterns of T-shirt, dress, and scarf-wearing are evident. Some items of Western dress, such as the Akubra hat and the knitted cap (beanie), have been incorporated into indigenous cultural tradition.
Commentary on the Dress of Melbourne Women
"I fancy that the French modistes manufacture a certain style of attire for the Australian taste…. It is a compound of the cocotte and the American" (Twopeny, p. 75).
From the 1960s, the Australian government encouraged indigenous peoples to make and market their own fabric, T-shirt, and jewelry designs as a way of achieving self-sufficiency. From the 1980s, some practitioners became fashion designers in their own right like Bronwyn Bancroft, Lenore Dembski, and Robyn Caughlan, the first indigenous designer to show a ready-to-wear line at the Mercedes Australian Fashion Week in 2003. The work of these designers, stressing bold textile designs, offers an interesting counterpoint to modern mainstream fashion. In other examples, the successful company Balarinji, and European designers like Jenny Kee, Linda Jackson, and Peter Morrissey, have and do cooperate cross-culturally, in the latter case using textiles designed by the indigenous artist Jacinta Numina Waugh.
Signaling Australian Identity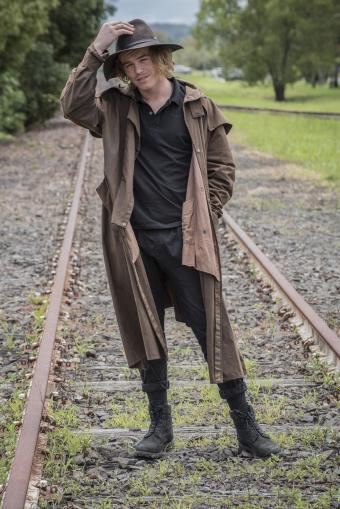 Since colonial times, Australian dress has been marked by strong regional differences. The dress of Sydney tends to be stylistically closer to American, with Melbourne more British and conservative, and subtropical cities like Brisbane and Perth favoring brighter, casual clothing affected mostly by the prevailing climate. Although these differences cannot be termed Australian per se, regionalism is one way that Australians define themselves. The other defining characteristic that emerged during colonial times was a supposed egalitarianism in men's dress. Associated with the dress of experienced rural "old hands," it consisted of rough rural and goldfields' attire quite different from conventional urban clothing. This comprised cabbage tree (palm-leaf) hats or slouch felt hats, later the Akubra hat, smock frocks, checked shirts, and hardwearing moleskin trousers and boots. A mythology has grown up around this masculine clothing, deeming it to be quintessentially Australian, though this has not been the case with women's dress. Companies, including RM Williams and Blundstone boots, continue to foster this mythology, and sell versions of their clothing worldwide, but nowadays to both sexes and not solely for rural wear.
A taste for Australian motifs and indigenous color schemes in dress and swimwear textiles was evident from the 1940s. But it was the 1970s that marked a particular watershed in the history of recognizably Australian fashions. Jenny Kee and partner Linda Jackson, who set up the Flamingo Park boutique in Sydney in 1973, initiated a novel style of art clothing that, among other romantic influences, later paid tribute to the native flora and fauna of Australia. It was in debt to the designs of indigenous peoples with whom they collaborated, or some would say exploited. The following decade saw a number of Australian companies achieve a degree of success in the international market. These included Coogi and Country Road, with its superior quality clothing in "natural" earthy colors, promoting so-called rural values, with outlets in the United States by 1985. The popularity of colorful, locally inspired Australiana designs, at their peak in the late 1980s, declined for everyday wear at the start of the next decade with the onset of more minimalist tastes. Only vestiges of this linger on, mainly in garments destined for the tourist market.
Class and Social Position
From the early years of colonization, a noticeable tension was evident in the ways settler Australians expressed social position through dress. Colonial history is rich in accounts of mistaken social identity. Some of this tension arose from problems strangers had in decoding signs of class. It also stemmed from a prevailing myth of class-lessness, coupled with a correspondingly intense awareness of social position characteristic of a small population. Some of the supposed lack of class differences related to informality in social interactivities and the dominance of the open-air lifestyle; other reasons pointed to the small, sometimes inward-looking population. Yet contemporary Australians of both sexes could be said to swing from a general disinterest in high fashion, to something more like pretentious investment in stylish, even vulgar visibility, originally the result of newfound money. For instance, Australians exhibit exuberance in clothes for special events, such as weddings and attendance at race meetings, even for leisure, but at the same time favor informality of clothing and dressing down. Some of the exuberance stems from a wayward form of "larrikinism" across both sexes. This is chiefly an Australian term meaning a kind of rowdy, non-conformism, complicated by a self-conscious disinterest in accepted routines of fashionable dress and behavior.
Clothing and Fashion Industries
Although always dependent on imported attire and fabrics, especially high-grade goods, a local clothing, footwear, and textile industry was set up in Eastern Australia soon after first settlement. These industries have been subject to a persistently troubled history, although until the mid-twentieth century, Australia sustained a sound reputation for manufacturing good-quality, comfortable clothing and textiles. Immediately after World War II, local wool fabrics were successfully promoted, initially by the Australian Wool Board and later the Australian Wool Corporation, but the situation has remained endemically volatile at the quality end of the fashion spectrum. While a fashion industry of sorts emerged by the early twentieth century, the real high point for the rag trade occurred in the decade immediately following World War II.
However, from the 1960s, Australia's textile and clothing industries started to lose what market share they had; coupled with protectionism, the mainstream industry, with some exceptions like the Prue Acton and Trent Nathan labels, began a serious decline. Chronic lack of capital, a small population, lack of ability to market high-volume goods and the steady lifting of tariffs from the late 1970s, made Australia's industries less and less competitive with imports, especially those from China. The latter became the country's main source of clothing by the 1980s. The decline in the local industry persisted. Following the worst clothing retail sales on record in 1996, the Mercedes Australian Fashion Week was inaugurated in Sydney, and the following year the first Melbourne Fashion Festival. Both were attempts to showcase Australian products and draw international buyers. While neither venture has had overwhelming success, a number of fresh, new Australian designers made a strong impact in Europe and the United States in the mid-1990s. These include Collette Dinnigan, Asian-born Akira Isogawa, who made his debut in 1996, the edgy clothing of Sass and Bide (launched in 1999), Easton Pearson, with its fusion designs combining traditional Indian and African cultures with contemporary ideas, and Morrissey (who launched solo in 1997). Despite these successes, Australian fashion remains somewhat marginalized, with its identity still under negotiation and overseas acceptance sporadic. In fact, competitive global marketing, the impression that the country is far removed from major centers of style, and its seasons out of step with the Northern Hemisphere has generally exacerbated rather than eased the industry's problems.
Leisurewear
Australia is not surprisingly at its most successful in the areas of leisure and beachwear. A local swimwear industry can be identified early in the twentieth century, soon reinforced by the presence of American swimwear manufacturers like Jantzen and Cole of California. In 1928, the Speedo label was created, and this company went on to be one of the most successful brands of Australian swimwear, exporting to the United States by the late 1950s. Many successful mainstream designers of swimwear became household names like Brian Rochford, the Gold Coast's Paula Stafford, and Nicole Zimmermann. Perhaps more significantly, innovative youth-oriented surf-wear companies who produce brightly colored, fun-loving designs like Rip Curl, Billabong, Mambo (with its bitingly satirical designs established in 1984 by Dare Jennings), and Quik-silver have gone on to represent Australian style most successfully in the international arena. Indeed, a major ingredient in the pervasive view of Australia as an outdoor nation, free from constraints, is a glowing tanned body, enhanced by attractive swimwear.
See also Ethnic Dress; Swimwear.
Bibliography
Fletcher, Marion. Costume in Australia, 1788-1901. Melbourne, Australia: Oxford University Press, 1984. First serious account of colonial dress but with an emphasis on bourgeois fashions.
Joel, Alexandra. Parade: The Story of Fashion in Australia. Sydney, Australia: HarperCollins, 1998. Text focused on period styles in high fashion. Of limited theoretical use. Revised, augmented edition.
Maynard, Margaret. Fashioned from Penury: Dress as Cultural Practice in Colonial Australia. Cambridge, U.K.: Cambridge University Press, 1994. First academic study of colonial dress across all classes.
--. "Indigenous Dress." In Oxford Companion to Aboriginal Art and Culture. Edited by Sylvia Kleinert and Margo Neale. South Melbourne, Australia: Oxford University Press, 2000. First nonanthropological account of the dress of indigenous Australians.
--. Out of Line: Australian Women and Style. Sydney, Australia: University of New South Wales Press, 2001. First comprehensive text on twentieth-century women's dress and the fashion industry in Australia, including an account of indigenous designers.
Twopeny, R. E. N. Town Life in Australia 1883. Sydney, Australia: Sydney University Press, 1973.