Trendy Black and White Dresses
From classy couture evening gowns to casual dresses with graphic black and white prints, black and white dresses have a fresh feel and a modern look.
Designs, styles, and lengths vary widely, but a contrast dress always looks sharp. Take a peek at some of the hottest looks in dresses of black and white, along with tips on accessorizing these trendy dresses.
Sexy Casual Look
A bold black and white print dress on silky fabric offers a casually sexy appeal.
The loose fit and flowing sleeves contrast with the short length of this mini dress by Christian Lacroix for a look that says 'sexy' without trying.
White Dress with Black Accents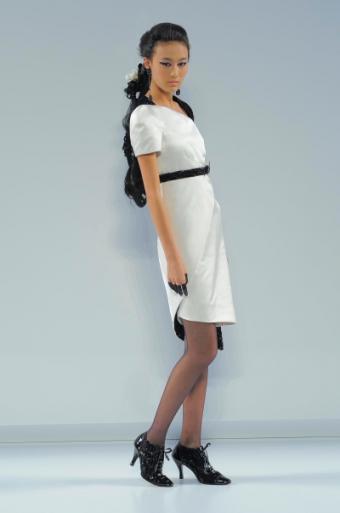 Chanel does this white wrap dress with black accents in signature classy style.
The figure-flattering wrap dress gets a chic look with a touch of black at the waist and neck. The feminine lines are sweet without going overboard.
Black and White Vintage Style
This vintage-inspired black and white dress by Samora retains a sense of modernity with the black and white stripes.
The strategic black with white striped panels at the sides of the dress are slimming; look for similar styles to create a gorgeous hourglass figure.
Edgy Dresses
Feeling a bit more rebellious than sweet? Edgy designs in black and white dresses can feed your inner rebellious child, like this bold black and white sweater dress by Vivienne Westwood.
A short sweater dress like this looks fabulous paired with leggings and a low slung belt.
Versatile Black and White Dress
Many black and white styles of dresses are not only chic, but also versatile, making them a great wardrobe staple.
This Stella McCartney dress, for example, is professional enough to pair with heels for the office. But add a pair of thigh high leather boots, and this look is instantly evening-ready.
Black and White Mod Mini Dress
With a nod to mod style, this black and white mini dress from Gucci is a hot look.
A funky polka dot print like this one is offset perfectly by chunky black bracelets and belt.
Black and White Maxi Dress
A black and white maxi dress, like this style from Douglas Hannant, is casually elegant.
Offset a black and white flowing maxi dress like this with colorful necklaces and a silver shoe for incredible style.
Any way you wear them, black and white dresses are stylish - so try on this any-season staple in a variety of styles to find one you love.