Casual Blue Jean Shorts Gallery
This blue jean shorts gallery is full of fashion inspiration for the casually stylish woman. Denim is highly versatile and contributes to a ton of different looks.
Pair your jean shorts with a hooded and loose-fitting top for a funky weekend outfit.
Laid-back Style
Jean shorts are incredibly laid-back and perfectly designed for relaxing days.
Wear them all spring and summer long. They pair well with virtually any casual top, so sport a vibrant purple shirt like this, which fits any warm season.
Howdy!
A delicate camisole top and cowgirl hat finish off this cute country girl look.
Not one for Madison Avenue fashion, cowgirls go for the rugged look of jean shorts that have been around awhile.
High Fashion Edge
If you're more of an edgy type, you can take jean shorts from laid-back to highly fashionable.
Use accessories wisely, such as tights and boots, but a skinny top still shows off a petite frame.
Sporty Fun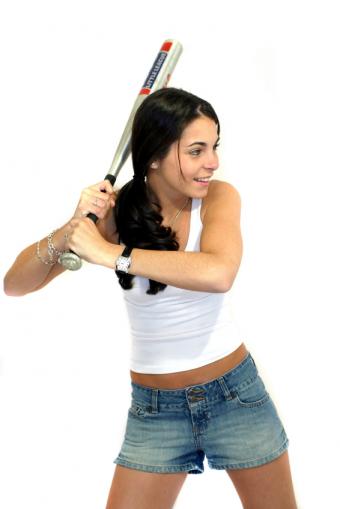 Fit in a game of street ball in your denim shorts.
A looser but tailored fit like this works well with tee shirts, polos, camisoles, halter tops and more.
Looser Fits
Not all the shorts in this blue jean shorts gallery are made to fit snugly.
If your top hugs the body the way this one does, balance out your look with shorts that are a bit looser.
Distressed Denim
Your shorts don't need to be years old to get a distressed look and feel. Some brand new denim is made to look as if it's been around the style block for a while.
Got great legs? Few items show them off as well as short shorts.
Lighter Looks
These light-wash shorts are the ultimate in casual duds.
Wear with flat shoes like sneakers and sandals for a comfortable outfit that carries you through the easiest of summer days.
Overall Style
Of course, you can always create a slightly less casual ensemble with chunky jewels and fancy footwear.
These overall shorts are far from what a farmer might wear -- they'll be right at home in the big city, worn by an uptown diva who's got legs for days.
Carefree Chic
Above all, jean shorts are just plain carefree fun. They're perfect for slipping on over bikini bottoms if you want to travel from beach to boardwalk. They can be a sexy little addition to your summer wardrobe.
More sexy outfit ideas take you beyond denim!