Bright colored purses instantly add a splash to your outfit. Don't limit their use to the spring and summer; use them to brighten up gloomy days and dark clothing in the fall and winter, too!
Find Your Bag
You can find bright handbags at any price point, across several different types of retailers. Visit department stores, boutiques, big box stores, and more to find the attention-grabbing purse your outfit's calling for.
Color-Blocked Style
The Kate Spade New York Cameron Street Blakely Satchel Bag (under $400.00 at Amazon): The brightest option here is done in two shades of blue paired with white, but there's also a pink bonnet/merlot/white combination for just over $200.00. This is done in crosshatched leather and features 14K gold plated hardware. You can grasp the handle and carry it that way or wear it as a crossbody style.
Sassy Satchel
The Givenchy Mini Antigona Sugar Leather Satchel in a sunny orange shade, available at Nordstrom for under $2,000.00, is a relatively small option at 8.75 inches wide. It's made of goatskin leather and features rolled handles to carry it by, as well as an adjustable shoulder strap. It features a zipper closure and interior zip pocket.
Sleek Mini Bag
The Women's Mini Bag from Merona? is a sleek design that's available at Target for around $20.00. It comes in a few bright shades, including red, coral, and light blue. It's made from waterproof polyurethane and has a zip closure and zippered interior pocket. There's a double handle if you prefer to carry your purse in your hand, but there's also a removable shoulder strap for versatility and keeping your hands free while you're out and about. Tassels, which are back in style just like fringe, are attached to the handle for extra visual interest.
Roomy and Modern
The Fashion Road Women's Modern Retro Top Handle Pu Leather Satchel Handbag from Amazon (under $30.00) is a sleek option that comes in a wide variety of bright shades: red, yellow, green, pink, and purple. It's made from vintage oiled faux cow leather and has a structured shape that features a flap top, flat handle, removable shoulder strap, zipper, and push-lock closure. At 15.2 inches wide, it's one of the larger options.
Cool Crossbody
The leather crossbody, Hobo Cadence (Zappos, less than $150.00), comes in an embossed teal and embossed red plum (plus more muted shades). Even the inside is bright, and it features the Hobo signature pattern. If you want a purse that easily transitions from day to night, this is a good bet because of its ability to go from crossbody to clutch, as well as its small size (nine inches wide). It features a zip closure with tassel, zip pocket on the inside, and an interior slip pocket.
Small and Bright
The leather Sophie Hulme Nano Milner Crossbody Bag is under $400.00 at Nordstrom and is available in two bright shades, chartreuse and aqua, as well as a charcoal gray. At just 5.5 inches wide, this is one of the smaller options for bright bags, but if you just carry the bare necessities (like a cell phone, keys, and lip gloss), it may be just what you need. It has a slip-tab flap closure and an interior wall pocket to keep things organized and secure.
Bold Contrast
The Kate Spade Cedar Street Maise Leather Satchel (around $300.00 at Nordstrom) doesn't go the traditional "bright" route with color. Instead, it's a bright white contrasted against black. The structured style and basic color palette will keep this bag in rotation all year. It's made from textured leather and features metal feet, a jacquard lining, interior pockets, zipper closure, top handles, and adjustable shoulder strap.
Tropical Look
If you're looking for something fun and funky for summertime adventures, you may love the sheer, hot pink Tropical Beach Tote Handbag from Target (around $15.00) that features a gold flamingo on the front. It's plastic and open on the top (no closure mechanism), so it's easy to toss the essentials in (plus extras, since there's plenty of room) and then pull them back out again when needed. Carry it by the double shoulder handles.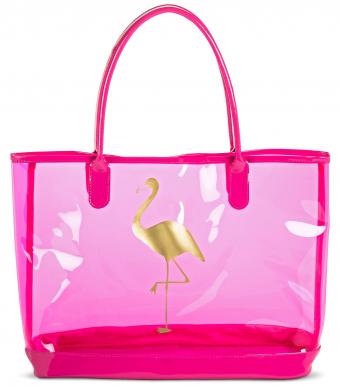 Choosing a Bright Bag
If you're shopping for a bright bag, you'll probably have the best luck in-store as retailers gear up for spring (so start looking in January, and expect to find fewer bright colors around August). If you want to use your bright purse during the fall and winter, consider more structured styles to go with the more classic, tailored lines of winter clothing. For spring and summer, slouchier bags work well. Of course, mix and match as you see fit; these are just things to consider as you shop and plan your wardrobe for the year.
If you want a bright bag and there are none to be had in the stores, online is always a good bet. Check:
Color Trends
While brighter colors are typically seen in accessories like handbags in the spring and summer months, in recent times, you'll find unexpected brights even in the cooler seasons. To find the most up to date bright color ideas for your purse, visit the Pantone website for the latest fashion color report. Some current shades to consider when selecting your next bag include:
Bright Blue: This color is bold yet calming, and easily transitions between seasons.
Polished Pink: A rich pink tone adds brightness to your style, but also looks polished and put together.
Dark Coral: Gorgeous in the spring and summer months against crisp white clothing, this is a flattering shade for most skin tones.
Citrus: Yellow instantly lightens and brightens your look with an optimistic feel.
Carrying Your Bright Purse
While there's really no right or wrong way to wear your bright bag, you can get just the look you want by thinking about your overall style.
First, decide if you want your purse to be the focal point to your outfit or a less noticeable complement to the outfit as a whole.
You can pair a sunny shade with all black, white, or gray (or even a combination of neutrals) to really make the purse stand out.
To use a bright purse but have it blend in, wear a pattern on top or bottom that features the color of your purse. For example, you could pair jeans with a floral watercolor-inspired print in shades of blue and purple and wear or carry an aqua purse with them.
Creative and Stylish
When your style calls for more than a basic neutral, you can explore your creative side with a bold, bright color in your bag choice. The important thing is to find a purse you love that will hold all the things you need to carry with you every day or for a specific event, then use it as a way to express your personal style.