For women, business casual means wearing clothes that offer a polished, neat, and professional appearance. While women's casual attire for the workplace is typically on the conservative side, there are also ways to personalize your outfits with your own style and yet still maintain an appropriate professional look.
Clarifying Business Casual
The phrase business casual itself can be confusing because of the various ways workplaces interpret the term. It's not strictly defined across the board, and even employee handbooks or dress code policies may have little or no information on what defines this dress code item.
Formal or traditional business attire for women usually calls for dark pant or skirt suits for women. Business casual dress codes are typically not as strict and the garments are scaled down from more formal business attire. However, as pointed out by the DeGroote School of Business, it should still present a crisp and professional appearance.
If you are always conscious of dressing for the job you want rather than the job you have, it becomes much easier to make the best clothing choices. Look to how your specific workplace interprets appropriate dress for your position, but be sure not to 'demote' yourself in the appearance department by dressing down too much.
When to Opt for Business Casual
Business casual apparel can be appropriate for professional women in a variety of situations. Examples include:
At work, when business casual is the specified dress code for the corporate environment
Business-related events with unspecified dress codes, such as conferences, relaxed networking events, job fairs, etc.
When visiting clients or customers whose workplaces have a business casual apparel policy
Workplace outings, such as attendance at company-sponsored sporting events or relaxed employee gatherings
When attending off-site training sessions, seminars or workshops
Inventory or special work days when clients will not be at the business may also prompt a special casual-day privilege in workplaces where the dress code is typically more formal.
The bottom line (as always) is to ask for more information if you are not sure what is or is not going to be appropriate. Your immediate supervisor or a human resources staff member should be glad to give you guidance.
Appropriate Relaxed Workplace Looks
Casual work attire for women should not be flashy or showcase the latest trends. The fit of any clothing should not be too large (which can look sloppy and unkempt) or too tight. As LEAF.tv points out, anything tight or suggestive is never appropriate for the workplace.
Choose classic cuts that fit the body well. If you're petite, shop in the petite department, if you are curvy, look for garments that fit without pulling and/or bunching. Consider having pieces tailored for a perfect fit.
Key work wardrobe items that are appropriate for a relaxed environment for women include:
Tailored shirts or blouses
Tailored sweaters or sweater sets
Knee length or just above the knee length skirts
Dress pants or slacks
Coordinated business separates
Two piece dresses (dresses with coordinated jackets)
Clothing Colors and Fabrics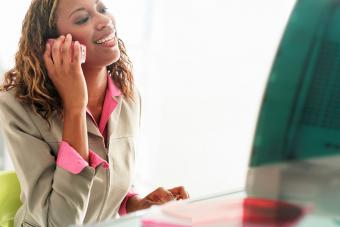 In general, clothing colors should be kept on the conservative side. According to style site Stylishly Me, neutral colors like gray, black, navy, tan or white are appropriate for most items. As a power color, red can also be a good choice. Matched sets such as pant sets or sweater sets can provide a look that is appropriate as well as attractive.
If you love color and are looking for a way to liven up your look, colored or print blouses or shells can be worn under solid color jackets or cardigans. When selecting tops that aren't solid color, it's best to opt for items that have small patterns, subtle prints or plaids.
Good fabric choices for women's business wear include:
Silk and silk blends
Cotton and cotton blends
Wool
Linen
Gabardine
Linen-blends
Twill
Corduroy
Questionable Areas
There are some items that fall into gray areas in terms of dressing down for work. These items may be considered appropriate but are dependent upon the specific environment, industry and woman's career position.
Long shorts or city shorts may be acceptable in some informal work environments, but this is typically not the case. This is more likely to be acceptable in creative industries (such as advertising agencies) than ones that are more conservative.
Short sleeves and cap sleeves are typically acceptable in workplaces that allow business casual attire, but sleeveless tops are often not allowed in workplace environments.

While there are some professional-looking shoes that have open toes or heels, these styles are not allowed everywhere. In some companies, such shoes are considered safety problems as well as dress code violations, while in others they are perfectly acceptable.
Jeans and denim skirts are often considered too casual. Career Services at Princeton University advises staying away jeans unless you are certain they are acceptable - and, if so, when it's okay to wear them (such as on casual Friday). If denim is acceptable in your workplace, opt for darker washes, which seem less informal.
What to Avoid
Although there are certainly some undefined areas in the world of casual business clothing for women, there are some definite aspects to avoid. Tight-fitting, sheer or suggestive clothing, cleavage, and sleeveless clothing are typically inappropriate for business. Wild colors and patterns, sequins, glittery clothing, and non-standard fabric choices like leather pants are also out of place in most workplaces, even those with fairly relaxed apparel guidelines.
Other clothing choices to avoid:
Tank or strappy tops, such as camisoles
Spaghetti strap or strapless dresses
Plunging or deep v-neck shirts or blouses
Mini skirts or micro minis
Baggy pants (such as harem styles)
Skinny-cut pants
Clothing with excessive frills or ruffles
Clothing with raw edges
Short shorts
Casual t-shirts
Casual jeans
Athletic apparel or shoes
Flip flops
Casual sandals
Keep in mind the details of the clothing as well. As noted by the Robert H. Smith School of Business at the University of Maryland, skirts should not be too short or revealing. A small center slit in the back of a skirt is appropriate; long side slits that expose the thighs are not. Even if you never err on the side of the too-short skirt, stick with a knee length and avoid long, billowy skirts that can make give off a sloppy appearance rather than one of a competent executive.
You also want to avoid any items that are stained, faded, or in need of repair.
Personalize Your Outfits With Accessories
One of the easiest ways is add a little extra style punch to your business wear is with appropriate accessories. Unique necklaces and earrings can add great visual appeal, as can scarves, shoes, and handbags. Many styles of chunky jewelry are fine, as long as they are not dramatically oversized or distracting (very long chandelier earrings, for example, are better reserved for social occasions).
Similarly, make sure your handbag is appropriate for business. Avoid large floral or beachy styles and look for bags in leather, microfibers or other business-suitable materials that are in designs that appeal to you but that also exude a professional feel and a polished look.
Look Well-Dressed and Appropriate
When choosing workplace clothing for women, mid to high end clothing brands are a good choice. Discount and bargain pieces often have cuts or fabrics of inferior quality. Avoid extremes in color or style and you'll always look like the consummate professional whether the corporate culture is formal or casual.