Choosing Headshot Clothing You'll Love
Knowing what to wear for headshots is about understanding the image you want to put forward and being thoughtful about the elements your photographer will include. For some women, professional business headshot photos will require a suit or blazer, while for others, more casual attire could be appropriate. It depends on the type of business you are in, the attitude you want to portray, and the background of your photo.
A Power Suit Works
In many businesses, a traditional navy or gray power suit is a great choice for headshot photos. This kind of neutral jacket works with almost any background, even one with bright colors. Pair it will a simple blouse if you're looking for a simple, professional look.
Keep It Light and Bright
For a bright, high key photo with lots of light, wear a white or pastel jacket instead. This provides a feminine look without sacrificing professionalism. It works well with a light background, so talk to your photographer about the look you have in mind. Some photographers will prefer a very light gray or pastel shade to bright white, since white can be challenging to work with in photos.
Try a Suit With Feminine Touches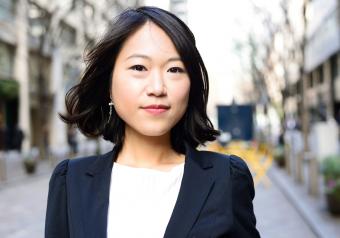 Even with a conservative suit, you can add a few feminine touches to show off your personality. Consider a sleeve with a slight gather, a small piece of delicate jewelry, or a little lace. If you keep these touches neutral, they will work with any background.
Use a Pop of Color
When it comes to headshot clothing, you don't have to stick with neutrals. A pop of color in the form of a bright shell or some chunky jewelry can work well in many types of businesses, especially if you want to give the impression you're a creative thinker. Consult your photographer about background options. If you're using a background with color, you'll need to make sure your clothing color doesn't clash or distract.
Subtle Color Can Be Professional
If you have silver or blond hair and are using a background in a similar shade, try a suit with a little color. Blue is a professional choice, especially if the fabric has a subtle sheen. Stay away from anything with sparkle, though, as this doesn't always work well in photos and doesn't have a professional look.
Play With Texture
Texture is another way to add personality to your business headshots. If you choose a neutral-toned jacket, you can pair it with a lace shell in the same or a very similar color. This adds feminine power while still feeling very professional. Keeping it neutral lets your photographer try lots of different background options too, so you'll have more choices when it comes to the headshots you end up getting.
A Suit Isn't the Only Option
Depending on your business, you may not need to wear a suit for your headshot. You can look professional in a simple but stylish turtleneck or a basic shell. Consider a color that looks great on you but won't disappear in with the background of your photo.
Keep Shapes Simple if You Use Color
If you choose to use a colored shell, keep the shape and style of your top simple. A bright, cheerful color works well for a headshot with a very plain background. The color keeps the photo from looking boring, but the simple style is very professional.
Embrace Your Softer Side
If you're in a business where your headshot can be a little more casual, embrace your softer side with a tone-on-tone blush sweater and blouse. A ruffled color and textured knit add feminine personality, but the cohesive style still feels serious. These tones work well because they are neutral and will give your photographer plenty of background options.
Match Your Outfit to Your Business
If you own your own small business, it's up to you what you wear for your headshots. It all depends on the kind of business you're running. If it's a fashion or home store, for example, you may want to add a fun pop of color to your outfit to show off the style of your shop. Ask your photographer to include your front door or part of your store in the photos too.
Wear a Dressed-Up Version of Your Daily Look
If you own a cafe, restaurant, or other similar small business and you're having your headshot taken at your workplace, wear a slightly dressed-up version of your daily look. Put on a nice blouse and a clean apron and ask your photographer to pose you in front of your counter or another important and pretty location.
Different Looks for Business Women in the Arts
If you work in the arts, your business headshot needs to look interesting and approachable. Ask your photographer to include some of the tools of your business and wear something that works with your surroundings. If you choose to go with a neutral tone, make sure it has a pretty texture or you're wearing interesting jewelry.
Consider Breaking the Rules for a Casual Business
Some businesses are just all about casual. If you own a business like this, you can break the rules with your headshot outfit. For instance, if you have a small business selling cowboy boots and Western wear, choose a plaid shirt for your business headshot. Follow your instincts and the expectations of your customers, even if that means going against the conventional wisdom. Ask your photographer to include important elements of your business in the background to make this work.
Follow Your Instincts for Business Headshots
Ultimately, knowing what to wear from headshot photographs comes down to knowing your business and your personal style. Follow your instincts and work with your photographer about backgrounds and ideas. Many professional photographers will offer guidance about your headshot clothing if you ask.