Cognac Colored Handbags
Cognac colored handbags are considered a staple in the fashion world. From cute purses to large shopping totes, cognac is a classic handbag hue that goes with practically any color palette and adds interest to every outfit. Click on the 'More Details' link at the top of each slide for purchasing information.
The Rectangular Tote
More Details
This cognac colored leather Rachel Tote from Fossil is spacious, rectangular, and comfortably fits a 15-inch laptop - making it ideal to take to work or school. It features two long handles and a removable zipper pouch.
Simplistic yet stylish, you can combine it with jeans and a white t-shirt for casual chic, or dress it up for a smarter occasion and let your bag do the talking by wearing all black. At about $158, it's also available in black and pink.
The Cognac Satchel
More Details
A gorgeous addition to your everyday look, the Sak Kendra satchel from Zappos (just under $180) also comes in Mushroom or Monterey Stripe and is perfect for work or play. It's made from leather and features dual carrying handles. The front and back exterior pockets provide additional storage.
Simply team the cognac version with an outfit in bold, rich colors to stand out for all the right reasons.
The Mini Crossbody
More Details
The Fossil Kinley Small Crossbody from Zappos would make a cute and fashion-forward addition to any woman's closet. Also available in five other color combos, including a black and white version, this bag costs around $130. It's made from eye-catching pebbled leather with an adjustable crossbody strap that you can adapt according to your requirements.
Its style and cognac hue would put a fierce finish on a casual look and would perfectly complement outfits featuring pastels and lighter hues.
The Square Tote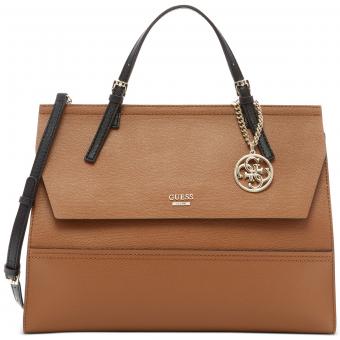 More Details
Currently available from Macy's at just over $70, the GUESS Huntley Top-Handle Flap-Front Satchel is just as stunning as it is sophisticated and would smarten up any outfit. It's made from faux leather and also has a crossbody strap for versatility.
Large in size and square in shape, it would make a serious style statement when worn with a black business suit for the office in winter or a bright floral print ensemble in summer.
The Double Sided Crossbody
Buy Now
This double-sided crossbody as part of the MKF Collection by Mia K. Farrow is currently being sold in a variety of colors on Amazon for around $25. Constructed from high-quality faux leather, it features multiple zip compartments for all your daily essentials when heading out to meet friends or dropping by the grocery store.
It would complement an outfit in almost any color palette and contribute to a fun, laid-back casual look.
The Convertible Bag
Buy Now
Also available in four other colors, this Tuscany Leather Bag from Amazon costs about $175 and is ideal for work or school. As well as having multiple zip compartments, its multi-function straps allow it to convert from a shoulder bag to a backpack at a moment's notice.
Its structure is soft and comfortable against the skin for everyday wear and the cognac hue would be a perfect partner to denim, white, and other light colors.
The Spacious Cognac Bag
More Details
A must-have in every modern woman's closet, a spacious bag can help you manage your busy days with ease and style. The Stella McCartney Popper Faux Leather Bucket Bag has elegant gold hardware accents and stands out for its roomy style that works well for everyday occasions.
Made from soft faux Nappa leather, this bag would make a smart, elegant addition to any woman's handbag collection. It costs around $1375.
The Crescent Moon Shaped Bag
More Details
This Steve Madden Jflynn Hobo bag is from 6pm and costs about $55. Crescent moon in shape, it's simple yet stylish and would put a sassy stamp of attitude on almost any outfit. It has a suede trim and fringe detail which gives off major bohemian vibes. It also has a slouchy nature would undeniably look cool and effortless on any woman's shoulder.
The Hobo Bag
More Details
Available from Nordstrom for under $400, the Melissa Leather Hobo by Frye is super stylish and has a classic hobo design. It has a short handle that makes it an ideal bag to grab and go, but it also has a longer strap for when you need to carry it on your shoulder. As well as cognac, it comes in five other colors, including Dusty Rose and Sand.
It would make a practical yet fun addition to your handbag collection, and its slightly washed-out hue look fabulous with jeans and a white shirt.
The Cognac Bucket Bag
Buy Now
Iconic in shape, the bucket bag is a great casual handbag for women on the go who require hands-free storage. This Elliott Lucca Marion Bucket Bag is medium in size and has a drawstring fastening which allows easy access. Also available in pink and gray for just under $200, its crossbody strap is thicker at the shoulder to provide added support. Its dark cognac hue would perfectly complement outfits in neutral or dark tones.
No matter what size, shape, or style you choose, it's easy to pull off a stylish handbag in a cognac color. Many of the most popular handbag designers make bags in this shade, so you can easily find one that suits you.