Inexpensive, Beautiful Watches
You don't have to spend hundreds or thousands of dollars to have a beautiful watch on your wrist -- not even one that looks elegant and expensive. Some designers have created styles that cost less than $100.00 but look like they could have cost much more.
For more information or to purchase the watches in this gallery, click on the "Buy Now" text at the bottom of each image.
Crystal Accents for Sparkle
Buy Now
This GUESS watch has a vintage flair that makes it look as if it could be an expensive family heirloom. Crystal embellishments set along the silver tone stainless steel band and around the face give it a gorgeous sparkle that will make it look like it cost more than its price, which is under $80.00.
Stainless Two-Tone Style
Buy Now
The Seiko Women's SUT116 Stainless Two-Tone Watch (just under $100.00) will easily take you from workday to weekend. The two-tone appearance helps it complement any other jewelry you may choose to wear that day. It's large enough to be easy to read, but not so large that it feels out of place and too bulky on a woman's wrist.
Delicate Mixed Metal Style for Any Woman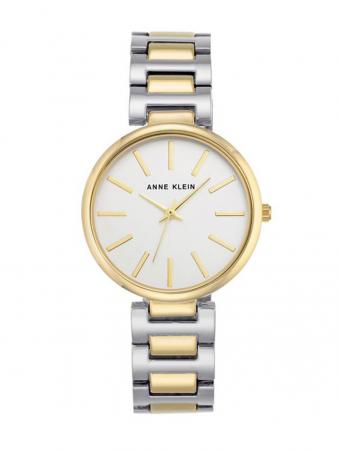 More Details
Another two-tone option, the Anne Klein Stainless Steel Two-Tone Mixed Metal Bracelet Watch, has a slightly more delicate look than the previous style, but still goes with anything in your jewelry or clothing wardrobe. Expect to pay just under $75.00 for this design.
Oversize Glam
Buy Now
Do you like the look of a slightly oversized watch? This Guess Dazzling Sporty Mid-Size Gold-Tone Watch may be your perfect match, especially if you prefer yellow gold over white gold. This gold-toned model has gorgeous sparkling stones around the face without veering into evening-only territory (though you can wear it then, too!), and it's under $75.00.
Unexpected Color
Buy Now
Unexpected colors can take a somewhat plain watch up a notch and make it appear more expensive. The Akribos XXIV Swiss Quartz Multi-Function Stainless Steel Bracelet Watch (less than $100.00) has the look of a men's watch, but it's designed for a woman. The blue face set against the silver-toned stainless steel makes this an attention-grabbing piece.
Subtle Rhinestones
More Details
If yellow gold is your metal of choice when it comes to jewelry, you'll love this inexpensive gold-toned option with subtle rhinestone detail from Charming Charlie. Rose gold is also an option. Both colors are very affordable for under $30.00.
Sleek Cuff Style
More Details
When you want your watch to look more like a bracelet than a traditional watch, this is a style you might turn to. The York Cuff watch from Charming Charlie is worth more than a passing glance. Its sleek black and gold cuff style possesses an air of sophistication without a high price tag (it's around $20.00). Wear it alone or with a few bracelets.
Classic Black and Gold
More Details
Here's another black and gold style, this time designed to look like a traditional watch with a round face and faux leather strap that fastens with an adjustable buckle. It's a classy option that is almost universally flattering; it will fit well with almost any personality or wardrobe. It's also around $20.00 at Charming Charlie.
Futuristic Yet Elegant
More Details
The Anne Klein leather strap watch is an example of futuristic elegance. A sheepskin leather cuff combines with a gold-toned watch face in an unexpected design that comes in at just under $100.00 at Nordstrom. Though it has an unusual shape, this brown and gold design could easily complement almost any attire.
Knotted Wrap Style in Blush
More Details
Black, brown, gold, rose gold, and silver are all wonderful watch colors that generally work for everyone, but sometimes you want something a little outside the norm. This blush and gold La Mer Collections 'Milwood' Leather Strap Watch from Nordstrom (less than $100.00) combines the delicate blush leather in a knotted wrap style with an angular gold case for perfect balance.
Whether you want a bold, attention-grabbing watch, or one with a more delicate feminine style, there are plenty of valuable vintage costume jewelry designs that look expensive, but won't break the bank.