A crocodile purse is a more expensive type of leather bag. Before making a purchase, you should know the difference between an authentic crocodile skin purse, a faux crocodile embossed leather bag, and a faux crocodile PU leather bag.
Crocodile Purse Is Made From Exotic Leather
An authentic crocodile purse is considered made of an exotic leather. This means it will usually cost more than a lamb leather or cowhide leather bag.
How Much Is a Crocodile Purse Worth?
How much a crocodile purse is worth depends on several factors. A new designer purse can cost up to $50,000 or more, whereas an unbranded vintage crocodile purse can sell for under $100. Handbags like the Hermès Himalaya Birkin crocodile purses have sold at auction for over $100,000 and as much as $380,000.
How Much Is a Designer Crocodile Purse?
When shopping for a designer crocodile purse, keep in mind that the designer house will impact the price of the purse. This means designer crocodile purses have a wide price range. Other examples include three Gucci crocodile purses:
How Much Is a Vintage Crocodile Skin Purse?
If you're shopping for a vintage crocodile purse, you can find unbranded vintage crocodile purses for as little as $40, depending on the condition and demand. Other vintage crocodile purses may sell for around $300 or more, depending on the condition of the bag and the era.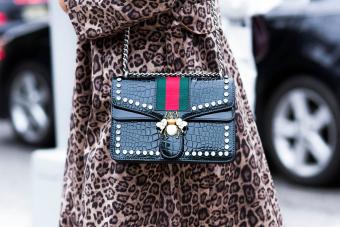 Faux Crocodile Skin Bag
There are many types of faux crocodile skin bags. These can be faux leather or crocodile embossed leather. The price range is wide with a faux leather crocodile bag costing as little as $18 or a leather bag with an embossed crocodile pattern for $2,000 or more.
Designer Faux Crocodile Embossed Leather Bag
A designer faux crocodile embossed leather bag will cost more than a faux leather bag with a crocodile pattern. The price tag represents the brand name and the leather quality. The process to create the authentic looking crocodile pattern is also reflected in the overall price.
Scully and Scully Faux Crocodile Leather Bag
Scully and Scully offers a Large Faux Crocodile Leather made of fine leather with the crocodile pattern embossed on it. The price for this faux crocodile leather purse is around $595.
Faux Leather Crocodile Purse
A faux leather purse designed to resemble a crocodile skin is made of a synthetic material, often described as vegan leather. This term reflects the social conscience that motivates a decision not to support products made of animals. Vegan leathers are typically PU (polyurethane) leathers. Just because a purse is made of PU leather doesn't necessarily mean the purse will be inexpensive, since some designers use it for very pricey handbags.
M.Daolen Retro Classic Shoulder Bag
The N&P M.Daolen Retro Classic Shoulder bag in a crocodile pattern is made of vegan leather. The purse is on the lower end of the price range selling for around $18.
Dasein PU Crocodile Barrel Satchel Handbag
The Dasein PU Crocodile Barrel Satchel Handbag is made of PU leather. The crocodile texture has a high-gloss, patent leather appearance. The purse and matching wristlet set sell for around $40.
Are Crocodile Bags Legal?
Many countries prohibit the sale of crocodile bags and other related goods. However, in the United States, sustainably sourced crocodile leather is allowed to be imported. There are restrictions regulated and enforced by CITES (Convention on International Trade in Endangered Species of Wild Fauna and Flora).
Important Information About a Crocodile Purse
It is important to have enough information to ensure you make a sound investment when shopping for a crocodile purse. Once you understand the different types of crocodile purses, you can choose the best type for your budget and wardrobe.