The Crossbody Bag for You
A crossbody bag is one of the best options for women who prefer to keep their hands free while making sure their bag is secure on their shoulder. This bag style is perfect for any woman - from moms who don't want to stuff all of their belongings into a diaper bag and prefer to keep their purse separate from their kids' things to busy college students toting their belongings across campus.
Crossbody bags not only keep your hands free, they tend to be on the small-to-medium side. That means they hold the necessities without taking up a lot of space or making it difficult to navigate through tight spaces. There are also plenty of stylish options that make this type of bag as great-looking as it is functional. Click on 'Buy Now' or 'More Details' link on any of the images for shopping details.
A Little Rugged and Lacy
Buy Now
This vegan leather style is a combination of rugged and feminine. The lace adds a soft touch to the leather and the colors can help it veer more into tough or girly territory. Choose from black, blue, brown, mint, and khaki. There's also a simple black leather version with no lace, if you're more of a minimalist, classic kind of girl. Expect to pay under $20.00. At 11" x 11" x 3.5", this bag may look small from the image here, but it's large enough to carry quite a bit!
Triple Zip Large Bag
Buy Now
This faux leather bag has three zippers that not only keep you organized, but add visual interest too. There's another zipper on the back, plus a zipper pocket and open pocket on the inside of the bag. It only comes in black, but that means it will easily complement most of your wardrobe without any fuss. Inside the bag is a patterned fabric that keeps things interesting without making it clash with anything else you'd like to wear. Expect to pay just over $20.00 for this style.
Designed for Durability
More Details
This option comes in portobello or beach (sand) from Baggalini and will work well with most wardrobes. The U-shape at the top keeps this from looking like just any bag, and the bag itself was designed with durability in mind. It's made from water-resistant nylon and it's big enough to hold almost anything you could need on a daily basis. Keep your cards and change organized in the front pocket and leave the main compartment for your phone, keys, lipstick, and anything else you'd like to have with you at all times. There's even a pocket on the back with a magnetic closure. Expect to pay around $80.00.
A Love of Color
More Details
Vera Bradley knows color and this Hipster bag is no exception. Get it for under $50.00 in this lilac tapestry print or choose from any of the other 20 colors and patterns. This is a roomy cotton (solids) or microfiber (prints) option that offers zippered external pockets and slip pockets on the inside. The main compartment closes via zipper to keep items secure. Use one of these to add color to an otherwise neutral outfit.
Color and Structure
More Details
If you love structure as much as you love color, this Anuschka bag (just over $150.00) could be your perfect fit. All three patterns are painted on leather. Inside, under the flap with magnetic closure, you'll find slip pockets and a center zip divider. There's also a coin pocket on the back. Though this is one of the smaller bags, it's designed to hold the essentials: phone, keys, wallet, lipstick, and sunglasses.
Luxurious Camera Bag
More Details
If you're looking to splurge on your next go-anywhere bag, the Small Mono Leather Camera bag from Saint Laurent (about $1000.00) with adjustable crossbody strap is one way to do it. Choose from Flash Blue, Gris Souris, Noir, and Peacock, all gorgeous shades that could work with a wide range of outfits all year. It's sleek and simple, with light embossing on the front and a tassel on the side. It has a top-zip closure and an interior pocket to keep you organized, but no pockets on the exterior of the purse.
Sleek Go-Anywhere Neutral
More Details
The Kate Spade New York Jackson Street Gabriele Leather Crossbody Bag is another sleek style that will take you anywhere, this time available in black or tan for less than $200.00. The exterior zip pocket keeps small items you'll need often right at your fingertips, while the interior (again with a zip closure) holds everything else you may need. There's also a zip pocket inside, along with striped lining for additional color and interest. Take this one to work, out for drinks, or for a trip around the zoo.
Animal Print Options
More Details
If you love animal print and bargains, the Cheetah-Print Dual-Zip Crossbody Bag (around $25.00) is your match made in heaven. Dress up a neutral outfit with a little bit of animal print and take comfort in the fact that you didn't spend a lot of cash on it. This style is made from faux leather, inside and out, and offers an adjustable strap so you can stay comfortable. There are two zip pouches on top and a section in the middle that has a magnetic closure. Pair this one with a little black dress or your favorite worn-in blue jeans.
Suede and Fringe
More Details
Combine suede and fringe for a swingy, casual crossbody style that's easy to wear with a dress or your most casual outfits. Get this one in Blackjack or Chestnut (or both, so your whole wardrobe will be covered if you really like this style and want to use it every day) for about $30.00. This purse is faux leather and comes with an adjustable strap, two zip-top closures, and a magnetic middle closure.
Classy Half-Moon Style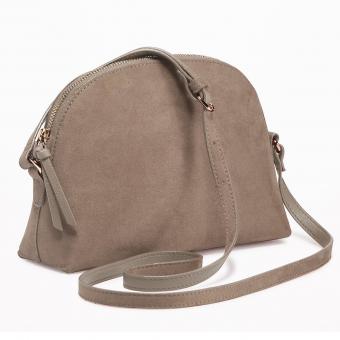 More Details
Embrace fall with the rust version of this purse or choose the taupe for all seasons. It offers a zip closure along the top to keep your belongings safe and an interior pocket to keep a few items more easily accessible at all times. The outside is polyester and the inside lining is twill, but the standout feature of this purse is its classy half-moon shape. The combination of the shape and finish make this a versatile option for the girl who doesn't like to change her purse very often. Expect to pay $30.00 or less.
Extra-Small Style
More Details
If you wish you could get away with just tucking a wallet into your back pocket like a guy but need room for just a few more things, the Kipling Alvar Extra-Small Crossbody (around $30.00) may be your dream purse. It isn't very big and because it's worn across your body, you won't have to worry about it slipping down your shoulder while you're out. It's as low-maintenance as it gets. There are 10 colors and patterns to choose from, so you should be able to find something to suit your preferences and wardrobe. The top zips closed and you get two zip pockets on the front, an interior slip pocket, an interior zip pocket, key clip (inside), and a detachable monkey keychain. As small as this purse is (7" x 7" x 1"), it offers room for major organization and keeps all the essentials with you.
Smartphone Crossbody Wallet
More Details
The Sak's Iris Smartphone Crossbody Wallet is a minimalist's dream. Keep your cards, cash, smartphone, and perhaps a few other small items in this leather 8" x 4.5" x 4/5" bag. Use it as a crossbody style or wristlet. It zips closed to keep your cards and money safe and has a snap-tab phone pocket on the front. It comes in Black Onyx, Marine Block, Slate Studs, and Tobacco Staples.
Elegant Style for Everyday Wear
More Details
This Saffiano leather style from MICHAEL Michael Kors (under $150.00) comes in Mulberry (pictured), Acorn, and Damson (plum), so it's the perfect addition to fall and winter wardrobes. It's 9" x 6" x 2", so it's the perfect size for everyday use. With this purse, you'll get a top-zip closure and wide interior slip pocket. It's a simple, elegant style that could last for years.
Crossbody purses come in so many sizes, colors, patterns, and styles, there's surely one for any woman who wants to enjoy a hassle-free handbag option.