Street style is a modern phenomenon. In essence the term refers to what regular, everyday people are wearing "on the streets," and thus reflects general trends that many people are wearing. In recent years street style has evolved into something more aspirational and inspirational, and some key trends that have emerged are creating interest through silhouette, color, pattern, and well-fitting clothes. Modern street style is about dressing yourself in your own unique style based loosely on common trends.
How to Get the Look
Pioneered by photographers like Bill Cunningham, The Sartorialist, and Tommy Ton, street style photography is now so prevalent that even print magazines frequently have full features about street style around the world, and people like Anna Dello Russo (editor at large for Vogue Japan) and Kate Lanphear (editor-in-chief at Maxim) have become bona fide stars.
Browse through your favorite fashion magazines to see examples of these styles, paying attention to the following elements to create the looks yourself.
Layering
Joanna Hillman (above), Harper's Bazaar's senior fashion market editor, has taken layering to the next level with her chunky scarf, adroit pattern mixing, and warm color palette. This is a great outfit to duplicate in the colder months. To make this work, think about how each layer works together.
The warm tones in her outfit pick up the red tones of her scarf while the black and white striped shirt grounds the look and adds lightness. The voluminous scarf and slightly oversized blazer contrast with the skinny leg and tapered pant, creating balance in the silhouette. Pick up slim-cut pants from retailers like J.Crew (their cropped pant in stretched chino is a new pant in this silhouette) and an oversized blazer from ASOS' blazer section -- they offer a huge variety of styles, and for a similar look, pick ones that say "boyfriend" or "oversized."
Playing With Color
Injecting color into your wardrobe is an easy way to add style. Street style stars in the past have done brightly colored suits, tonal looks (wearing the same color from top to bottom, only with variation in texture and color shade), and color blocking. Helena Bordon, a street style star from Brazil, has gone for the color blocking option in this picture.
An easy way to incorporate color is by using one statement piece (in this case, a color blocked cape), and wearing other neutral clothing with it. Purchase inexpensive statement, trendy pieces from retailers like Forever 21 and Zara (this colorblocked sweater is a more wearable alternative to the one pictured above), and spend your money on the higher quality basics like the white dress Bordon is wearing in the picture.
Patterns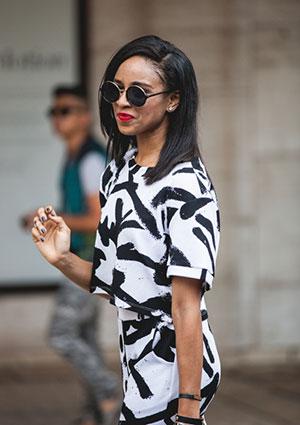 Graphic patterns pop up frequently on the street style circuit, and black and white is a perennial classic. You can mix different patterns together but if doing so, wearing patterns in the same color family or even just wearing two pieces with differently sized patterns on them will keep the pattern mixing from becoming too cluttered.
In this picture, the woman has taken the easier way out with separates in the same graphic brush stroke pattern. Such styles are easy to find at stores now as they are very much on trend. Topshop has a huge selection in the "suits and co-ords" category on their website, and this floral matched look would be perfect for spring and summer.
Embellishment
This one is a little out there, but there's no denying that crazy embellishment is a hallmark of modern street style. While this outfit is not necessarily one for the everyday, choosing pieces that have some sort of 3D embellishment on them such as lace, embroidery, sequins or yes, even feathers is an automatic style upgrade.
Because of the work involved in these embellished pieces they tend to be a little pricier, but an easy way to incorporate embellishment into your outfits is through the use of accessories. Lucky Brand and Anthropologie are great stores to go to -- this dotted embroidered scarf from Lucky is neutral and easy to match with several outfits, and these Bill Blass Sutton Espadrilles from Anthropologie are perfect for a casual summer's day.
Simplicity
When it comes down to it, the street style looks that are easiest to replicate (and probably the ones most people actually wear on a day-to-day basis), are the simple, chic ones. It's easy to be inspired by this photo and reproduce this outfit with items you already own in your closet.
The key to making this look work forever is having clothing that fits well. Anything too oversized, too tight, or too short will immediately make the look less put-together. If you do need to stock up on high-quality basics, consider spending a little more money on pieces that will last longer. Burberry, of course, is well known for their trench coats and this loose-fit one is in a similar style as in the picture; other brands that do minimalist, simple clothing well include COS and Whistles.
Use Street Style Images for Inspiration
There's so much inspiration that can be gleaned from modern street style images, but keep in mind that what works well for the women in the pictures might not be a good fit for your body type or lifestyle. Pick and choose what you'd like to take from each image and remember to have fun creating your own style!