A Variety of Fashion Oops
To always put your best fashion foot forward, you'll want to avoid these fashion oops. Just one wrong move can turn your outfit from a "do" into a "don't"!
This dress is too tight on the hips, which is a problem spot for many women. The horizontal stripes don't help a bit, either.
Remember: Solid, dark colors are the way to go on areas of the body you don't want to emphasize.
Too Much Cleavage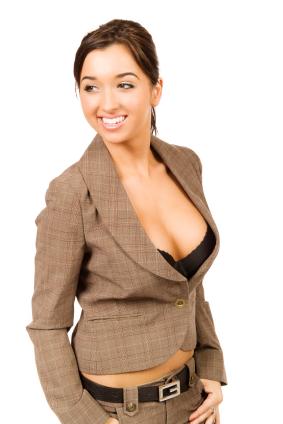 Whatever the dress code at your office, it probably doesn't condone all this cleavage. Just because she's wearing a suit doesn't make this look professional (see the tummy?).
Keep those low-cut blouses at home and save them for date night. Work attire calls for a bit more modesty.
Wrong Stockings
Knee-high stockings are perfect...when you're wearing slacks. Unless your dress or skirt will hide those knee-highs, even when you're sitting down, stick to pantyhose or thigh-high stockings.
Where's the Rest of It?
If your skirt is this short and you drop something, just leave it on the floor. Otherwise, you run the risk of flashing everyone behind you.
Micro minis are made for night clubs and parties and anywhere else you'll be standing all night long.
Mini skirts that hit two to three inches above the knee are perfect for most women who want to show some leg without showing it all.
See Through Fashion Fail
Bras and panties are undergarments, which means they go under your clothes. They aren't meant to be seen.
When wearing sheer and see-through fashions like this top, stick to nude-colored camisoles or camis that match the color of the blouse.
Leggings Disaster
Since leggings have made a comeback, many women are trying out the trend. But don't try it like this or you may end up a fashion oops!
Not only are the leggings unflattering and bunched around the legs, the top is too tight. Opt for balance when wearing leggings -- because the bottoms fit so close to the body, your shirt should be loose and billowy, such as a tunic.
What Decade Is It Again?
Retro style can be adorable...when done right. This fashion throwback, however, looks as if she doesn't know what decade it is.
Choose one vintage piece or vintage-inspired piece at a time. When you throw a completely retro outfit together this way, you look like you're heading to a mod party.
Where to Start?
Shiny leggings taking the place of actual pants...check.
Ill-fitting tank top...check.
Completely wrong bra for this outfit...check!

Know your size when you shop. Clothes that are too big or in this case, too small, don't flatter your figure. In addition, if your shirt doesn't cover your bra, choose another shirt or bra.
Tank tops and camisoles are popular tops during the spring and summer. For the smartest look, choose bras made to work with these minimal shirts, such as strapless bras, racerback bras or convertible styles.
Too Many Fads
When new trends hit the scene, it can be tempting to try them all. You can, but one at a time.
Wearing every single fad all at once creates a style dud, as seen here. Plus, all fads are not created equal. Choose the ones that work with your body type and lifestyle and leave the rest in the fashion magazines.
Now that you know what not to wear, how about taking a look at fashion done right in this slideshow of flattering styles for all body shapes.