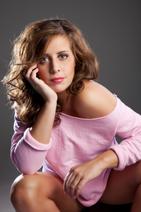 Flashdance fashion was the epitome of 1980s style. In fact, some say that the popular 1983 movie set the stage for some of the most ubiquitous clothing items in that decade and that as soon as the movie was released, women everywhere dashed out of their houses to find oversized sweatshirts to wear with one shoulder on display. Flashdance fashion reflected the fitness craze of the 1980s. The movie's apparel revolved around dancewear and activewear. You can sense a bit of Flashdance inspiration in modern clothing with the reappearance of leggings and asymmetrical details.
Typical Flashdance Fashion
So what are the clothing items remembered best from the 1980s? Many , like Flashdance fashion, centered around activewear. When you think of the decade, you probably think of:
Oversized sweatshirts (often off-the-shoulder) in neutral colors
Tank tops under the sweatshirts on occasion, though true Flashdance fashion didn't have one and preferred the exposed shoulder
Leggings
Leg warmers (sometimes with pumps) in neutral colors
Leotards
Barrettes holding back big, permed hair
Sexy headbands
Tight jeans
Pumps, often with leg warmers
Bodysuits
Other non-Flashdance items that may come to mind are power suits, shoulder pads and designer items from Calvin Klein.
Make Your Own Flashdance Sweatshirt
Leggings are easy enough to find. If you'd like to try your hand at making your own Flashdance sweatshirt, you can do so easily. Get a regular sweatshirt. Cut the bands off of the sleeves and cut the band around the neck off, too. Depending on the size of the shirt and just how loose you want it around your shoulders, you may need to cut more than just the band off. Cut it slightly smaller than you think you want at first because you'll need to pull the material taut and release to make it curl up around the edges. For a Flashdance inspired sweatshirt, belt, and leg warmers combination, watch the Chic TV Flashdance Revival Sweatshirt video.
Other Typical Flashdance-Style Inspirations
Flashdance wasn't alone on the activewear front. Other movies and music videos inspired and supported the fashions of the 1980s, too, including the oversized sweatshirts, leggings, and leotards:
Footloose
Olivia Newton-John's "Let's Get Physical" video
Jane Fonda's workout videos
Dirty Dancing
A Modern Twist on Flashdance Style
Everyone knows that fashions are often recycled, sometimes much to the dismay of the people who wore those fashions first. "Did we not learn from our fashion mistakes the first time?" is a question that often comes up. Usually, however, retro fashions are made new again with a modern twist of some kind. Here's how to make Flashdance fashion your own without looking like you stepped directly out of the movie:
Wear your sweatshirt and leggings with pumps, but skip the big hair and leg warmers.
Asymmetrical tops that are loose on top and snug around the hips, worn with skinny jeans and pumps or boots.
Dangly earrings and red pointy-toe heels with almost anything. You could even try the big hair with this Flashdance throwback.
Bodysuit, though in most cases you'll probably want to wear a blazer or cardigan over the top since they tend to be very fitted. Wear them with any type of jeans you'd like.
Asymmetrical, oversized sweatshirt with one of the newer, subtly patterned legging styles (a pair with a snakeskin appearance, for example).
Asymmetrical hemlines (as opposed to neck openings).
Final Thoughts
The 1980s were a time of extremes-from active wear for daily wear to power suits for displaying wealth, neutrals to bright colors. Flashdance fashion fell to the most casual extreme and secured its place in a way that seemed as effortless as Jennifer Beals' dance moves. Though top-to-bottom Flashdance fashion (perms to leg warmers) probably won't show back up any time soon, expect to see bits and pieces over and over again in the form of loose-fitting shirts that reveal a single sexy shoulder, big earrings, and leggings.