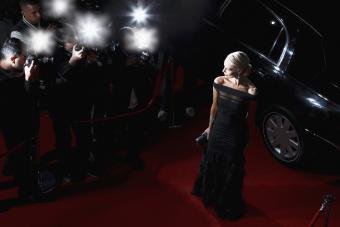 While most designer gowns that seen on you favorite celebs cost thousands of dollars, there are also many brands creating similar looks for a lot less! Whether you plan on wearing a celebrity-inspired dress to a glitzy party or a black tie wedding, it is always a good idea to know what dresses are in style and where they are available for purchase.
Elegant Embellished Eveningwear
Recently celebrities have been drawn to dresses that sparkle. Embellished dresses are definitely sophisticated, and a dress does not need to be floor length to be considered eveningwear.
Tea Length Dresses
A glimmering tea length dress definitely counts as eveningwear. A tea length dress hits below the knee and above the ankle.
Dresses with full sequin bodies draw away from flaws in the middle area, so women with larger tummies should go for a dress like this.
Above-the-Knee Sparklers
Short glimmering dresses are another Hollywood favorite, and Carrie Underwood gives us the perfect example by showing up to the American Idol finale wearing a Badgley Mischka blue sheath adorned with beautiful silvery sequins.
To pull off a style similar to Carrie's consider the following:
This embellished blouson-style mini is available in navy and silver in sizes 6, 8, 10 and 14, and is available for about $90.
This long sleeve Moonglow dress from Free People retails for about $450 is reminiscent of Carrie Underwood's long sleeve mini. This dress is best for ladies who are self conscious about their arms. It comes in inclusive sizing XS-L.

Moonglow Sequin Mini Dress

Free People also offers this sequin mini that comes in three different unique colors: turquoise, pearl, and fuchsia. Priced at just under $100 and available in sizes XS-L, you will want to snatch this pretty mini up before everyone else does.
Dresses with this much sparkle are definitely elegant enough to be evening only. These types of dresses look best on shorter women, and flatter women who carry a little more weight than others.
To the Floor
Longer gowns are always an elegant evening choice, and Sarah Hyland wows in this silver sequin dress at the Oscars. Try one of the following for an elegant floor length gown inspired bu the red carpet.
Get Sarah's look from Revolve or Lulus. Silver floor length gowns are always a stylish suggestion, and both of these dresses are very similar to her style (although the Genevieve from Revolve features a slightly higher neckline). The Revolve gown comes in sizes 0-10 and the Lulus' dress comes in XS-XL. A similar style is also available with the Sue & Joe Sequin Maxi Dress on Amazon for under $50.

Sequin Evening Gown

This Tadashi Shoji embellished long gown is perfectly priced at just under $500 and comes in sizes 4-16. This gown will flatter every body type and you won't need any jewelry with its gorgeous top.
Basix Black Label bedazzled this floor-length gown to perfection. Available in sizes 0-8 and sold for about $390, no one will know that you paid less than thousands for this dress. With its long sleeves and monotone color, this dress is for everyone, and looks especially good on women with longer torsos.
Recent Red Carpet Gowns
Right now you will find the hottest celebrities such as Blake Lively, Katy Perry, and Gigi Hadid wearing illusion-type dresses on the red carpet.
Illusion Dresses
These illusion dresses have cut outs and/or skin colored mesh panels to give the illusion of a sexy silhouette. Get the trend with a dress like one the following:
This lace beaded Lasting Moments illusion dress is absolutely gorgeous and totally affordable for about $335. It comes in sizes 2-18.
Adrianna Papell has a beautiful red-carpet-ready look that has just the right amount of subtle illusion. It comes in both regular and plus sizes and looks amazing on virtually every body type. For about $280 it is a total winner!

Beaded Illusion Gown

Crave something more daring? Try this ultra feminine Sherri Hill dress in sizes 00-14, or this Jovani lace dress in sizes 00-24. The Sherri Hill dress will give curves to women who normally don't have them, and the Jovani dress will hide curves that some women may be self conscious of.
Two-Piece Cropped Gowns
Also seen recently on the red carpet are two-piece cropped gowns. Many may think that a red carpet gown has to be one flowy piece, but that is not the case for these glamourous celebs.
Sarah Hyland wore this two piece gown at the Emmys and caught everybody's attention. This ensemble can be purchased at Prom Girl for just under $100 and comes in sizes 2-10.
If you're looking for a two-piece dress without the contrasting colors, you can find options like the Chic Belle Tulle Prom Dress that has plenty of pop with an embellished top and sparkling waistline as well. It is available for about $80 and comes in sizes 2 through 8.
Sherri Hill makes this two piece gown, and it is very similar to Dolce & Gabbana designs. It is priced on the higher side at about $780, but the quality and craftsmanship are undeniable. This looks best on women with flat tummies.
Kendall Jenner was a best dressed celeb at the Cannes Film Festival rocking this black two-piece gown. Get a similar look with this two-piece black illusion dress for under $100. This look is both elegant and fun, perfect for dancing the night away.
Backless Low-Back Gowns
Backless, low-back looks are also very prevalent on Hollywood's red carpet scene offer an elegant and eye-catching look. Anne Hathaway is an example of this style with her stunning Armani gown at the Golden Globes. Find an on-trend low-back dress with one of the dresses below:
The memorable yellow backless dress that Kate Hudson wore in 'How To Lose A Guy In 10 Days' still remains covetable today. Get the look for less from Zappos in this JILL STUART style for just over $300. This dress will look amazing on darker-skinned girls because of the color contrast.

Satin Back Crepe Slip Dress

Zoe Kravitz looked like a Greek goddess in her backless chiffon dress on a Cannes carpet. The replica only costs about $120 and is available in sizes 2-26.
Try this backless beauty by X by NBD. It's available for about $95 and comes in sizes 0-10. Because of its unique peachy color and black lace, this is definitely an eye-catching gown.
Fashion Forward
Celebrities will always continue to shine on red carpets, and it is fun to watch award shows solely for the fashion. Fortunately there are many designer replicas and similar styles that are available, and with the right dress any woman can have a flattering, glamorous look. Keep in mind that celebrities often have dresses tailor-made for them, so you may need to consider alterations to ensure your dress fits like a glove. Do your makeup, put on your highest heels, throw on one of the designer-inspired dresses above, and you too will look like a Hollywood A-lister.