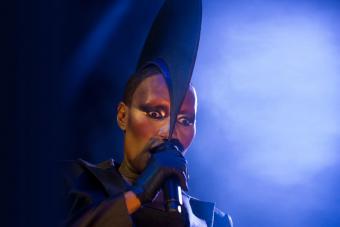 The relationship between fashion and popular music is one of abundant and mutual creativity. Reciprocal influences have resulted in some of the most dynamic apparel visualizations ever created in popular culture. Some exist as memorable creations for the stage and music video; others become long-lasting fashion trends, which settle in the culture to become noteworthy, referential, and lasting.
Three collaborations exist. One is when fashion designers and entertainment celebrities engineer fashion to fit a declared project. Another collaboration occurs when youth subcultures articulate themselves through fashion. The third is when the fashion industry interprets a musicled theme or trend.
Music celebrities and designer collaborations have altered the course of fashion, though good examples of this relationship are few. The affects of these unions have been very significant. Outcomes include Jean Paul Gaultier's whirlpool corset dress worn by Madonna on her 1990 Blonde Ambition tour, which subsequently contributed to the trend for wearing bra tops and less clothing. Grace Jones's collaborations with the art director Jean-Paul Goude, who in the 1980s rendered Grace Jones's body a fashion object, made groundbreaking music videos and advertisements for various products. However, Grace Jones's haircut became a major trend; it became known as a "high top" when copied by young black youth.
Both Madonna and Grace Jones acted as muses for creative designers; their musical representations became reference points for widespread interpretations. The images produced by these collaborations were decisive, especially in the way they altered conceptions of traditional beauty and gestures.
The outcome of many associations of the performer and the designer or stylist is usually a confirmation of the extant youth subcultural fashion. Rather new perspectives, new methods, and new resonances of fashion are made when fashion and music are linked to subcultural expression.
Consider the partnerships of Kurt Cobain and Grunge, Marilyn Manson and Goth, and Avril Lavigne and Skater. Designer interpretations of performer and subculture expression include Jean Paul Gaultier's facsimile Marilyn Mason (Summer 2003) and Belgian designer Raf Simons's continual referencing of music-led subcultures. Simons's collections have included T-shirts emblazoned with images of the missing Manic Street Preachers guitarist Richey Edwards and a joint effort with Peter Saville, the graphic designer of Factory Records.
This article non-chronologically highlights the main collaborations since the inception of popular music. It is not a comprehensive review; Goth, Skinheads, Northern Soul, Funk, Independent Music, Rock, Grunge, Soul, Dance, and Drum & Bass cultures and collaborations are not considered. Nevertheless, it does demonstrate how innovative music and fashion expression are rooted.
Music's Influence on Fashion
Bobby-Soxers
With the birth of rock'n'roll in 1951, youth culture and popular culture gained impetus. In the 1940s, American teenage girls known as bobby-soxers, became famous not only for their fashions, but for their fanatical adulation of male crooners such as Frank Sinatra. Bobby-soxers wore ankle socks, hair ribbons, denim rolled-up jeans, felt poodle skirts with an embroidered and appliquéd French poodle, and blouses with small flounced edging, sloppy sweaters, and saddle shoes. Bobby-soxers were rare in music fashion cultures because males usually led most innovations.
Mods
The idea of intra- and inter-group identification was also important to the Mods, who formed in Britain around 1965 and had a resonant influence on fashion and menswear. They sited themselves in an urban backdrop of espresso bars, Vespa scooters, the mini motorcar, and an image backdrop of Perry Como and the French look, which was influenced by the movie Shoot the Pianist (1960). They wore American army parkas over imported American shirts and their suits were tailored. A small number of Mods altered off-the-peg suits or tailored their own suits. Much of the allure of Mod was that fashion designers such as Mary Quant and Pierre Cardin had the term applied to their work. Graphics symbols such as targets, Union Jacks, horizontal color stripes, and cycling images were appealing to the Mods, fashion designers, and artists. Although Mods were a fusion of teenage groups that had different interests, they were sound sophisticates who had rejected the wooliness and unhewn skiffle and trad music for the poise of modern jazz, and later rhythm and blues, blues, and bluebeat. Mods were fanatical stylist who understood that nodes of change already existed and if they connected them they would become distinct from the rest of society.
In the 1980s, the new wave band the Jam illustrated the divergence of old and new Mod. The music became trashy and aggressive while the look drew on the stereotypical apparel items that already had been diluted by other Mod bands.
During the 1980s and 1990s the legacy of Mod continued in bands such as the Style Council, Blur, and Oasis though the fashion trend had begun to assume cross-cultural references. Sojourns to Ibiza and Morocco, references to Northern soul, and 1970s Regency Mod provided the visual vitality for bands such as the James Taylor Quartet, Brand New Heavies, D'Influence, and Galliano, whose clothes fused with the "ethnicity" of Mod. The new guise, Acid Jazz, became synonymous with the urban modern menswear that included formal and sportswear items.
Retro-Futurism and Neoclassicism
The German band Kraftwerk had underwritten the creative disposition for a number of British bands and the musical styles of Electro, Techno, and Rave. Kraftwerk were influenced by Stockhausen and Italian futurism. Their music encapsulated a metronomic electronic minimalism. Its austere, almost uniformed and metered beats defined a musical soundscape that challenged the conception of music in the way John Cage's ideas about music, noise, and silence did.
During the early 1980s Gianni Versace, Thierry Mugler, and Claude Montana used motifs that included asymmetry, stark bicoloration, and monochromatic uniformity. Fashion shops such as PX and Plaza in London were good examples of how fashion synchronizes with music.
Designer Anthony Price's close-fitting uniforms worn by Kraftwerk were indivisible from Price's menswear. Price's London shop, Plaza, was one of the most innovative retail concepts of its day. Price clearly referenced the Retro-Futuristic trend. From outside, neon signage was juxtaposed onto a stark white store-front, and a waist-up view of two android-like shop dummies standing behind the shop window.
These were references to Retro-Futurism and Neoclassicism that were the zeitgeists of that period. Album covers by New Order, Joy Division, and Roxy Music referenced Neoclassicism. Artists such as Gary Numan, Ultravox, and David Bowie were influenced by Kraftwerk and styled themselves in celebration of the Futurist, the Suprematist, and German and Russian Modernist.
The fashions worn by these artists varied from Numan's asymmetric all-in-one uniforms, to Bowie's mid-1970s foray in to monochromatic plain black pants and white shirt, his loose peasant shirts, pants tucked into riding boots, and exceptionally broad leather belt. Ultra-vox's Midge Ure captured a romantic kitsch-heroic characterization that was suitable for inclusion in a Tyrolese peasant painting by Franz von Defregger.
Rave
Techno music was an inheritor of Kratfwerk's music. Techno became a cornerstone of British Rave in the late 1980s. Rave, a loose symbiosis of Chicago House, Electro, and Balearic Beat, started as Acid House in Manchester during 1987, which became known as the second "summer of love." The label was applied to a frenetic period that ushered in the drug Ecstasy (MDMA), the ascendant of the band the Stone Roses, and Manchester's Hacienda Club, which had become acknowledged as the center of British club culture.
Known for impromptu "happenings" at motorway service stations and on farmland, raves were notorious for the popularization of the drug Ecstasy, which became the essential accompaniment to the movement.
Techno's hypnotic digitized bleeps and sampled hooks drew diverse followers from across the social and racial spectrum. Despite an indefinable constituency, Rave began to define itself as a fashion expression.
Girls wore tight leather or denim pants, waistcoats, fitted T-shirts, and long-sleeved jerkins. Accessories included large silver rings often worn on the thumb and index finger, masses of silver bracelets, and friendship bracelets and leather wristbands like those that hippies wore. Long, lank hair became de rigueur.
Boys were less definable, though many wore fashions by leading designers such as C. P Company, Stone Island, Paul Smith, John Richmond, Nick Coleman, and Armand Basi. Their clothes consisted of Polo shirts, T-shirts, jeans, anoraks, and reflected the current mood of menswear. Certainly, the "clubwear" designer label came of age between 1987 and 1993. However, these labels tended to be cheap, poorly made clothes, although they were perfect for Rave followers who were accustomed to wearing different clothes to "party" in each weekend. Rave personalities, such as Keith of the band Prodigy, communicated a visual sensibility that the second phase (mid-1990s onward) of Rave in Europe, America, and Britain continued. Rave's second phase improved on the intense colorations, silly costumes, and computer graphics that had featured Rave's first phase. Events like Berlin's annual Love Parade, which started in 1992, and designer Walter van Beirendonck's W< collection demonstrate how Rave has evolved into a lifestyle form.
Hip-Hop and Rastafarians
Occasionally fashion draws directly on music culture for inspiration. Rastafarian music has provided popular culture with an aesthetic that is applicable in a number of forms. Fashion has been a consistent interpreter of Rastafari's fashion iconography. Fashion companies like Complice, Jean Paul Gaultier, and Rifat Ozbek have used the Rastafarian iconography such as the red, gold and green symbolism of Rastafarianism, dredlocked hair, and khaki uniforms, in what the fashion press had called "international ethno-chic." This term could also be applied to the collections of Owen Gaster and John Galliano who in 2000 appropriated Jamaican Dancehall and America Fly Girls as the themes for their respective collections.
The summer 2000 advertisements by the Italian fashion label "Versace Jeans Couture," show white models wearing multiple heavy, gold neck chains, a male model wearing a stocking hat, a gold tooth, and low-slung jeans. Here the grittiness of hip-hop fashion is reconstituted, sanitized, and made accessible for the mainstream.
New Romantics
In his 2003 spring/summer runway presentation for Dior, John Galliano referenced New Romantic personalities such as Leigh Bowery and Trojan.
The New Romantics were the most outré fashion-obsessed youth subculture London had ever witnessed. Youth subcultures tend to be motivated by class conflict and evolve fashions to counteract their position; the New Romantics lacked those anxieties. They were "Posers" who did not accept the limited propensity of glamour offered by the Punk movement. The New Romantics were led by Rusty Egan and Steve Strange, who in the late 1970s ran Billy's-A Club for Heroes-, and later Blitz, a wine bar in London's Covent Garden, where they danced to Roxy Music, David Bowie, and Kraftwerk. They developed a series of looks based on romantic themes; in fact, almost any theme was possible if the wearer made the appropriate changes to create an outlandish and weird look. Dressing themes included Russian constructivism, Incroyables, Bonny Prince Charlie, Pirates, 1930s Berlin cabaret, and Hollywood starlet, puritans, and clowns, all heavily and inventively made-up. This alternative fashion expression became tangible and important once designers such as Vivienne Westwood, Stephan Linard, Helen Robinson, Richard Torry, Melissa Kaplan, Bell and Khan, and Rachel Auburn took notice. There were no references for this type of dressing, and no magazines except for i-D, The Face, and Blitz, which featured a review of what people wore in the clubs three months ago. The subculture became the catalyst for a number of new bands. In 1982 two new bands emerged, looking distinctly less weird than many diehard New Romantics. Spandau Ballet and Duran Duran commercially crossed and became accepted by the radio stations, newspapers, and television as the palatable faces and sounds of New Romanticism.
Fashion's Influence on Music
When the British band Wham wore Katherine Hamnett's "Choose Life" T-shirts-a prompt for self-preservation in the middle of the 1980s AIDS crisis-a subtext of protest was being enacted. This call to "revolt into style" was analogous to the Hepcat's bewilderment about society's ordinariness (Cosgrove 1984, pp. 77-91).
African American youth were the first to wear zoot suits and to adopt a number of bodily gestures appropriate to the wearing of a suit, which took five yards of cloth to make. The idea of the revolt into style in youth culture is well founded (Melly 1970). Interpreters of the zoot suit were the early rock'n'roll fans from America, the Caribbean, and Europe. The drape shape of the zoot suit transferred in Britain via photographs of American rock'n'roll stars on albums and other publicity, and through the West Indian migrants who arrived at London's Tilbury Docks in 1948. West Indian migrants to Britain were mainly young people who were influenced by American movies, music, and fashion. They wore clothes that were more vivid in shape and color than anything the British had been accustomed to. Fashion and music melded together in attempts to disengage its participants from the procession of tradition. A small number of Savile Row tailors had reintroduced the Edwardian look in 1948; it became popular with young upper-class men Londoners called Guardees. Subsequently, working-class youth groups, the Cosh boys and late in the 1950s the Teddy Boys, began to indicate their discontent with society's norms by adopting dandies narcissistic tendencies. They copied the style of the Guardees by wearing long jackets that were cut in a drape shape with velvet collars and cuffs, bright ankle socks, slim ties, and drainpipe trousers that were similar to those worn at the time of Edward VII (1901-1910). The clothes of early American rock stars such as Bill Haley, Gene Vincent, Little Richard, and Elvis Presley drew from and exaggerated the prevailing fashion aesthetic of black America, the drape silhouette. Also from the Mississippi riverboat gambler, blue-collar worker styles that included youth culture's omnipresent blue denim jeans with rolled cuffs, leather biker jackets, biker boots, a chain, and a white T-shirt were evident. Detractors labeled the status of the rock'n'roll musicians to being outside of the mainstream and to label the fashion adoptions, music and dance moves as being aligned to "the devil."
Punk
Punk rock was of the most influential and stimulating collaborations of fashion and music. It served as a pivotal catalyst for the way people in the 2000s think, create, and comment on fashion, music, and design.
Punk started in London during the 1970s and almost simultaneously became a musical genre, a fashion expression, and a way of life. Although bands such as the Slits, the Dammed, the Clash, and the Banshees were important, the Sex Pistols became the preeminent band of the genre. The fashions and the attitude of punk were on display in Malcom Maclaren's Kings Road store called Sex, and later, Seditionaries. Maclaren and his partner, Vivienne Westwood, sold clothing that was dislocated from the accepted idea of what fashion should be. The spectacle of the punk was attained by using forthright images out of context, thereby creating a distortion. Consequently, punk fashions shocked and intimidated. Punk's iconic fashion items included Maclaren and Westwood's replica of the Cambridge rapist mask, T-shirts emblazoned with corny playing card pin-up girls, homosexual cowboys, shirts with a Nazi swastika, and T-shirts of the Queen of England's face corrupted with a safety pin through her nose. All of the punk bands wore similar clothes with images that were taboo; this included torn clothes, fetish clothes, and even clothes with simulated bloodstains.
Hippies
Punk was a reaction against the hippie culture, which became accepted as the pinnacle of youth rebellion.
The hippies were a 1960s folk- and rock-led movement that propagated an alternative perspective for living. According to one hippie commentator, "Hippy fashions originated from used-clothes bins, army/navy stores, and handmade clothes from scraps. In other words, whatever was cheap and available…" (New York Sun: 25, July, 2002). Clothes also originated from the Hippie trail, which passed through Turkey, Iran, Afghanistan, and Pakistan to India and Nepal.
During the 1980s and the 2000s, mainstream fashion design and rock music youth cultures adopted the hippie look. In the 1980s, the Italian designer Romeo Gigli used rich Indian embroideries and delicate prints and handwork to create soft and romantic themes that are seen in hippie dress. Marni, another Italian design company, has used the hippie theme exclusively in a brand that is elite and expensive and is therefore the antithesis of hippie ideology.
Fashion Catalysts
Music offers fashion more than a theme or a movement. Occasionally, a performer possesses fashion awareness that directly influences fashion.
Rebellious Fashion
In 2001 the Belgian designer Raf Simons paid homage to the Welsh band the Manic Street Preachers. The menswear collection feature oversized shirts and sweaters adorned with marxist slogans. The manics were not the first music group to wear political iconography (the Sex Pistols wore Lenin) but Simons's adoration of the Manics and of the politics of rebellion was a first in high fashion. (Porter, 2001)
As catalysts of fashion change (1973-1980s), David Bowie and Bryan Ferry experimented with new themes, beliefs, and values. Bowie's alter ego, Ziggy Stardust, wore elaborate costumes designed by avant-garde designer Kansai Yamamoto. The garments were not made exclusively for Bowie; they were simply part of Yamamoto's ready-to-wear collection. Bowie's fans reinterpreted the Ziggy look by wearing street clothes of the period. The ensemble consisted of high-waist pants, platform shoes, and brightly colored shirts and tank tops, which were occasionally bought from women's stores for their colors and tight fit. Ferry's various costumes included a Cosmic rocker look of a metallic leopard-skin bomber jacket and black silk trousers; the 1950s Rocker with black pants, dark blue T-shirt, and neck chain; and the lounge lizard clad in a white tuxedo, black bow tie, white shirt, and red cummerbund. He also dressed as an Army G.I., wearing khaki shirt and pants; a Neoclassic storm trooper; a gaucho, complete with gaucho pantaloons, a vest and shirt with wide sleeves and a black hat; and a 1960s soul singer, wearing a three-buttoned suit in various colors and materials, including leather and shark-skin. In many ways, 1970s disco provided exception of a music-led movement that comprehensively affected fashion. Existing at the same time as glam rock, disco had spread through much of the West. In America and Britain it had achieved the alliteration of a spectacle that fluently contorted across the age gap and from stage to the discothèque to the street.
Fashion and music proficiently and often independently create similar themes, yet the dynamic interaction between them motivates reactions that might not have otherwise occurred. The mistlike phenomenon of sub-cultural fashion holds apparel and popular music in totemic significance, creating fantastic fashion objects and moments from these restless forms. Formalized fashion is bound by an emphatic trepidation and terror. Its praxis and natural impulse is to conduct the activity of objectifying popular music, youth subcultures, and other "sexy" forms. This is why developments away from orthodox or formalized fashion customs can only be made when the agenda is no longer centered on the commerce of fashion, but is concerned with the irreverence and irrationality of making fashion images.
See also Hippie Style; London Fashion; Punk.
Bibliography
Conrad, Peter. "Tommy, We Can Hear You." Independent On Sunday. (30 March 1997).
Cosgrove, Stuart. "The Zoot-Suit and Style Warfare." History Workshop Journal. 18 (Autumn 1984): 77-91.
de La Haye, Amy and Cathie Dingwall. Surfers, Soulies, Skin-heads, and Skaters: Street Styles from the Forties to the Nineties. Woodstock, N.Y.: Overlook Press, 1996.
Graev, Nicole. "What's Next: MTA-Chic? Talks to the True Originators of Today's Fashions." New York Sun, (25 July 2002).
Haug, W. F. Commodity Aesthetics, Ideology and Culture. International General, 1987.
Lusane, Clarence. "Rap, Race, and Politics." Race and Class: A Journal for Black and Third World Liberation 35, no.1 (July-September 1993): 41-56.
Melly, George. Revolt into Style: The Pop Arts. Doubleday and Company, 1971.
Polhemus, Ted, and Lynn Procter. Pop Styles. London: Vermilion, 1984.
Porter, Charlie. "What a Riot." The Guardian, (6 July 2001).