Great Looks for African American Kids
There are many fun hair styles that look great on African American children. An appropriate style will help prevent hair stress and damage that could lead to years of difficulties, while also staying neat while active youngsters play, attend school, or just hang out. One of these terrific looks is sure to be perfect for your child.
Short Tapered Layers
The natural curliness of African American hair gives it very full volume that can be cute for kids. Tapering layers to create a pouf shape is a popular option for all ages.
Back with Barrettes
Medium length loose hair can easily be styled with simple barrettes or clips. A side part can be a fun and stylish option as well, and since barrettes come in many designs, any style can be personalized.
Baby Hair
A baby's hair is naturally softer than older children's hair. Baby hair should be kept slightly longer to help cushion the child's head. Avoid braids or cornrows on young children because their scalps are very sensitive.
Medium Curls
Boys' hair can be left slightly longer for a more natural style than a sharp crop. Longer hair will tangle easily, though, so it should be conditioned well to prevent snarls.
Spikes
For children with looser curls, these messy and short spikes can be achieved by adding mousse and finger combing the hair.
Shaped Crop
Short hair doesn't need to be all the same length along the scalp. A boxier shape can balance out an oval or pear face shape.
Athletic Buzz
Very short buzz cuts are best for active children who play sports and don't want to spend much time on hair styling. Even when the hair is short, however, be sure it is well conditioned. Use sunscreen to protect the scalp when playing outdoors.
Shaved Pattern
Adding in a fun pattern to a low cut allows little ones to express their individuality in a simple way.
Curly Mohawk
A curly mohawk is a great choice for children who have tight curls. Adding gel to the curls will define the hair and hold it in place.
Extreme Mohawk with Design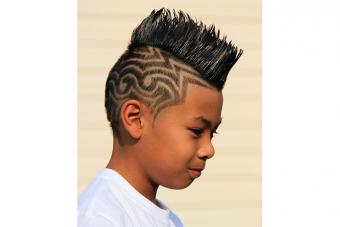 This intricate haircut is great for a child with a little rebel inside. To keep the designs fresh, the child will need to pay a visit to the barber every week.
Dreadlocks
Short dreadlocks can be a fun style for African American children. Be sure to keep up the regular maintenance on the dreads by re-twisting the new growth every six weeks. Otherwise, this is a carefree long-lasting style.
Simple Twists
Simple hair twists are an easy alternative to more elaborate braids. Just a few thick twists can be used all over the head, and securing each twist with decorative clips or ties adds bright color and flair.
Kinky Twists
Kinky twists are a great protective style for little girls during the winter and summer months. These twists can be done on real hair, or extensions can be added. The style can last anywhere from six to 12 weeks.
Cornrow Braids
Cornrows can be a stylish option for boys or girls. A zigzag part can add more interest to the style, and longer cornrows can be tied into a ponytail or bun at the nape of the neck.
Bold Beads
Adding beads to the ends of micro braids or cornrows is an easy way to personalize a simple hair style and to coordinate with any outfit. Just one or two beads can add a touch of color, or add longer lines of beads for a bolder look.
Partial Cornrows
Girls who want to try cornrows can use them on the scalp but leave the ends of hair long and loose. Thick curls or straight ponytails are equally popular for this style.
Cornrows with Ponytail
Instead of putting curly hair into a plain ponytail, add cornrows to the front of the hair for a more exciting look.
Two Braids
For thick and curly hair, this classic style of two braids on each side of the head is a go-to look. Remember to alternate the position of each of the braids often to reduce thinning and breakage on the back of the head.
Small Ponytails
Small ponytails all over the head are always an adorable and carefree style for little girls. Ribbons and other types of hair adornments can also be added to the ponytails.
Single Ponytail
Ponytails are a versatile hair style for all lengths and textures, and they are particularly easy for kids to style.
Headband with Long Hair
Adding a cute headband to long hair is good way to keep the hair out of the face when playing. Always make sure the headband isn't too tight to avoid breakage around the hairline.
For a similar variation, consider using a ribbon to create a similar look.