What Exactly Are High Cheekbones?
You may frequently hear the term "high cheekbones" tossed around in magazine beauty articles and television shows. However, few sources actually define the concept.
Typically, having high cheekbones means that the widest part of the face is just beneath the eyes, causing the cheek to dip in slightly beneath the bone. Often, this dip causes a slight shadow, which further accentuates this facial feature.
A Classic Beauty Feature
As a desirable feature, high cheekbones are nothing new. A classic beauty, Hollywood actress Katharine Hepburn was famous for her chiseled facial features and especially high cheekbones. As you can see, the bones of her cheeks are very prominent and located just below her eyes.
High Cheekbones in Hollywood Today
Angelina Jolie is perhaps one of the most notable examples of high cheekbones in Hollywood today. In silhouette, you can see how the bones of her face are especially prominent right beneath her eyes.
Prominent Cheebones with Short Locks
Spanish beauty Elsa Pataky proves that high cheekbones look great with any hair length. In her role as Officer Elena Neves in Fast Five, she was a classic beauty with long, wavy locks She's since gotten her hair cut short, a looked described by beautyeditor.ca as possibly "the best short haircut I've ever seen." The short look works so well, in part, because of Elsa's lovely high cheekbones.
Youthful Beauty On-Screen
As an up-and-coming young actress, Bella Thorne (best known for her role in Disney Channel's Shake it Up) is known for her fresh-faced beauty. Bella's high cheekbones are a trademark feature of her youthful appearance, showing that classic beauty standards still apply for the newest generation of rising stars. The HollywoodLife blog even has a feature focused on how to recreate her cheek makeup look.
Beauty for All Ages
Long-recognized as one of the most beautiful Hollywood actresses, Sharon Stone is a timeless beauty whose looks have universal appeal. She's been outspoken about embracing the way her looks have changed over time and was quoted in New You magazine as saying "As I lost the fullness in my face, I got in these great cheekbones."
Cheekbones in the Fashion World
Hollywood isn't the only place that high cheekbones are prized as beautiful and exotic. This is a feature that you'll notice in many fashion models, including Tyra Banks. The bone structure of her cheeks is one of her most beautiful and noticeable features.
Programmed to Be Attractive
Celebrities like Beyonce, who can count great bone structure among their many attributes, are attractive for a reason. A ScienceDirect.com study indicates that humans are programmed to find a number of female facial features attractive, including high cheekbones. However, to be considered attractive, the cheekbones must be equally prominent, since facial symmetry is just as important as bone structure.
High Cheekbones Vs. a Full Face
While a round face can be an attractive feature, it's not the same as having high cheekbones. In a round face, the area just beneath the eyes may be prominent, but the rest of the face does not have that sculptured look that comes with ideal bone structure.
Thin Face Vs. High Cheekbones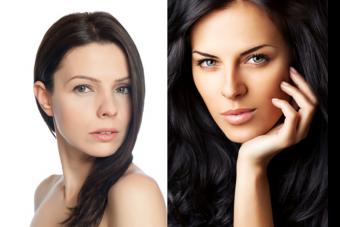 Often, people with very thin faces will have prominent, noticeable cheekbones. This is due to the lack of fat beneath the skin. However, although the cheekbones are prominent, they aren't high on the face and don't lend the same beauty as high cheekbones.
Striking Beauty
People who have high cheekbones often have a striking, elegant beauty. With prominent cheekbones, there is no need to wear much blush; opt instead for a light sheen highlighting the contours of your face paired with rich, red lipstick for a timeless, classic look.
Exquisite Eyes
Bold lipstick isn't the only way to accent high cheekbones. You can go for a dramatic look by emphasizing your eyes with bold eye shadow and super-thick lashes while maintaining a neutral palette on your cheeks and lips.
Understated Elegance
With high cheekbones, you can also opt for an understated palette for your entire face. Rather than emphasizing your lips or eyes, you can simply go with subtle shades on all of your features for an understated, elegant look. With this option, your cheekbones will be the focal point of your face due to their prominent shape.
Natural Beauty
Even when your look is completely natural, the beauty of high cheekbones shines through. High cheekbones are such a striking feature that they can make you stand out in a crowd with glowing beauty, even when you're not wearing any makeup at all.
Do You Have High Cheekbones?
If you're wondering if you have high cheekbones, take a look in the mirror. Is the widest part of your face just beneath your eyes? Does your cheek dip in below the cheekbone to give your face a chiseled look? If so, you may be in luck.
If not, don't despair. There are lots of great makeup tricks that can help you fake the look of high cheekbones. All you need is a little blush, bronzer, and highlighter, and you'll be all set.