80s Fashion Flashback
For women, 80s fashion was all about making a statement. Loud and splashy apparel ruled the day, as indicated by the neon accessories and leg warmers featured here.
Many of today's modern trends - like leggings, ripped jeans and bright colors - can be traced back to 80s style.
MTV Generation
With the introduction of music videos, fans were able to connect with their favorite musicians in a much more visual way than in decades fast. This had a definite impact on fashion, popularizing looks that mimicked the styles of the decade's superstars, such as the Madonna-inspired look pictured here.
Peek-a-Boo Bra and Bustier
While 80s fashion was influenced by Madonna in many ways, one of the most revolutionary impacts she had was popularizing the bustier for everyday wear. In doing this, her influence also lifted the taboo on showing bra straps, sending many young women to the store to purchase bras in contrasting colors.
Super-Fun Looks
As Cyndi Lauper sang her classic 80s anthem Girls Just Want to Have Fun song, she certainly looked the part. Fans decided to emulate the look, popularizing fun and funky style combinations. Flouncy minis, polka dots, bold color combinations and super-size accessories were a great way to show off your fun-loving spirit.
Rock and Roll Beauty
Music-inspired fashion wasn't limited to min-skirts. Body-hugging leggings or pants paired with whimsical tops and trendy accessories in contrasting patterns were also great trends of the day. This look was ideal for 80s concert-going or club-hopping.
Elegant Celebrity Style
Musicians weren't the only celebrities who influenced 80s fashion. Princess Diana, still considered a fashion icon today, inspired trends in dressy attire, such as high-necked silky blouses with built-in flowing ties and billowing sleeves.
Fashion Icon Formalwear
Princess Di's love of ruffles - first seen in her wedding dress - also inspired evening wear trends throughout the decade. Big ruffles (and plenty of them!) were a popular 80s trend in formal attire, for occasions ranging from prom to bridal attire.
Movie-Inspired Fashion
The movie Flashdance had a significant impact on exercise wear, club attire and street apparel. The sex appeal of Jennifer Beals' character inspired 80s fashionistas to cut old tee shirts or sweatshirts to make a larger neckline that fell off the shoulder, and resulted in ready-made "torn" sweats being introduced to the market.
Exercise Clothes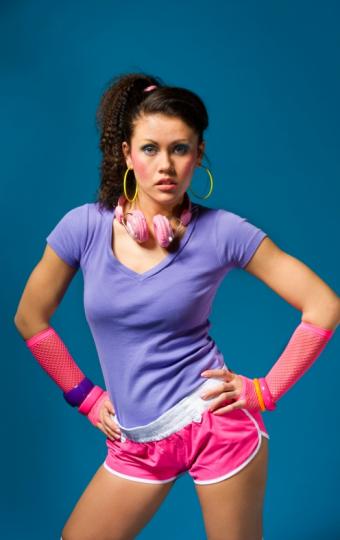 While Flahsdance may have started the trend of wearing workout clothes outside the the gym, it didn't stop there. Aerobics-wear and other types of exercise clothing were often seen on the street during the 80s.
Headbands
Headbands were a must-have hair accessory during the 80s, and were worn with everything from exercise wear to club attire. They were worn by those who actually needed to tame their "big hair" as well as by those with shorter, smoother styles just as a fashion statement.
Leg Warmers
During the 80s, leg warmers also came out of exercise studios and into mainstream fashion. They were typically paired with super-short skirts or worn over leggings or skinny jeans, beginning the popular trend of layering for fashion rather than just warmth.
Layered Clothing
Wearing leg warmers may have started the layering trend, but that's not where it stopped. During the 80s, women layered just about everything. Poplar trends included layering loose see-through tops or cropped sweaters over fitted tee shirts and tank tops to wearing bike shorts under short skirts.
Leggings
Pairing oversized tunics with leggings was a popular look for 80s casual wear. It was easy to layer leggings with leg warmers or scrunched socks for a trendy fashion statement. Bold accessories like huge hoop earrings and bangle bracelets completed the look.
Trendy Denim
Skinny-cut denim jeans made in then-modern finishes like acid or stone-washed denim were must have wardrobe pieces. If you were going for a super-trendy look, you might buy a pair that already had a few tears, or strategically rip a pair that you already owned.
Pants Pairings
During the 80s, jeans and leggings were often paired with multiple shirt layers, though sometimes a single over-sized tee shirt was chosen. Wearing flats or pumps with skinny-cut bottoms was a fashionable 80s look.
Shoulder Pads
Tops weren't all meant to be layered either - at least not with other clothing pieces. Shoulder pads were all the rage for stylish women during the 80s - from slinky dresses like the one pictured here to button-up tops, casual corduroy blazers and dressy suit jackets.
Leather
Leather became quite trendy during the 80s, with women layering biker-looking jackets over everything from jeans and cut-up sweatshirts to skirts and frilly tops. Those who took the rock-and-roll look seriously often sported leather pants in colors ranging from black to red.
Lace-Up Ankle Boots
Lace-up ankle boots became very popular during the 1980s. The shiny patent leather finish of this flat-heeled pair was perfect for adding a bit of rock-and-roll flair to a casual look, while other popular styles came in conservative colors with spike or chunky heels.
Whether you're reminiscing about good times gone by or looking for inspiration to put together a cute 80s outfit to wear to a party, there are plenty of fun styles to choose among.