A Jewelry Gift to Love Forever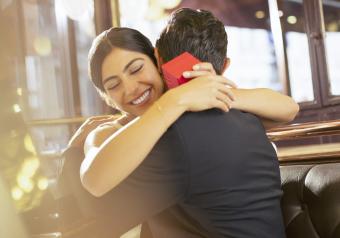 Get inspired with creative jewelry gift giving ideas. Whether it is fun and funky earrings for a youngster or piece of designer jewelry for someone special, there is bound to be the perfect item of jewelry out there.
Birthstone Jewelry Gifts
A classic personalized gift, birthstone jewelry is perfect for birthdays, holiday, or other occasions. There are thousands of options in birthstone jewelry today, including stackable rings, pendants, and more.
Foolproof Gift: Diamonds
Classic diamond jewelry, such as a pair of diamond stud earrings or diamond solitaire necklace, are foolproof gifts that never go out of style. Whether you choose solitaires or settings with multiple small diamonds, this is a gift that will be treasured forever.
Jewelry Gifts for Kids
Fun novelty jewelry, such as the charm bracelets, make great jewelry gifts for kids. You can customize the bracelet with charms that represent her interests.
Vintage Jewelry
Antique or vintage items of jewelry make a lovely and thoughtful gift for those with classic jewelry tastes. Peruse antique shops and online retailers to find the perfect pieces to please vintage jewelry lovers.
Bold ,Trendy Jewelry
Whether it is packed with precious stones or set with cheap and cheerful alternatives, a bold item of jewelry can make a great gift for those who don't shy away from statement-making pieces. Big chunky rings make wow-worthy gifts.
Animal Lover Jewelry
Brooches make great gifts. When styled in the shape of an animal, they are particularly appropriate for animal lovers. These days, you can even find specific dog and cat breeds.
Cuff Links
Don't forget the men! Cuff links are both practical and attractive and make a thoughtful gift for men. You'll find them in a wide variety of styles and materials, including personalized items.
Bead Earrings
There are earrings available to meet all budgets! Beautiful beaded earrings are fun gift idea for women and girls of all ages. Consider choosing a pair in her favorite color or featuring her birthstone.
Handmade Jewelry
Handmade jewelry can make a great alternative to "off the shelf" items. It is especially appropriate for those who love art or have a penchant for artisan jewelry or eclectic styles. Look for items that match the personal taste of the person who will wear them.
Romantic Pearl Jewelry
Pearls make lovely gifts, and whether they are earrings, bracelets, or necklaces, they are bound to be long treasured. Pearl jewelry is a romantic, timeless choice when you want to show how much your care.
Alternative Jewelry
You can use jewlery to demonstrate individuality! Teens or those who with punk, Goth, or other anti-fashion sentiments may enjoy alternative jewelry gifts. Shop with the person in mind, and he or she is sure to love the gift you choose.
Charity Bracelets
Jewelry can also help a cause. Rubber or silicone charity bracelets can make great inexpensive gifts for a group, a fun gift for kids or teens, or a special small gift for someone who supports a particular cause. Consider buying these in bulk if you'll need a lot of them.
Non-Traditional Materials
Not everyone loves classic jewelry. If you're shopping for someone who loves the trends, consider interesting materials like fringe, wood, plastic, and more. Here, it's about color and style.
Show Your Love With Lockets
You can show your love and let your loved one show off some favorite photos with a locket. Have the pictures printed to fit inside it and present it with the photos in place. She'll adore this meaningful gift.
Beautiful Ankle Bracelets
Ankle bracelets make lovely gifts too. You can find inexpensive beaded designs or delicate bracelets with precious metals and gems. Either way, this is a personal, special way to show you care.
The Beautiful Gift of Jewelry
Whether you're shopping for your mother, best friend, daughter, or someone else, jewelry is a great way to show how much you care about someone. You don't have to spend a fortune to show you know someone's personal taste, and they'll feel special receiving such a thoughtful gift.