Shop Smart and Save on Coach
Coach is arguably one of the most desirable, in-demand handbag brands. The brand's popularity is not surprising when you consider the impeccable craftsmanship, timeless style, and wide assortment. Coach handbags hold their value and there is definitely a re-sale market for them on sites like eBay and Poshmark.
While a high-end Coach bag can retail for as much as $1,600, you can snag one of these fashionable bags for a lot less if you're retail savvy. A number of styles are available for less than $400.
To see purchasing details for any of the handbags shown in this slideshow, click the 'Buy Now' or 'More Details' link in the at the top of the image.
Coach Crossgrain Leather Courier Crossbody
More Details
A woman with classic style needs a go-to bag that will work with a range of looks for the office or weekends. The Coach Crossgrain Leather Courier Crossbody has a zip-top closure and multifunctional pockets. Featured as one of the brand's latest styles, this hands-free, adjustable bag is budget-friendly at around $145, thanks to its timeless and compact design. It is available in coral, pink, and blue.
Leather Crossbody With Trendy Western Rivets
More Details
Women who want to add some edge to their luxury handbag collection without breaking the bank should make note of the Coach Western Rivets Glovetanned Leather Crossbody. This rivet-covered bag costs about $180 and has a convenient snap front closure along with several pockets to hold cards and other items you need to have close while zipping through town.
Although Coach offers modern bag designs, trendy leather styles such as this one with rivets are sure to be found on sale. A leather bag that is on trend for a lower price tag from a quality handbag brand is always a win.
Coach Edie 31 Shoulder Bag
More Details
What woman doesn't love flowers? The roomy, burgundy pebbled leather Coach Edie 31 Shoulder bag is designed with a burst of colorful floral prints and costs around $170. Women who want to incorporate floral-inspired prints into their wardrobes will love this choice.
When shopping for a lower priced Coach bag, considering one such as this vintage-inspired, leather print style from a previous season is a good idea. Often times styles from previous collections have timeless features such as this one.
Glovetanned Leather Saddle Bag
More Details
Every woman's closet needs a little black bag. If you have been looking for a timeless bag design of great quality, the Coach Glovetanned Leather Saddle Bag 18 is the ideal choice for you.
As trends come and go, this small leather saddle bag is a take on the brand's larger iconic style and design for a lower cost of only $225 and can be worn year round.
Coach Pebble Leather Swagger
More Details
The Coach Pebble Leather Swagger 15 is the perfect bag for commuting to the office during the week. The compact and modern bag design is seasonless and easy to coordinate with casual looks, even when you are off the clock. You can expect to pay around $190 for this bag design, which comes in two colors, bronze and platinum.
If the more costly and larger Coach satchel Swagger bag designs have been on your radar, but not within your budget, this smaller and trendy twist on hardware of the iconic design is better for fashionistas who want to watch their spending.
Signature NS Crossbody
Buy Now
Logo lovers who enjoy wearing their fondness for a brand will love this crossbody design from the Coach signature collection. Available for under $110 in a range of neutral colors, the Signature NS Crossbody is made of PVC and is the perfect accessory to accent a casual outfit such as jeans, a chic blazer and knee boots.
Coach accessories made of the PVC imitation leather texture are often the least expensive.
Madison Diamond Python Mini Lex Carryall
More Details
Nothing makes a classic dress more fierce than a gorgeous python bag. The Coach Madison Diamond Python Mini Lex Carryall has top carry handles and a shoulder strap, giving you different options for how to hold your bag while making a grand entrance. This showstopper bag costs about $250.
With this bag being one from a previous collection, you get an amazing price on an eye-catching bag design.
Versatile Chelsea Pebble Leather Bag
More Details
One of the best things about versatile straps are outfit styling options. With the Coach Chelsea Pebble Leather Bag there are three ways you can carry for any type of look ranging from casual, to a night out, to a mid-morning brunch. Women shopping for less expensive Coach styles will find this small modern leather bag for about $225.
It embodies the design characteristics of larger bag designs offered by the brand, but its smaller size makes it more affordable.
Smooth Metallic Leather Phone Crossbody
More Details
For a night of fun and dancing, sometimes all a woman needs to have by her side is a dainty bag. Smaller accessories, such as this cute crossbody style, are often offered at lower price points. The Smooth Metallic Leather Phone Crossbody costs about $100 and has room for your cell phone, money, and credit cards. Squeeze in a tube of lipstick, and you're ready for the town.
Coach Signature Pop Crossbody
More Details
Making a statement while running weekends is always a fashion 'do'. Whether styling a denim-on-denim look, or a casual dress, jacket and pair of boots, the Coach Signature PVC EW Pop Crossbody is among the timeless designs from the brand's signature collection. The bag has an adjustable strap with leather trim and costs around $215. As a classic bag design from a former collection, this bag is a worthy find that has timeless appeal.
Coach Turnlock Bag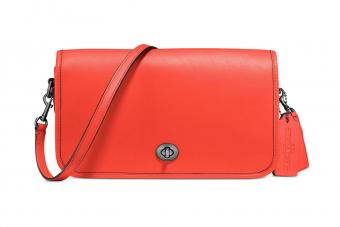 More Details
The Coach Turnlock bag (just under $160) in glovetanned leather is a versatile choice and features one of the most eye-catching statements of the brand - the turnlock. Since 1964, the Coach turnlock has been an iconic hardware design element, making this compact bag a good deal with its a signature touch.
The bag comes in a range of hues, such as the bright coral shown, along with lapis blue, oxblood purple, and lovely brown saddle and black neutral hues. The bag can be worn with a jumpsuit and jacket on the weekends or with a sleek dress and heels during the week.
Chelsea in Signature Jacquard
More Details
Taking on the city during the weekend calls for a stylish sidekick. For under $200, the Coach Chelsea Bag in Signature Jacquard is a steal. Between the various options you have of wearing across your body or over your shoulder, and the brand's subtle graphic iconic signature jacquard, you simply can't overlook the budget-friendly price tag.
If adding a Coach bag has been on your personal wish list, consider taking into account the types of looks you want to wear with your bag. Taking this assessment will help you to zone in on the best Coach handbag to purchase. Armed with ideas from the list above, you will easily be able to score a stylish and cute bag for a reasonable price.