Short Summer Dress Styles
Short dresses can be the perfect attire warm weather wear. From fun and flirty casual halter dresses to more elegant short styles appropriate for summer weddings and dinner dates, there are so many choices when it comes to the chic short dress for summer. Styles also range from thigh-hitting mini dresses to those just below the knee -- so choose a length you feel comfortable in and that flatters your figure.
Flattering Layers
Opt for layers of light, sheer material in a slightly relaxed style that is only an inch or two above the knee. Not only is this look practical and comfortable, the light layers can disguise a bit of extra weight around the tummy. This style is figure-flattering for most body types.
Casual Knit Dress
A knit dress in a fun pattern can be a perfect choice for hanging out with friends or to wear as a casual beach cover up. Keep in mind that horizontal stripes are best reserved for slim figures. If you like the style but want something more slimming, go for a solid color or vertical stripes.
Gauze Sundress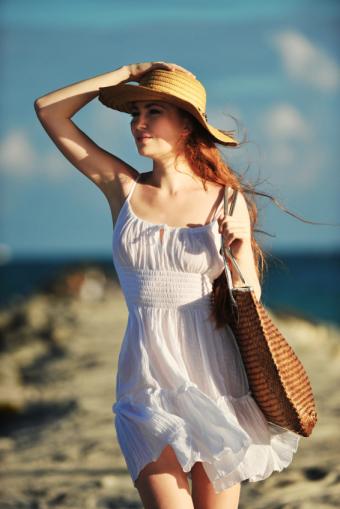 A floaty gauze sundress can be a great choice for casual outings, and can also serve double-duty as a beach cover-up. This style looks lovely with a floppy hat and matching summer handbag. Go for maximum comfort and coolness with coordinating sandals or flip flops.
Jeans with a Short Dress
Make a fun, loose-fitting summer dress instantly date-worthy or ready for evening by pairing with a pair of skinny jeans - or even leggings - and cute flat shoes.
Sophisticated Summer Dress
A fitted short white dress is perfect for summer occasions when you want to dress up, but also need to stay cool. A tailored style with a nipped waist is sophisticated and perfect for weddings, garden parties and even some office settings.
Fun and Flirty
White dresses come in a much broader range of styles than those that are fitted and sophisticated. With playful ruffles and a floaty design, a white dress can be a fun and flirty choice for casual occasions and dates.
Short Pink Dress
Pink can be a flattering shade on many skintones and is a perfect summer shade. Just choose the specific hue that works best for your coloring. Short pink dresses come in so many styles, from sexy to demure, so there are plenty of design options, too.
Shopping tip: Pink wears well from spring tinto summer. Look for a bargain on a cute pink dress style by shopping end-of-spring clearance sales.
Sleeveless Print Dress
A sleeveless dress in a fun pattern or print is a versatile warm-weather staple. Wear it alone for day with a pair of cute pumps or sandals, and pair it with a light summer wrap and strappy high heeled sandals for an evening out on the town.
Cap Sleeves
If you want to keep your arms cool, but don't want to go with an entirely sleeveless style, look for a summer dress with floaty cap sleeves that falls just above or at the knee. This style is comfortable and cool, but is less revealing than those with no sleeves at all. The length is short enough to keep cool, but still elegant.
Tropical Print
No summer wardrobe is complete without at least one casual tropical print dress. This fabric is ideal for trips to the beach, luau parties and cruises -- as well as when you just want to imagine that you can hear the sound of the ocean since it's so hot outside.
Short Halter Dress
A halter dress is another summer staple. A halter style bodice can be highly flattering for most body types. Create curves by choosing a halter dress with a cinched waist and a skirt with a little fullness.
Flowing Sundress
A casual flowing sundress with a loose bodice and gathered skirt provides a great way to look great while you keep cool on the hottest days of summer. Whether you opt for a style that hits your knees or one that is even shorter, this type of dress is a great choice for warm-weather casual wear.
Romantic Prints
A short, slightly loose dress with a flirty print is breezy and playful, perfect for summer days and relaxed summer evenings. A looser fit in a short dress is also on the romantic side, making a perfect date dress.
From casual beach cover-up dresses to sophisticated one shoulder styles, shorter dresses are not only practical for warmer temps, but stylish and versatile as well.