A small man purse is a trending handbag style. Its popularity is increasing with designer fashion shows featuring these manly accessories.
Explore Why Small Man Purses Are Trendy
Small purses for men are useful accessories that some men find helpful when they need to carry several items. A wallet, keys, cellphone, and other items often are too heavy to place in trouser/pant pockets. Belts don't help in these instances.
Better Organization
Women have always had an advantage with purses when it comes to carrying necessities, while men have been limited to pockets, backpacks or briefcases. A small man purse provides men with this option without being too bulky or too heavy.
Fashion Statements
Highsnobiety points to the social experiment of gender identity, finding a venue in the fashion industry. Men's purses appear to be growing in popular with rappers and others in the hip-hop music industry.
Fashion, Baby!
A small man purse gives men a new fashion accessory that is fun, colorful and stylish. It appeals to many men who enjoy having a new desirable accessory that is also functional.
Types of Small Man Purses
A few examples of some of the small man purses trending include waist or belt purses (fanny packs) crossbody styles, clutches, mini purses, and more.
Clutch Purse for Men
A clutch purse can be as thin an envelope or designed with various pocket zippers and compartments. Some are available with a removable strap to use as a shoulder bag. Some clutch purses also have a cuff-like handle that can be held, or the hand can easily slip underneath the handle to cup the clutch as you walk.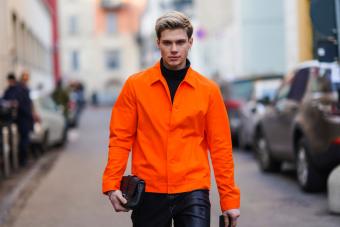 Crossbody Mini Purses for Men
Crossbody purses are taking a new direction to offer stylish mini purses for bold fashion accessories. This type of purse is designed to be shown off, usually by wearing it across the chest or abdomen area.
Two Stylish Examples
The purse on the left is a unique purse design that features a metallic bag in a cage design. It sports a wide shoulder strap. The other purse is made of a tie dye white and blue fabric with grommets for connecting the straps.
Mini Vertical Purse
A vertical purse is a fun design since it allows you to place taller objects inside. A mini purse can be worn on your hip. If you wish to shorten the strap length you can also wear this purse center chest level.
Mini Foldover Crossbody Purse
A mini foldover crossbody purse is often created as an accent item. For example, the purse pattern is often repeated in the crossbody strap for a dramatic touch. Other styles may be a solid color with decorative straps, or both purse and straps are made of the same material.
Waist Purse or Belt Bag
The waist purse, also called a belt bag is a recreation of the popular 1980s fanny pack. This purse is worn either in the front or back of the waist. It's available in a wide range of colors and styles. Some men prefer to wear the waist purse as a crossover purse.
Small Saddle Bag
A small saddle bag purse is like a miniature of a saddle bag design. It offers men a different look for a small purse. It features a foldover flap that is often secured with snaps or a clasp. The flap conceals a zipper closure.
Mini Shoulder Bag
A mini shoulder bag often falls hip level or just underneath the arm. Some of these designs are very artistic and often feature chain straps.
Small Man Purses Are Setting New Stylish Trends
The trends of men's purses has morphed into small purses. This trend offers men a different type of purse that is fun and competitive with women's purse choices.