10 Top Spring Fashions
Soft colors, smooth fabrics, feminine details, and a more innocent sexiness than the vampy attire of fall and winter tend to be present in the top spring fashions. Sometimes there's a dash of the unexpected--a deeper shade than the norm, more texture, a cutout, or a daringly low neckline (as seen on this Top Shop dress) may also appear. Not everything about spring fashion is sweet and carefree, but that style does make for a good, breezy baseline vibe before any surprises are added.
Springtime Sexiness
This Louis Vuitton look beautifully demonstrates how spring fashions can be sexy and even use an unexpected color for the season. You'd think black would be a thing of the past (as in fall and winter) as soon as spring rolled around, but this design makes it work with sheer fabrics and embellishments that shimmer.
Not Your Grandma's Florals
Florals are almost always a staple in any springtime wardrobe, but Christopher Kane takes them in a different direction with this look. These flowers are more like something you'd see in a textbook than on the department store racks, but that's just part of their appeal. The soft sheen and pale green shade of the fabric make this ensemble delightful for spring.
Flowy Bottoms
Palazzo pants, maxi skirts, and flowy culottes are very popular on the runways in spring, from classic designers like Hermes, Marni (shown here), and Vivienne Westwood, to contemporary designers like Rachel Comey and Jason Wu. Ideal for warmer weather, flowy bottoms are the perfect counterpoint to tighter tops, or even the cropped tops that are so popular.
Get the Blues
Blue in a myriad of shades -- baby blue, cobalt, and navy -- have popped up on the spring runways. Best paired with neutrals like greys and silvers, they are also a perfect way to continue the trend of monochromatic dressing without needing to purchase a completely new wardrobe, as this Fendi ensemble shows.
Perforated Fabric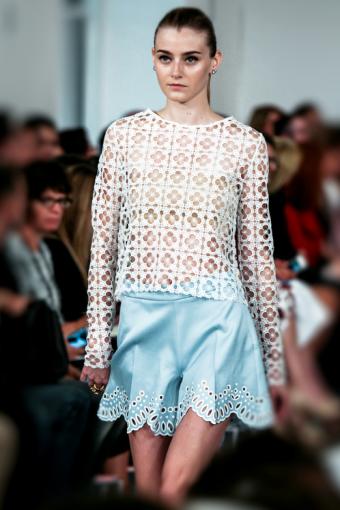 While lace has been very popular in seasons past, sometimes designers take lace to the next level with perforated fabrics -- laser cut fabrics and mesh that give the illusion of lace but come across more high-tech and beautifully detailed, as seen in this dress by Chloe. While perforated fabric dresses for the evening are big on the runways, this trend would also look beautiful on a top or a skirt for a more work-appropriate outfit.
Cropped Tops
Whether it's fitted and tight or has just a sliver of skin exposed (as at Salvatore Ferragamo, shown here), crop tops can be adapted to fit almost any body type. When paired with a high-waisted skirt or pants, the cropped top can be appropriate for a variety of occasions. However, this trend is best suited for non-work situations.
Slip Dresses
Continuing with the lingerie-as-outerwear trend, slip dresses for spring are made in sensual, silky fabrics that skim the skin. They are perfect for beating the heat in the warmer months, and the bold red shade on this Dolce & Gabbana slip dress is unexpected, yet lovely, for spring. This look requires a confident lady who's not afraid to show off her gorgeous body.
Metallics Always Work
While metallic hues are atypical for the lighter spring fashions, these luxe fabrics are incorporated into dresses (like this Saint Laurent option) and skirts for spring in molten silver and gold shades, as well as shiny lamé. Better suited for evening occasions, metallic dresses can be adapted for any age group and body type depending on the cut.
Painterly Print
Printed fabrics that look like exposed brush strokes are especially popular this season. From Chanel's color swatch-inspired scribble print to Celine's graffiti-inspired broad strokes (shown here), painterly influence is evident for spring. For smaller ladies, look for prints that are smaller and more repetitive so they do not overwhelm the frame. These prints would look great on all kinds of apparel, from dresses to skirts and blouses.
Artistic Fringe
Outlandish fringe that leans toward more textured and artistic inspirations, rather than cowboy or flapper-inspired, has been shown by designers like Pucci, Alexander McQueen (shown here), and Dries van Noten. For something a little more translatable to a real-world closet, try a textured skirt or a fringed hem.
Keys to Spring Style
Spring trends can reinvent the existing silhouettes and styles in one's closet or add something totally new. They are remarkably accessible to the woman with some ingenious DIY and/or a love for shopping for the pieces that both flatter her figure and mirror the trends of the season. Any year or season's trends definitely do not all suit every body type and age group, so pick wisely which ones you choose as additions to your wardrobe this season.